In another mysterious 'coincidence,' one of the country's leading midstream natural gas service providers went up in flames over the weekend.
"Oneok, Inc., a leading midstream service provider and the operator of a major natural gas liquids (NGL) systems, experienced an explosion at its NGL fractionation facility in Medford, about 85 miles south of Wichita, Kansas," Zero Hedge reported.
"There is an active incident at the plant south of town, and we are asking all residents south of Main Street to evacuate your homes and go to the Medford public school building," the Grant County Sheriff's Office noted on Facebook yesterday.
Video footage from local media outlets can be seen below:
Michael and Brittany Stone captured this video of an explosion in Medford, Oklahoma, near the Kansas border. This gas plant fire caused evacuations and road closures #KWCH12 pic.twitter.com/V8Cy8FbYfM

— KWCH Eyewitness News (@KWCH12) July 9, 2022
#DEVELOPING Evacuations issued after explosion at ONEOK natural gas plant in Medford, Oklahoma pic.twitter.com/2N52yC0CCA

— KWTX News 10 (@kwtx) July 10, 2022
Zero Hedge reported:
ONEOK released a statement later in the day that said, "there was an incident at ONEOK's Medford natural gas liquids fractionation facility … All ONEOK personnel are accounted for, and we are unaware of any injuries at this time. We are cooperating with local emergency responders and appreciate their quick response. Our focus continues working with emergency responders to extinguish the fire and the safety of the surrounding community and our employees."

ONEOK's fractionation plant separates NGLs into NGL products, such as ethane, propane, butane, and natural gas, used widely in all sectors of the economy. NGL products are used in inputs for petrochemical plants, generating electricity at power plants, burning for cooking, and blended into vehicle fuel.

The Medford fractionation facility feeds NGL products in pipelines through Texas to Mont Belvieu on the Gulf Coast, a major export hub area for energy products. There's no word (yet) on disruptions to pipeline flows.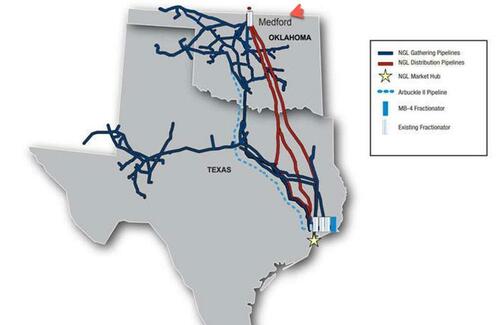 But this isn't the first fire or explosion at oil/gas facilities or pipelines in recent days.
Officials from Fort Bend County say they responded to a natural gas pipeline explosion that occurred in the 15400 block of JoAnn near FM 1952, located just west of Orchard.
Precinct One Constable Chad Norvell announced on Twitter that nobody was harmed and no buildings were damaged.
"It will take some time to close the line and burn off," he added.
WATCH:
Natural gas line. No injuries or structures damaged. It will take some time to close the line and burn off. https://t.co/2L6BVfeX00 pic.twitter.com/vfuuiKADxa

— Constable Chad Norvell (@chad_norvell) July 7, 2022
Natural News reported:
Energy Transfer, the pipeline's owner, issued a statement as well following instructions to area residents to stay away from the pipeline and the massive fireball flames that were seen emanating from it.

"There was an incident today in Fort Bend County on the Old Ocean Pipeline at approximately 11:15 am," the company announced. "Our control center immediately shut in the line and the area was secured. There were no injuries."

"By shutting in the line and isolating the impacted section of the pipeline line, the fire was allowed to safely burn itself out by 12:30 pm. All appropriate regulatory agencies have been notified. We will continue to provide updates as information becomes available. There will be an investigation into the cause of the incident. We will not have any information on that until the investigation is complete."
One Twitter user noted the string of incidents to occur at oil/gas facilities or pipelines in the last month (similar to the mysterious fires at food processing plants).
2/4 July 9, 2022- ONEOK natural gas plant explosion (Medford, OK)

July 7, 2022- Energy Transfer pipeline explosion (Wallis, TX)

Jun. 27, 2022- Petro Star refinery explosion, (VALDEZ, AK)

Jun. 8, 2022- LNG natural gas plant explosion (Freeport, TX)@hackableanimal

— J Mal (@EPUnum_) July 10, 2022
The most significant disruption so far has been Freeport's LNG export terminal catching firing last month, curbing some LNG exports to Europe.
Via Zero Hedge:
A "small explosion" at Freeport LNG terminal in Surfside Beach, Texas, resulted in the plunge of natural gas futures on Wednesday afternoon. 

Local news KHOU reports the incident occurred around 1140 local time in the 1500 block of Lamar Street at the facility on Quintana Island.

"We are in the process of monitoring the situation and will provide information accordingly," Freeport's Director of Corporate Communications Heather Browne told The Facts.
Important Update from member company Freeport LNG:

An incident occurred at the Freeport LNG facility on Quintana Island at about 11:40 am on June 8. An investigation is ongoing and updates will be provided soon.

At this time, CAER has no additional information. pic.twitter.com/X490VlZvzk

— Brazosport CAER (@bportCAER) June 8, 2022
---
Natural News added:
Between these mysterious explosions and the dozens of fires that have occurred at food production facilities cross the United States in recent months, it almost seems like this is all a coordinated attack on the American economy.

"They're not even trying to hide it anymore," wrote a commenter on a news story about the latest pipeline incident.

"Two incidents in one day – one in Oklahoma and one in Texas – yeah, nothing suspect here," said another sarcastically. "They are destroying food plants and now gas."

"It's no coincidence this is happening in many industries that are important in our life and economy," expressed someone else. "Another natural gas supplier exploded in Oklahoma as well."

"The controllers want you begging for their chains."
3/4
Apr. 24, 2022- Valero refinery explosion
(Meraux, LA)

Apr. 14, 2022- Haven Midstream gas plant explosion (Haven, KS)

Mar. 27, 2022- ExxonMobil oil
refinery explosion (Billings, MO)

Feb. 21, 2022- Marathon Petroleum refinery explosion (GARYVILLE, LA)

— J Mal (@EPUnum_) July 10, 2022
— J Mal (@EPUnum_) July 10, 2022
— J Mal (@EPUnum_) July 10, 2022
Here's an interactive map of the destruction of food processing plants, distribution, & energy resource facilities w/sources from Laura Aboli.

Note: This falls under Critical Infrastructure (CI)@Thomas1774Paine@1citizenpundit@hackableanimal@zerohedgehttps://t.co/yUeYkGls0B

— J Mal (@EPUnum_) July 12, 2022
Review the map HERE.