A blockade at the Alberta-Montana border crossing that includes over 100 truckers has entered its third day, and Canadian officials have started to panic.
BREAKING: Massive convoy of truckers have blockaded the US-Canada border crossing in Alberta pic.twitter.com/A4KHrzETbv

— Jack Posobiec 🇺🇸 (@JackPosobiec) January 31, 2022
Alberta Premier Jason Kenney called for an end to the blockade on Sunday, saying in a statement: "Canadians have a democratic right to engage in lawful protests. I urge those involved in this truck convoy protest to do so as safely as possible, and not to create road hazards that could lead to accidents or unsafe conditions for other drivers."
The blockade of the Coutts border crossing violates the Alberta Traffic Safety Act.

It is causing significant inconvenience for lawful motorists and could dangerously impede movement of emergency service vehicles.

This blockade must end.

My full statement: ⬇ pic.twitter.com/VbXTQTVft8

— Jason Kenney (@jkenney) January 30, 2022
The Calgary Herald reported the conditions at the Southern Alberta highway:
Semi-trucks, cars and farm equipment filled Highway 4 south of Lethbridge on Saturday, in support of a national convoy to Ottawa with a stated goal of repealing a federal mandate requiring unvaccinated Canadian truckers re-entering Canada from the United States to get tested for COVID-19 and to quarantine. Some participating in both protests have expanded that goal, demonstrating against health orders and the federal government as a whole.

On Sunday night, Mounties told demonstrators to clear the area, warning protesters that enforcement may be necessary. Media relations officer Cpl. Curtis Peters said that notice has been spurned by the crowd, with the situation largely unchanged by Monday morning.

"Protesters have not been receptive to our attempts to bring this back into the realm of a lawful protest and they're continuing to block the roads," he said.

The border crossing and the 250-person village of Coutts remain inaccessible from the north and traffic coming from south of the border can't get past either, Peters said. At the blockade, vehicles displayed U.S. flags and upside-down Canadian flags on Monday. A banner reading "End Mandates Now" was strung across one empty parked truck. RCMP said officers were telling people trying to travel into the U.S. to use a different port of entry. Mounties were turning away truckers and other motorists about 15 kilometres from Coutts.
Despite the threat of police action, truckers have voted to stay at the blockade.
Surrounded and forced to make a difficult decision. Motion has passed, they are staying.

Stay tuned.

More at https://t.co/NxAr5V5Iko pic.twitter.com/kIyM8lGmTA

— K2 (@kiansimone44) January 31, 2022
UPDATE: truckers speak after decision to stand their ground.

More at https://t.co/NxAr5V5Iko pic.twitter.com/Ib1tpxEnT6

— K2 (@kiansimone44) January 31, 2022
Zero Hedge commented:
Canadian Prime Minister was accused of hypocrisy when he suddenly was nowhere to be found late last week as a convoy of truckers rolled into Ottawa to protest the government's COVID mandates. Many scoffed at Trudeau's sudden disappearing act when confronted by a massive crowd of protesters, many carrying signs mocking his comment that the truckers and their supporters were part of a "tiny fringe minority".

Making matters worse for the PM, Canadian media reported Monday morning that Trudeau had been diagnosed with COVID, despite receiving a booster dose early this month on Jan. 4.

Is it possible to get infected with COVID while being boosted and in hiding? Or has Trudeau really been stricken with COWARD-19?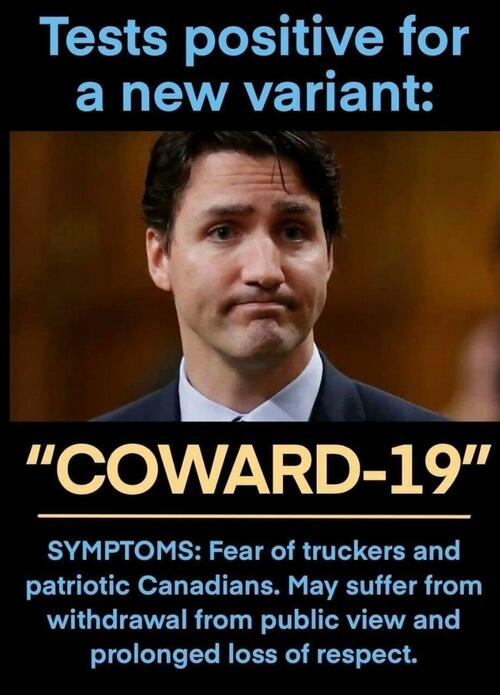 The truckers continue protesting a COVID-19 measure enacted by the Canadian government on January 15th requiring unvaccinated cross-border truckers to quarantine upon returning home.
The Alberta-Montana blockade coincides with the 'Freedom Convoy' that rolled into Ottawa last weekend to protest COVID-19 jab mandates.
While the truckers and their supporters hold the line against mandates, Trudeau has allegedly tested positive for COVID-19.
This morning, I tested positive for COVID-19. I'm feeling fine – and I'll continue to work remotely this week while following public health guidelines. Everyone, please get vaccinated and get boosted.

— Justin Trudeau (@JustinTrudeau) January 31, 2022
The prime minister made this revolting statement earlier on Monday:
NOW – Canada's PM Justin Trudeau accuses the trucker convoy crowd of "hateful rhetoric" and "violence toward citizens," he rather prefers to attend BLM protests. pic.twitter.com/JpPhpTKZhm

— Disclose.tv (@disclosetv) January 31, 2022
Trudeau's positive COVID-19 test gives him the excuse to avoid meeting with the "fringe minority" for at least 14 days.