Unvaccinated citizens of the United Arab Emirates now face a travel ban from leaving their own country. Effective January 10th, individuals who don't subject themselves to an experimental inoculation will lose the right to freedom of movement from their government.
But the insanity doesn't end if you've only taken one or two doses of a COVID-19 injection.
The National Emergency Crisis and Disaster Management Authority (NCEMA) of the UAE will require citizens to obtain a booster to travel. The Arab nation will only grant an exception for medical exemptions, humanitarian cases, and those traveling for medical purposes.
The United Arab Emirates announced a travel ban on its citizens unvaccinated against coronavirus disease (#Covid19), starting January 10.https://t.co/gc3PJjIQLh

— Hindustan Times (@htTweets) January 2, 2022
UAE Bans Unvaccinated Citizens From Leaving The Country https://t.co/2BD1H32MYY pic.twitter.com/BnktO6W172

— BlackListed News (@BlacklistedNews) January 2, 2022
https://twitter.com/ActivistPost/status/1477687185465880580
UAE Bans Unvaccinated Citizens From Leaving The Country https://t.co/M9UeW7LDVI

— zerohedge (@zerohedge) January 2, 2022
Hindustan Times reported:
The travel ban has been announced amid a sharp rise in Covid-19 cases, driven by the highly contagious Omicron variant, in the United States and Europe. The surge in Covid-19 cases and hospitalisations, with the new variant of concern causing breakthrough infections, have also led to the cancellation of hundreds of flights across the globe.

On Saturday, the UAE reported 2,556 fresh Covid-19 cases in the previous 24 hours, taking the cumulative infections to 764,493, according to the ministry of health and prevention. The ministry reported one virus-related death, taking the country's death toll at 2,165.
According to Our World in Data, the United Arab Emirates is the most vaccinated country on the planet. The latest data shows that 90.68% of UAE residents are fully vaccinated, and 99% have received at least one dose. 
However, a booster is now required for travel, and "fully vaccinated" citizens must roll up their sleeves again to exit the country. 
But even the world's most vaccinated country couldn't contain another outbreak of COVID-19. On New Year's Day, the UAE reported its highest number of COVID-19 cases since March 2021. Yet, the solution for the UAE government is boosters and stripping citizens' right to travel.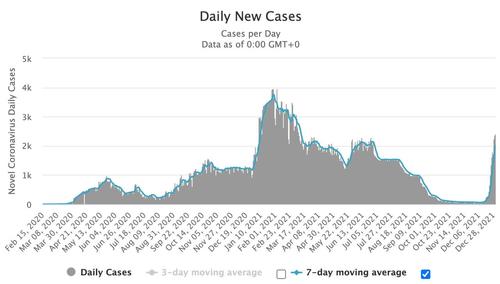 Zero Hedge added:
MoHAP also noted that 908 individuals had fully recovered from COVID, bringing the total number of recoveries to 745,963. The ministry said it had conducted 463,616 additional tests during the 24 hours to Saturday.

The UAE has seen new cases surge since mid-December, much like the rest of the world, although the current surge has yet to match levels from early last year.