The J6 Prison Choir single featuring President Trump, "Justice For All," reached #1 on iTunes.
The song debuted days before Trump's speech at CPAC.
The singers behind the song are 20 members of the January 6th choir who are currently behind bars in a Washington DC jail.
Throughout the song, sound bytes of Trump can be heard.
WATCH:
The Western Journal shared details:
Hallowed words take on new meaning in a video that brings together the voices of former President Donald Trump and inmates jailed for their role in the Capitol incursion.

The project is called "Justice for All." It debuted on YouTube on Thursday in preparation for Trump's Saturday speech at the Conservative Political Action Conference.

In addition to Trump, performers on the single included a group of about 20 inmates confined to the Washington, D.C. jail who call themselves the J6 Prison Choir, according to Forbes.

Profits from the project will benefit the families of those imprisoned.

The video opens with the inmates singing "The Star-Spangled Banner."

The background is a stark reminder of what those confined experience. The black of a prison cell dominates the frame, with an American flag visible beyond a barred window, with a row of razor wire stretching across the flag.

After about 30 seconds, Trump's voice offers a resounding beginning to the Pledge of Allegiance.

Trump continues to recite the Pledge with the snippets interspersed with the inmates singing the national anthem.

The video closes with the inmates chanting, "USA! USA! USA!"

Forbes said that Trump recorded the Pledge last month at Mar-a-Lago.

The inmates, who sing the national anthem every night, were recorded by phone.
The song reached #1 on iTunes.
Kash Patel said Thursday that Apple/iTunes removed the song from its platform.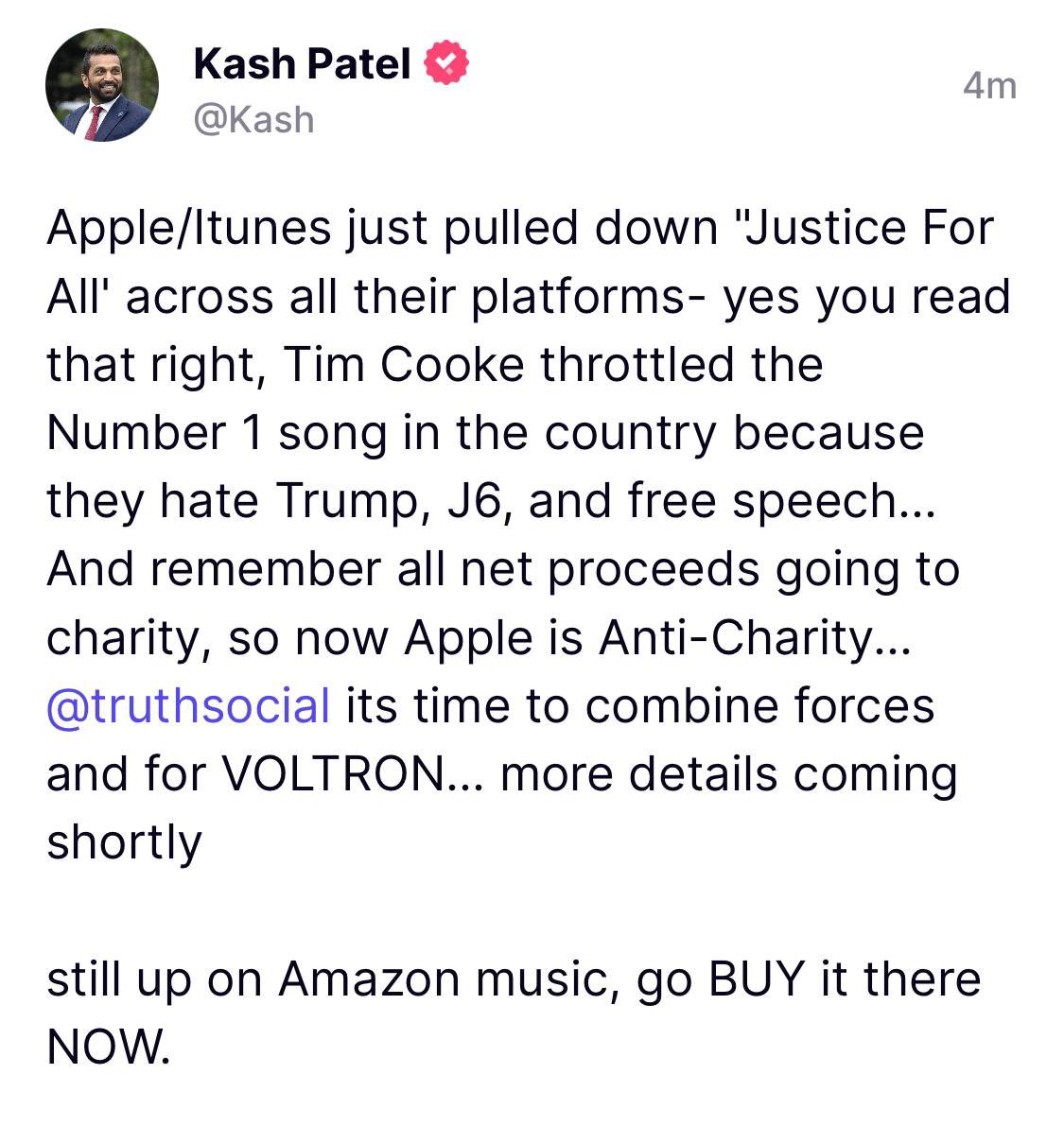 The song was on sale for $1.29 on iTunes and proceeds reportedly were for the families of J6 prisoners.
DOWNLOAD #J6PC

ALL PROCEEDS GO TO J6 FAMILIES 🇺🇸

Thank you, @realDonaldTrump!https://t.co/jHrthoo5Yg

— Grace Chong 🇺🇸 (@gc22gc) March 10, 2023
From J6 Prison Choir:
J6 Prison Choir consists of individuals who have been incarcerated as a result of their involvement in the January 6, 2021 protest for election integrity after President Donald J. Trump stated "I know that everyone here will soon be marching over to the Capitol building to peacefully and patriotically make your voices heard". The J6PC continues to make their voices heard through the power of music and sings "The Star Spangled Banner" every evening before bed.
After Tucker Carlson's J6 surveillance footage expose, Donald Trump called to "LET THE JANUARY 6 PRISONERS GO."
Breitbart noted:
Notably, the song topped the iTunes chart, staying at the number-one spot for seven consecutive days. The song beat out Miley Cyrus's "Flowers," Tim McGraw's "Standing Room Only," and Morgan Wallen's "Last Night" for the top spot on the iTunes chart.

The song was sold for $1.29, with all net proceeds going to "certain J6 families in need." The song sold over 22,000 digital downloads from its release on March 3 through Monday, March 13.

However, the song was temporarily removed from iTunes for a period of hours on Thursday, consequently removing the song from its number one position on the charts, Patel told Breitbart News.

Patel, who served as a national security official during the Trump administration, played an integral role in producing "Justice For All."

A senior Apple Music representative told Patel the song's removal was due to a "miscommunication."

"Seems to have been miscommunication between our communications department and our music operations team," the Apple Music representative told Patel. "The issue has been escalated and should be back up on our platform soon."