According to federal sources, a female Border Patrol agent sustained serious injuries during a 'violent assault' by an illegal immigrant in Arizona early Saturday morning.
"On March 4, 2023, at approximately 4:00 a.m., a U.S. Border Patrol agent assigned to the Tucson Sector took a subject into custody near Foudy Road and State Route 92, after investigating the subject's illegal entry into the U.S. While being placed in a service vehicle, the subject assaulted the agent, injuring the agent's face and hands. Additional agents responded and took the suspect into custody," a CBP statement said.
The FBI and Cochise County Sheriff's Office is investigating the assault on a federal officer.
NEW: Per federal sources, a female Border Patrol agent working solo was violently assaulted by a male illegal immigrant she was taking into custody in the Tucson, AZ sector early Saturday AM, leaving her with injuries.
CBP confirms assault in statement & says FBI investigating. pic.twitter.com/bHQmDN7LH7

— Bill Melugin (@BillFOXLA) March 5, 2023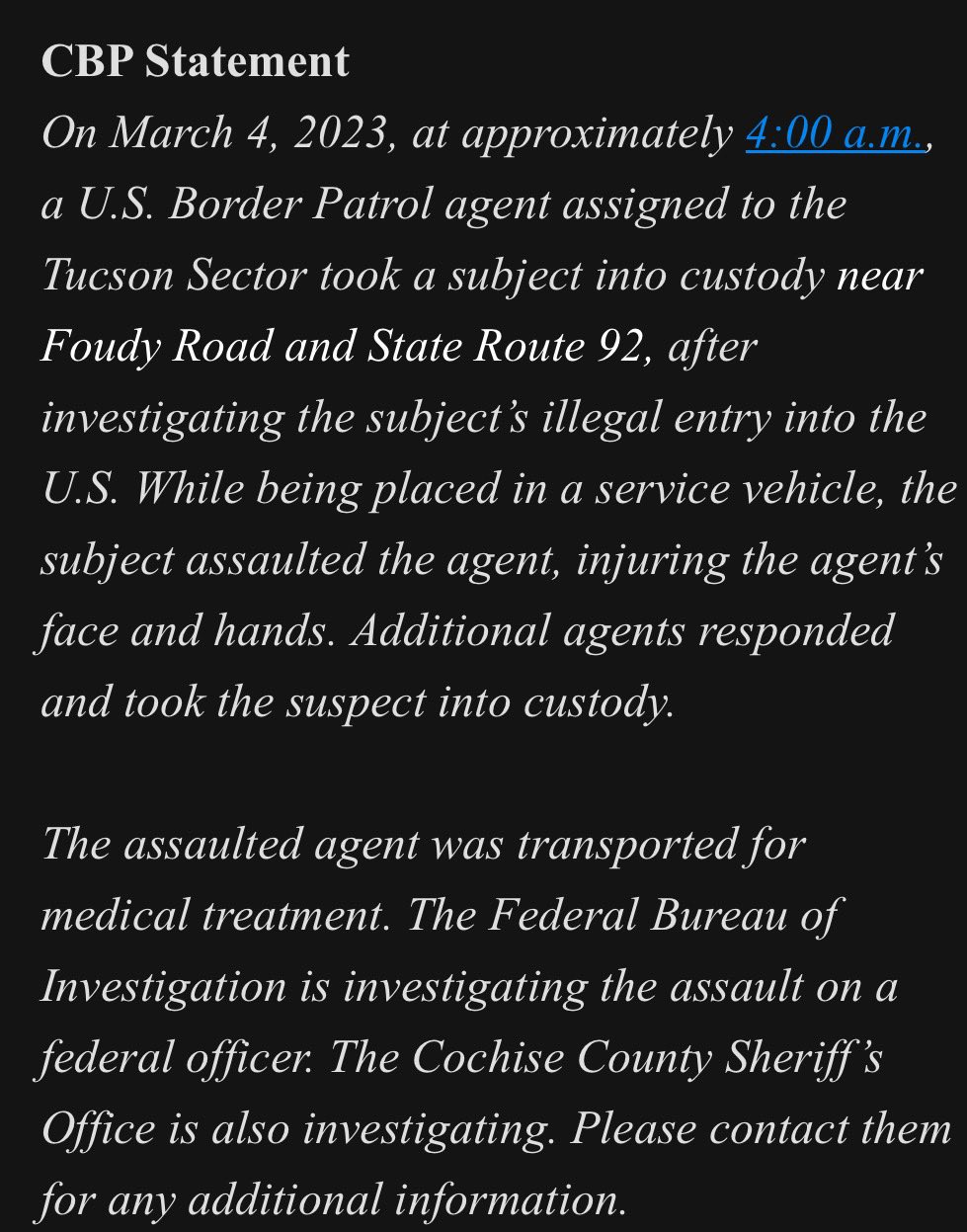 Breitbart had further details on the incident:
A Border Patrol agent was violently attacked as she attempted to arrest a migrant near Naco, Arizona, on Saturday. As the agent attempted to place the migrant in her vehicle, the migrant reportedly knocked the agent off her feet and began punching her repeatedly in the face. According to a source within CBP, the agent suffered a broken nose and other injuries.

The source, not authorized to speak to the media, says the migrant fled from the scene but was later captured after a brief chase by agents responding to a call for assistance. The migrant faces charges for allegedly assaulting a federal officer.

In a statement released by CBP, the Tucson Border Patrol Sector agent was assaulted as she took a migrant into custody near Foudy Road and State Route 92 at 4:00 am. The agent was taken to a hospital. The identity of the accused migrant was not released.
Under Biden's watch, migrant border crossings have shattered previous records.
NBC News noted:
The number of undocumented immigrant crossings at the southwest border for fiscal year 2022 topped 2.76 million, breaking the previous annual record by more than 1 million, according to Customs and Border Protection data.

For the 12 months ending Sept. 30, 2022, CBP stopped migrants more than 2,766,582 times, compared to 1.72 million times for fiscal 2021, the previous yearly high. The 2022 numbers were driven in part by sharp increases in the number of Venezuelans, Cubans and Nicaraguans making the trek north, according to CBP.
The record-breaking migrant crossings has led to increased assaults against Border Patrol agents.
Breitbart shared these statistics:
In 2020, a total of 316 assaults against Border Patrol agents were officially recorded. In 2022, the figure rose 36 percent to 430 as the fiscal year ended. Since October 2022, the agency has recorded 139 assaults.