The East Palestine train derailment and "controlled release" of highly-toxic chemicals will likely be considered the worst environmental disaster in American history.
"We basically nuked the town," exclaimed a hazardous materials specialist.
Norfolk Southern Railway CEO Alan Shaw published a letter Thursday that said, "We will not walk away, East Palestine…We will not let you down."
"My simple answer is that we are here and will stay here for as long as it takes to ensure your safety and to help East Palestine recover and thrive," the letter read.
"How do we get toxicologists not paid for by Norfolk Southern to test the air, water, and soil in East Palestine?" asked independent citizen journalist Kanekoa The Great.
BREAKING: Norfolk Southern CEO pens letter to East Palestine, Ohio residents.

How do we get toxicologists not paid for by Norfolk Southern to test the air, water, and soil in East Palestine?https://t.co/HSCrKkTacz pic.twitter.com/SMHzxDwHG9

— kanekoa.substack.com (@KanekoaTheGreat) February 16, 2023
Read the full letter below: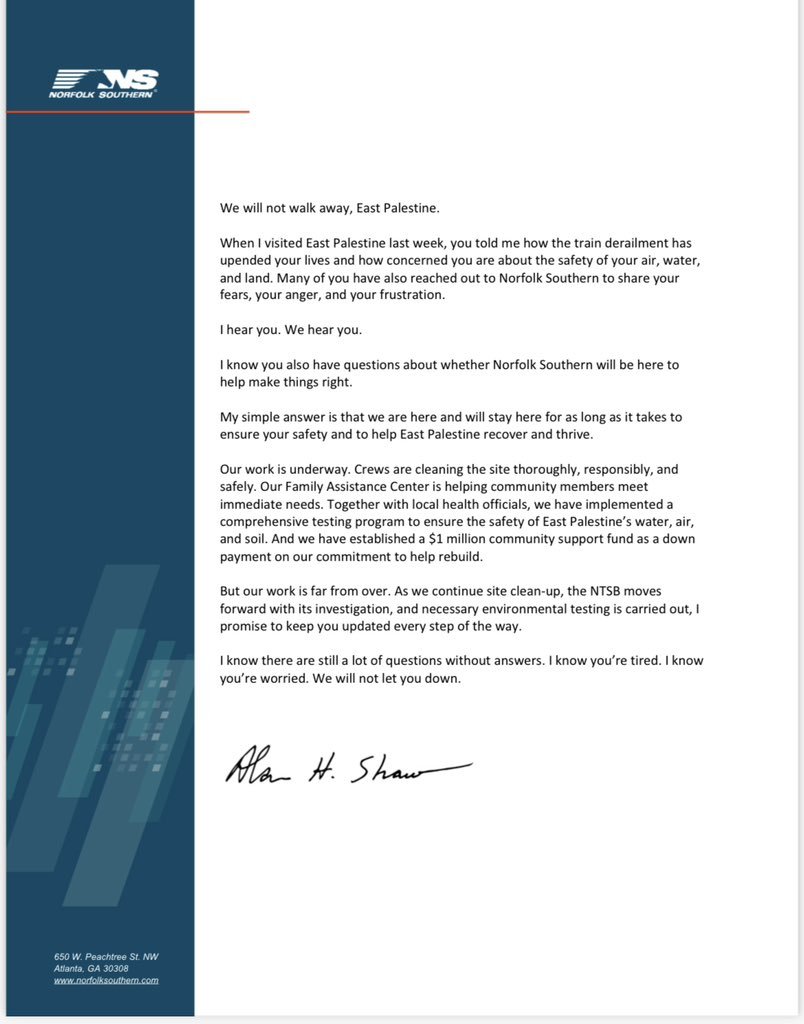 Norfolk Southern hired a controversial firm, CTEH, to conduct toxicology tests in East Palestine.
Is the "Independent Contractor" That's Conducting Toxicology Tests In East Palestine in Norfolk Southern's Pocket?
East Palestine residents demanded answers at a Town Hall this week.
Norfolk Southern wasn't in attendance to answer questions.
They reportedly didn't show up out of fear for their safety.
Hundreds of East Palestine residents showed up to a town hall to demand answers, and Norfolk Southern dropped out.

The railroad company put gravel over the contaminated soil before being forced to remove it by the EPA: "That was the ultimate cover-up" https://t.co/GiAh5v9aKQ pic.twitter.com/QvP6h2DPmX

— philip lewis (@Phil_Lewis_) February 16, 2023
East Palestine Ohio mayor Trent Conaway is furious the community came out for a town hall and the railroad refused to show up Norfolk Southern didn't have the nerve to address the town. pic.twitter.com/HSysWKt8mj

— 🥀_Imposter_ (@Imposter_Edits) February 16, 2023
Norfolk Southern should be held accountable for this disaster.
As The Lever reported, the company lobbied federal regulatory agencies to limit safety regulations when transporting hazardous materials.
Before this weekend's fiery Norfolk Southern train derailment prompted emergency evacuations in Ohio, the company helped kill a federal safety rule aimed at upgrading the rail industry's Civil War-era braking systems, according to documents reviewed by The Lever.

Though the company's 150-car train in Ohio reportedly burst into 100-foot flames upon derailing — and was transporting materials that triggered a fireball when they were released and incinerated — it was not being regulated as a "high-hazard flammable train," federal officials told The Lever.

Documents show that when current transportation safety rules were first created, a federal agency sided with industry lobbyists and limited regulations governing the transport of hazardous compounds. The decision effectively exempted many trains hauling dangerous materials — including the one in Ohio — from the "high-hazard" classification and its more stringent safety requirements.

Amid the lobbying blitz against stronger transportation safety regulations, Norfolk Southern paid executives millions and spent billions on stock buybacks — all while the company shed thousands of employees despite warnings that understaffing is intensifying safety risks. Norfolk Southern officials also fought off a shareholder initiative that could have required company executives to "assess, review, and mitigate risks of hazardous material transportation."
The highest shareholders in Norfolk Southern: Vanguard, BlackRock, State Street, JP Morgan.
Ohio Gov. @MikeDeWine says the railroad requested the "controlled release" of the toxic chemicals

Yes, Norfolk Southern, whose top shareholders incl. BlackRock & Vanguard, told the gov't how they wanted this disaster handled

Somethings fishy in Ohio
pic.twitter.com/30WgNxSWs7

— DC_Draino (@DC_Draino) February 14, 2023
Did you know that in 2017 Norfolk Southern, the operator of the derailed Ohio train, successfully lobbied a repeal of a rule requiring electronically controlled pneumatic brakes?

Guess who 2 of the top 3 shareholders of NS are:

Vanguard & BlackRockhttps://t.co/yUZ5rScNwV

— DC_Draino (@DC_Draino) February 13, 2023
Norfolk Southern has started getting hit with lawsuits left and right.
One particular lawsuit made vicious accusations against the railway company.
The lawsuit, filed by Morgan & Morgan, claimed "residents exposed to vinyl chloride may already be undergoing DNA mutations that could linger for years or even decades before manifesting as terrible and deadly cancers."
A lawyer representing plaintiffs who filed a lawsuit after the train derailment in #EastPalestineOH alleged that some residents of the town may "already be undergoing DNA mutations" after the incident earlier this month. https://t.co/pU2wOd7G5M

— The Epoch Times (@EpochTimes) February 16, 2023
WFMJ provided additional details:
The complaint, filed on Wednesday in U.S. District court by Morgan & Morgan which bills itself as America's largest injury firm, alleges that the railroad dumped more than 1.1 million pounds of vinyl chloride into the environment during the incident.
The lawsuit claims the amount of that emission of the toxic chemical was more than two times the total amount of vinyl chloride released by all U.S. industries annually.

The suit alleges that burning vinyl chloride creates phosgene gas, a chemical warfare agent used in World War One that has been banned by the Geneva Convention.

"I'm not sure Norfolk Southern could have come up with a worse plan to address this disaster," said attorney John Morgan. "Residents exposed to vinyl chloride may already be undergoing DNA mutations that could linger for years or even decades before manifesting as terrible and deadly cancers. The lawsuit alleges that Norfolk Southern made it worse by essentially blasting the town with chemicals as they focused on restoring train service and protecting their shareholders."

Authorities say they undertook what they called the "controlled release" of unstable chemicals to prevent a possible explosion at the derailment scene.

Listed as plaintiffs in the legal action is Columbiana County resident Aysia Canterbury who lives less than 4 miles from the crash site, and Lisa Sodergren, who lives 5 miles away in Lawrence County.