Rep. Angie Craig (D-MN) was assaulted Thursday morning in the elevator of her apartment building in Washington D.C., CNBC reports.
BREAKING: Rep. Angie Craig of Minnesota was assaulted in the elevator of her apartment building in Washington, D.C., according to her office.

— DailyNoah.com (@DailyNoahNews) February 9, 2023
Rep. Angie Craig is "physically OK" after she was assaulted in the elevator of her DC apartment building, her office says https://t.co/zSpm5lghI0

— CNN (@CNN) February 9, 2023
Craig's Chief of Staff, Nick Coe, released the following statement: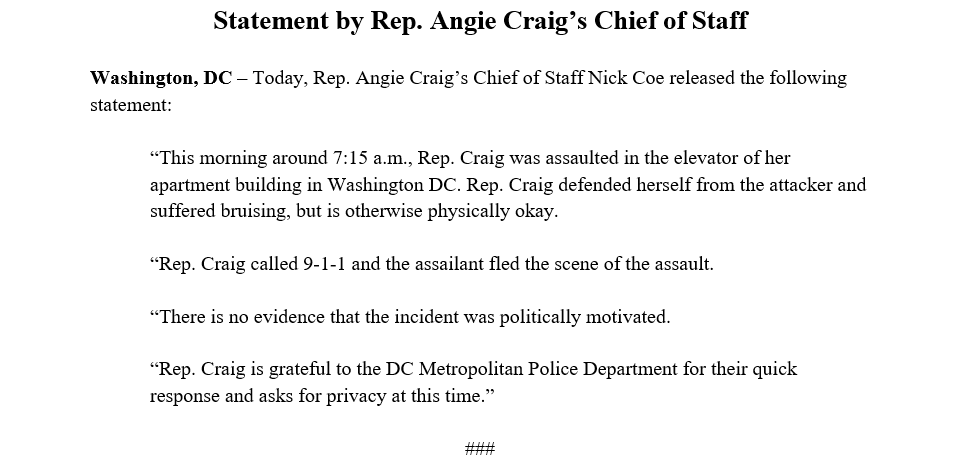 Craig is the first openly LGBT member of Congress from her state, according to CNBC.
Per CNBC:
Craig was seen with a security detail during votes later Thursday, NBC News reported.

Craig told the police that the alleged attacker was first seen in the lobby of her building, "acting erratic as if he was under the influence on an unknown substance," according to a public incident report provided by the Metropolitan Police Department.

The lawmaker at some point said "good morning" to the suspect and then entered the elevator to go to her apartment, the report said.

Craig said the suspect then followed her into the elevator and "began to randomly do push ups," then "with a closed fist punched her on the chin area of her face, and later grabbed her neck," according to the report.

Craig "defended her self by tossing her hot coffee" at the suspect, who then escaped before officers arrived, the report said. Two officers searched the basement-level parking lot but came up empty, the report said.
CNN added:
House Democratic leader Hakeem Jeffries condemned the attack, saying in a statement that "the House Democratic Caucus family is horrified" by what happened. "We are all very grateful that she is safe and recovering, but appalled that this terrifying assault took place."

Jeffries said that he has asked the House sergeant at arms and the US Capitol Police to work "to ensure that Angie and her family are safe while in our nation's capital and at home in Minnesota."
This story is developing!