Project Veritas reportedly obtained an internal Pfizer memo warning employees and colleagues about Project Veritas.
The alleged memo comes after the Project Veritas expose where Jordon Trishton Walker, Pfizer Director of Research and Development – Strategic Operations and mRNA Scientific Planning, claimed that the Pharma giant is exploring to mutate COVID-19 to continually profit off vaccines.
BREAKING: Pfizer Director Admits They Want To Mutate The Virus & Profit From It!
The document states that "anti-science activists are becoming increasingly brazen in their drive to gain and manipulate information, fueling the spread of baseless claims and endangering public health."
It's ironic that Pfizer would say "anti-science activists" spread "baseless claims" since Walker made the claims in the video.
In the document, Pfizer acknowledges the incident involving Walker.
It reads: "We are aware of and managing a recent incident where one of our colleagues was baited into conversation in a social situation and recorded without their knowledge. Manipulated videos were subsequently posted online."
It appears Pfizer admits Walker is one of its colleagues.
BREAKING: Leaked document shows @pfizer admitting Dr. Jordon Walker works at the company and warns staff to beware of Project Veritas pic.twitter.com/hAw4QSNVMq

— Project Veritas (@Project_Veritas) February 6, 2023
The document continues to inform colleagues of the importance of safeguarding "confidential information," particularly about the COVID-19 shot, in social settings.
It reads: "This targeting can happen online through social media and dating apps as well as in person through industry conferences or simple social situations, such as casual conversation with a new acquaintance in a bar, on a date, or at a party."
"That said, we must safeguard all sensitive and confidential information at all times and exercise extreme caution amid any discussions with acquaintances."
The document also states: "Individuals may pose as news media to gain company information."
"If you believe you have been the target of one of these attacks, please contact your manager, or you may report any incident through the Protect Pfizer email or app," the document reads.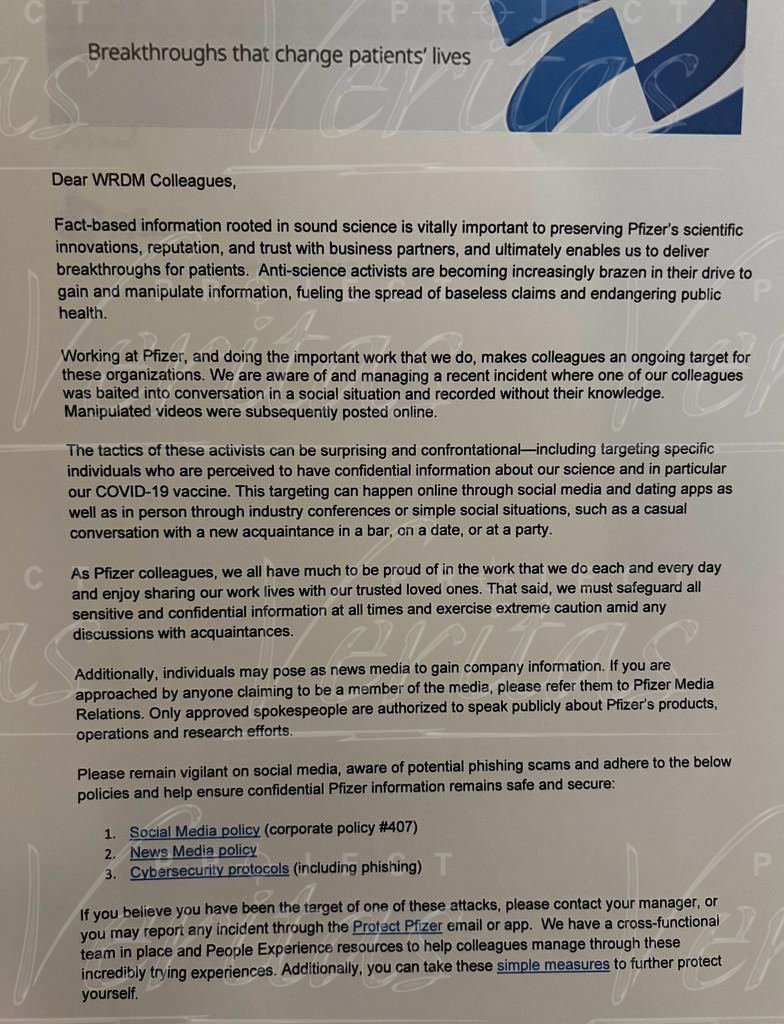 "Thank you for your diligence in helping us stop the spread of harmful misinformation," the document reads.
"Now is the time to be strong in upholding the reliance upon evidence and logic when science and our global public health systems are under attack."
— Project Veritas (@Project_Veritas) February 6, 2023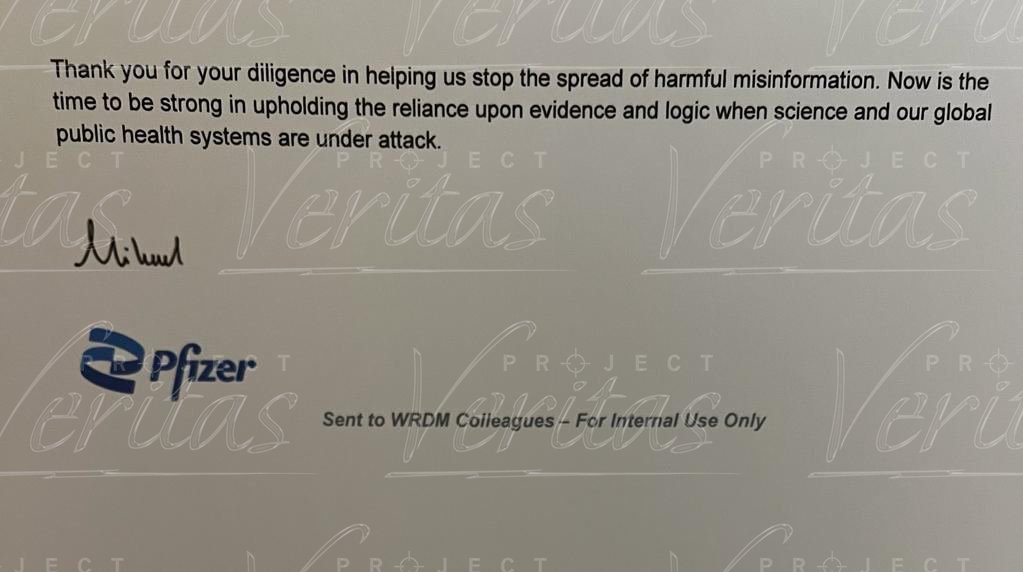 In Pfizer's initial response to the Project Veritas expose, the company gave a misleading statement that appeared to admit gain-of-function research.
One statement that stands out says: "In a limited number of cases when a full virus does not contain any known gain of function mutations, such virus may be engineered to enable the assessment of antiviral activity in cells."
Pfizer's cheese really stinks!
🧀🧀🧀🧀🧀🧀#pfizerliedpeopledied #PfizerExposed https://t.co/naImAkZpol pic.twitter.com/KdO6TqePai

— Jikkyleaks 🐭 (@Jikkyleaks) January 28, 2023
This deep dive into Pfizer's BSL-3 laboratory in Pearl River, New York, presents further questions into the company's research. 
Pfizer Gain-of-Function Exposed? Twitter Thread on Pfizer New York Biosafety Lab