Amid the Joe Biden classified document scandal and Hunter Biden laptop investigation, the White House resident secured a $250,000 line of credit against his Rehoboth Beach, Delaware, home.
Why does Biden need a $250,000 home equity line of credit?
In records obtained by Fox News Digital, "Biden acquired the six-figure home equity variable rate line of credit from M&T Bank on Dec. 5, 2022."
GREG GUTFELD: President Biden secures $250K line of credit as Hunter's story falls apart https://t.co/nnkkqVYnRS

— Fox News (@FoxNews) February 4, 2023
Why was Biden desperate to obtain a $250k line of credit before documents found? https://t.co/S4WZ4IJwJQ

— Juanita Broaddrick (@atensnut) February 3, 2023
Here's the document obtained by Fox News: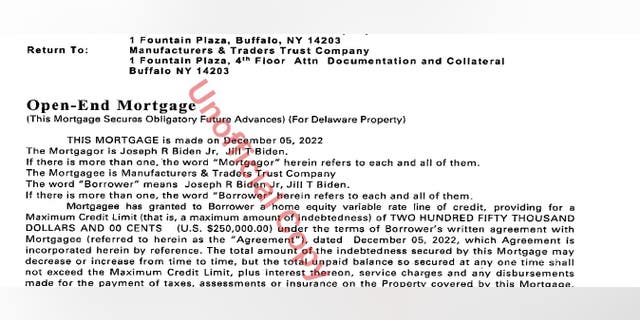 Fox News reported:
Biden and his wife, first lady Jill Biden, initially purchased the residence in 2017 for $2.74 million, according to county records.

It is unclear why Biden quietly secured the line of credit, which allows him to borrow up to a quarter of a million dollars against his home's equity, and the White House did not respond to a Fox News Digital inquiry on the matter.

The financial move came as Hunter Biden is embroiled in a federal investigation and the discovery of President Biden's classified documents from his time as vice president was underway.

Hunter Biden has been under federal investigation since 2018 for his tax affairs – an investigation that was predicated, in part, by suspicious activity reports (SARs) regarding some foreign transactions. Those SARs, according to sources familiar with the investigation, involved funds from "China and other foreign nations."

Delaware U.S. Attorney David Weiss, a prosecutor appointed by former President Trump, is conducting the investigation.
Why did Biden make this desperate financial move?
Why did it occur before the classified document scandal became public?
The first classified documents were reportedly discovered at the Penn Biden Center before November's midterm elections.
BREAKING: Department of Justice Reviewing Classified Documents From Biden's Vice Presidency Discovered in Office
Additional classified documents were discovered at Joe Biden's Wilmington, Delaware residence.
BREAKING: FBI Searches Biden Delaware Residence, Finds Additional Classified Documents
The Department of Justice also searched Biden's Rehoboth Beach home.