A massive undercover sex trafficking sting in North Texas led to the arrest of 46 men.
The arrests included a youth pastor, high school football coach, professional hockey player, and a director of operations for a large hospital network.
46 men were arrested in connection with a massive undercover sex-trafficking sting operation in North #Texas.

Among the men arrested were a youth pastor, a high school football coach, and a director of operations for a large hospital network. https://t.co/4GZ3gDVCYH

— The Epoch Times (@EpochTimes) January 26, 2023
46 Men Arrested in North Texas Undercover Sex Trafficking Sting https://t.co/h2UUo0zq9f

— Liz (@ElizabethFarin3) January 26, 2023
The men were reportedly arrested at "upscale hotels in Frisco and Southlake on Jan. 12 and Jan. 13," The Epoch Times reports.
The U.S. Department of Homeland Security issued a press release that stated the "multi-agency operation" targeted the "demand for commercial sex across North Texas."
"The joint law enforcement operation coincided with the Department of Homeland Security's Blue Campaign to highlight Human Trafficking awareness month," the HSI Dallas office announced.
For Immediate Release: HSI Dallas multi-agency operation leads to arrest of 46 individuals for state sex trafficking violations. #HumanTraffickingAwarenessMonth pic.twitter.com/K9iWqOXMED

— Tarrant County SO (@tarrantcountyso) January 20, 2023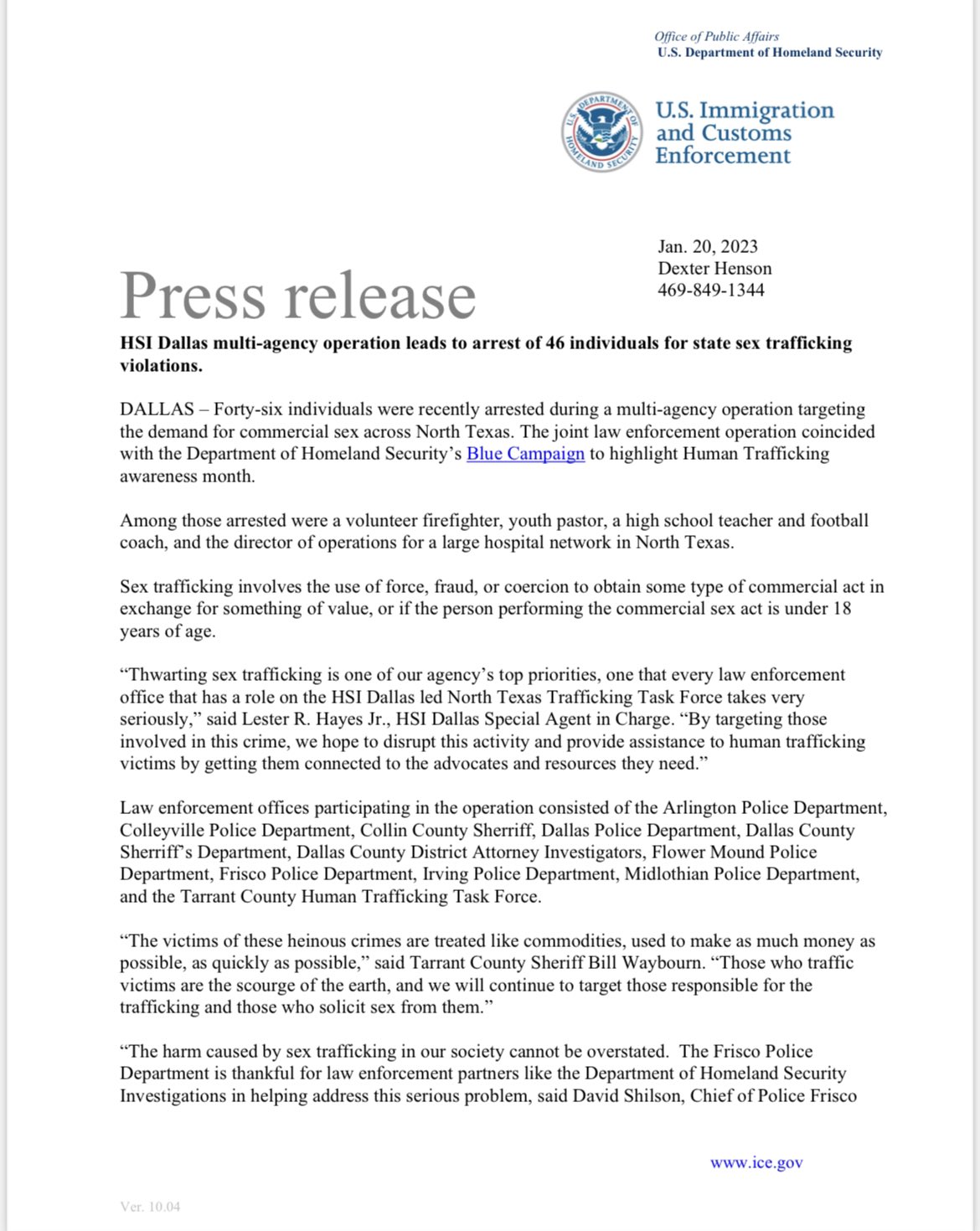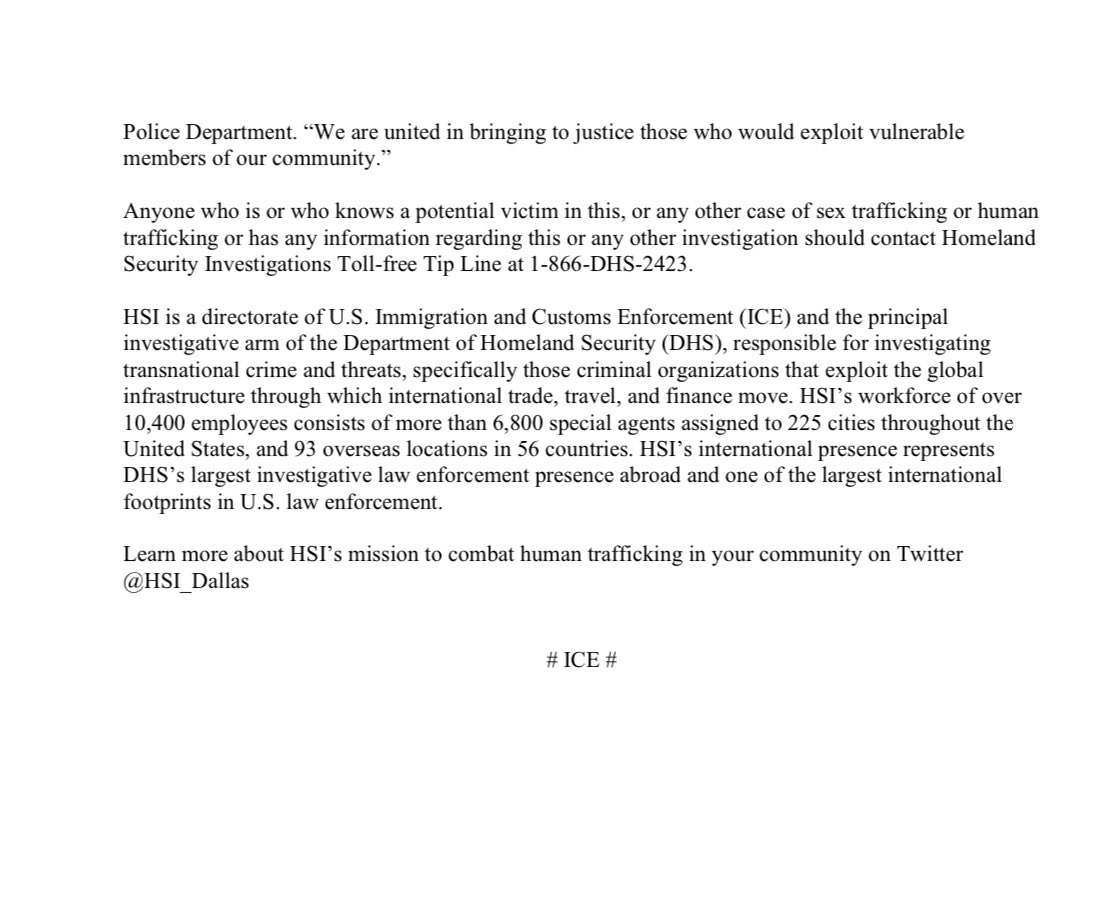 "By targeting those involved in this crime, we hope to disrupt this activity and provide assistance to human trafficking victims by getting them connected to the advocates and resources they need," said HSI Special Agent in Charge Lester R. Hayes, Jr.
While most of the arrested men were from North Texas cities, a few individuals were from out-of-state locations.
Among the arrested men was an individual from Colorado, an individual from Oklahoma, and an individual from California.
The Epoch Times provided further details about the arrests:
In the operation, law enforcement officers responded to online solicitations for prostitution, according to Frisco PD.

They arranged meetups at an upscale hotel in Frisco and another in Southlake. Hotel management and staff were aware of the operation and cooperated with officials. The suspects were arrested upon arrival at the locations without incident, authorities said.

LeMarcus Strickland of Keller, Texas, was arrested during the operation in Southlake. The 35-year-old was listed as an area director for the non-profit First Priority of America in Fort Worth, according to the Fort Worth Star-Telegram. The organization provides resources for Christian students to form clubs on public school campuses.

Strickland's information has been removed from the group's website. The Epoch Times has reached out for comment.

A former teacher and assistant football coach at Flower Mound Marcus High School was also among the men taken into custody.

Cecil Timothy Morrison joined the school district in April 2018, according to The Dallas Morning News. He resigned on Jan. 18.

"Mr. Morrison was placed on administrative leave when the district became aware of his arrest and subsequently submitted his resignation to the district last week," Lewisville ISD Communications Director Amanda Brim said in a statement, as reported by multiple news outlets. "This is a legal matter outside his role in our district, and we have no indication the circumstances surrounding his arrest involved students."
"Frisco detectives found no evidence to substantiate rumors circulating about local underage trafficking," the Fort Worth Star-Telegram noted.
Additional info from Fort Worth Star-Telegram:
Among those arrested in the sting in Frisco was 49-year-old Jim Hemmingway, of The Colony, who was the director of operations at Baylor Scott & White Health in North Texas. As of Wednesday, Hemmingway was no longer an employee of the health care system, according to an official with Baylor Scott & White Health.

In addition, Frisco police arrested 31-year-old Spencer Asuchak, a hockey player for the Allen Americans. His status on the team was not available on Wednesday.

Law enforcement agencies participating in the operation included the Arlington Police Department, Colleyville Police Department, Collin County Sheriff's Office, Dallas Police Department, Dallas County Sheriff's Department, Dallas County District Attorney's Office investigators, Flower Mound Police Department, Frisco Police Department, Irving Police Department, Midlothian Police Department, and the Tarrant County Human Trafficking Task Force.