This is awkward!
Just days after passing a law banning new sales of gasoline powered cars by 2035, California is urging residents to avoid charging electric cars to ward off blackouts during an expected heatwave.
From The Gateway Pundit:
"During a Flex Alert, consumers are urged to reduce energy use from 4-9 p.m. when the system is most stressed because demand for electricity remains high and there is less solar energy available. The top three conservation actions are to set thermostats to 78 degrees or higher, avoid using large appliances and charging electric vehicles, and turn off unnecessary lights."
California grid operator: Expect blackouts pic.twitter.com/nSIJ4jnb2s

— Wittgenstein (@backtolife_2023) August 31, 2022
DEVELOPING: California power grid officials warn of blackouts, urge residents to conserve energy.

"Set thermostats to 78 degrees or higher, avoid using large appliances and charging electric vehicles, and turn off unnecessary lights," pic.twitter.com/hOn8kweyuD

— Breaking911 (@Breaking911) August 31, 2022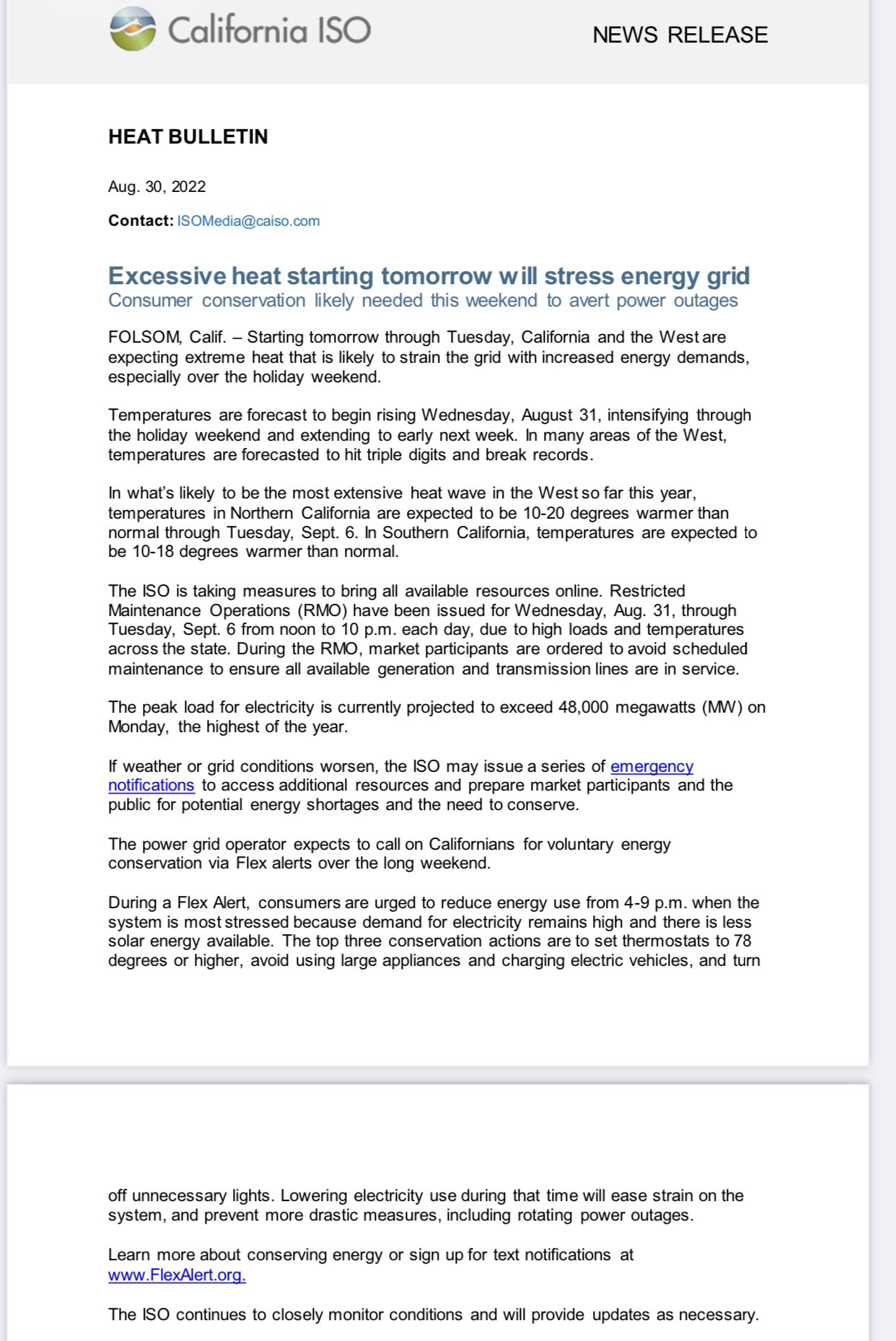 The San Diego Union-Tribune reported:
The California Independent System Operator that manages the electric grid for about 80 percent of the Golden State warns the power system is expected to come under strain as homeowners and businesses crank up their air conditioning units. Weather forecasters expect temperatures to climb on Wednesday and intensify through the start of next week.

Peak load for electricity is currently projected to exceed 48,000 megawatts on Labor Day, the highest of the year, said the system operator, known as the California ISO for short, in a heat bulletin released late Tuesday. For perspective, 48,000 MW is about 14 percent higher than Tuesday's peak.

Temperatures will climb into the 80s Wednesday along the San Diego County coastline and tick upward as the week goes along, says the National Weather Service. San Diego's Mission Valley is expected to hit 95 on Saturday. And areas of the city east of Interstate 805 will reach 100 on Sunday, and possibly Monday, while valleys and foothills rise to roughly 105. San Diego County Estates could get to 107.
cont.
"If weather or grid conditions worsen," the ISO bulletin said, the grid manager "may issue a series of emergency notifications to access additional resources and prepare market participants and the public for potential energy shortages and the need to conserve."

That could well mean issuing a Flex Alert, a statewide request for customers to voluntarily reduce energy consumption from 4 p.m. to 9 p.m. Those are the hours when California's grid is under the most pressure because production from solar decreases and eventually disappears in the evening hours — but the weather is still hot and energy demand remains high because people are still consuming electricity.

On Monday, the ISO sent a notification to utilities and other power providers to hold off on scheduled maintenance on generators or transmission lines each day from noon to 10 p.m., through Sept. 6, to help make sure all available generation and transmission lines are in service.
Cal Matters breaks down how electric vehicles will be phased in:
Automakers will have to gradually electrify their fleet of new vehicles, beginning with 35% of 2026 models sold, increasing to 68% in 2030 and 100% for 2035 models. As of this year, about 16% of all new car sales in California are zero-emission vehicles, twice the share in 2020.

The millions of existing gas-powered cars already on the roads and used car sales are unaffected by the mandate, which only sets a zero-emission standard for new models.

The switch to zero-emission vehicles marks a historic precedent that would ripple across the country, paving the way for other states, and perhaps countries, to follow.

John Bozzella, president and CEO of the Alliance for Automotive Innovation, a trade group representing automakers, said automakers support the transition to electric cars, but called the timeline "very aggressive," adding that it will be "extremely challenging" for the industry to adjust in time.

"Whether or not these requirements are realistic or achievable is directly linked to external factors like inflation, charging and fuel infrastructure, supply chains, labor, critical mineral availability and pricing and the ongoing semiconductor shortage," he said. "These are complex, intertwined and global issues well beyond the control of either the California Air Resources Board or the auto industry."