Arizona Gov. Doug Ducey last week issued an executive order to begin filling gaps in the Yuma border wall by using double stacked shipping containers reinforced w/ concertina wire on the top.
NEW: Citing the Biden admin's "dereliction of duty", Arizona Gov. Doug Ducey issued an executive order today to immediately begin filling gaps in the Yuma border wall by using double stacked shipping containers reinforced w/ concertina wire on the top. Work began today. @FoxNews pic.twitter.com/AR9qhPEajh

— Bill Melugin (@BillFOXLA) August 12, 2022
Fox News wrote:
On Friday, Gov. Doug Ducey announced he would permit construction to finish the border wall in Yuma using shipping containers to close the gaps.

Sixty double-stacked shipping containers with razor wire are a temporary solution.

One of the main gaps near the Morales Dam was partially closed as of Tuesday, although Fox News witnessed some migrants still crossing in between construction.

"This is part of the state's reaction of waiting for a year and a half for the federal government to do something," Mayor Douglas Nicholls said, "because it is the federal government's responsibility to control the border in whatever form and fashion that would be when you have ever-increasing numbers and record setting numbers and the federal government not really doing anything to prevent it."
However, two of the massive shipping containers were found tipped over shortly after its installation.
Arizona is trying to figure out how a makeshift border wall of two massive shipping containers was dislodged shortly after its installation last weekend. https://t.co/0l7zrwQ9hd

— The Washington Times (@WashTimes) August 19, 2022
After observing the damage to the shipping containers, it appears a bulldozer or forklift was used to topple them over.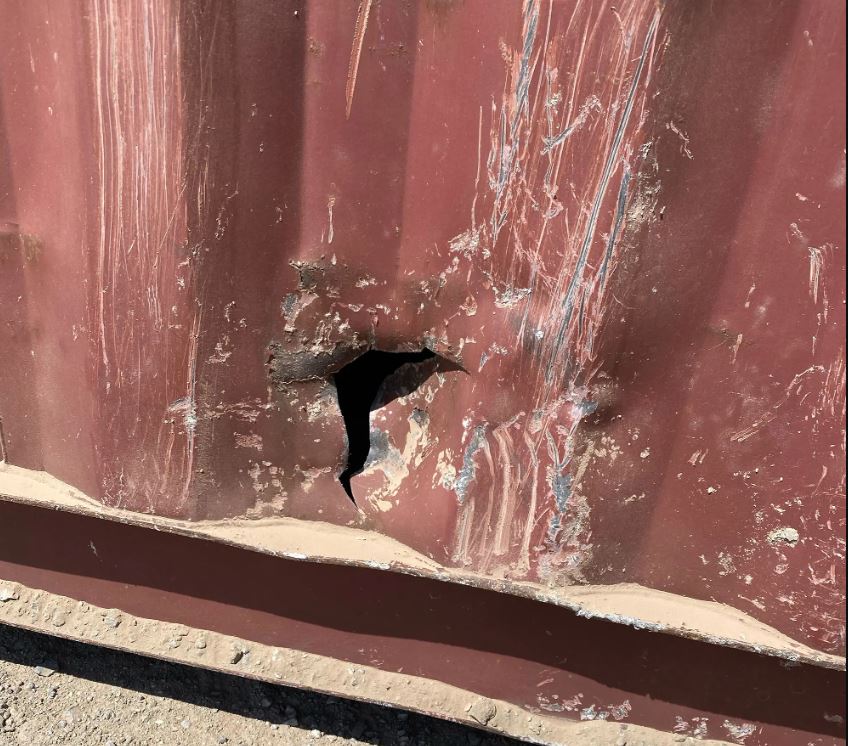 *Image from Citizen Free Press*
From the New York Post:
Part of Arizona's temporary border wall toppled over earlier this week — and state officials believe it was deliberate.

Two shipping containers placed along the US-Mexico frontier fell onto their side sometime Sunday evening. Gov. Doug Ducey's office was made aware of the incident by Border Patrol around midnight and the containers were put back into place at around 6:30 a.m. Monday.

Initially, reports indicated that the containers, which measure 60 feet high and 22 feet long, fell over due to high winds.

"There still seems to be some unfounded speculation that wind knocked these things over," Ducey communications director CJ Karamargin told The Post, adding that possibility was "highly unlikely."

"One of the containers that was knocked over … shows some sort of equipment was used to move them because it dented and put a hole in one of the sides of the container," Karamargin said. "That doesn't happen with wind."

Karamargin previously told the Washington Examiner that while Arizona is often subject to high, intense winds, the containers weigh around 8,800 pounds.
"The idea that it was a weather-related event seems unlikely. These things weigh 8,800 pounds," he told the outlet.
"There were two of them together — 8,800 pounds is basically the weight of a Ford F-450. We have a lot of strong winds in Arizona. You don't see a lot of Ford F-450s flying around when we have strong winds."
It remains unclear how exactly the containers fell onto their side since "no one saw it happen," Karamargin said.