Donald Trump posted on his TRUTH Social account on Monday that the FBI stole his three passports during the Mar-a-Lago raid.
"Wow! In the raid by the FBI of Mar-a-Lago, they stole my three Passports (one expired), along with everything else. This is an assault on a political opponent at a level never seen before in our Country. Third World!" Trump posted.
Trump also commented on the public backlash against the FBI's raid and how it increases the chances of a Red Wave this November.
"Republicans could win many additional seats, both in the House & Senate, because of the strong backlash over the raid at Mat-a-Lago. Polls are showing that some lost Republican territory over the last number of weeks has been more than made up with the unannounced Break In by the FBI, which should never have happened!" Trump posted.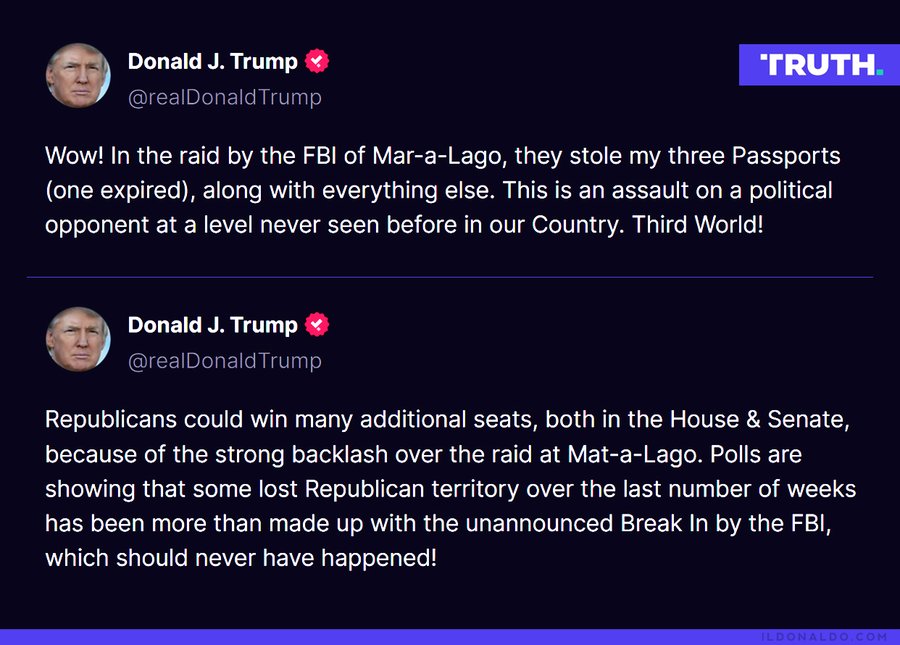 The Department of Justice returned the passports to Trump after the unprecedented raid on his private estate.
JUST IN: DOJ says passports taken from Trump's Mar-a-Lago have been returned – NBC https://t.co/loKs760aoG

— Breaking911 (@Breaking911) August 15, 2022
NBC News reported:
Passports belonging to Donald Trump have been returned to the former president after last week's FBI search of his Mar-a-Lago home, a Justice Department official told NBC News on Monday.

The FBI acknowledged it had had the passports the same day Trump said on his social media platform that FBI agents who conducted the search on Aug. 8 took them.

In a statement on Truth Social, Trump said agents "stole my three Passports (one expired), along with everything else." He did not provide further details or specify whether the travel documents were personal or government passports. (Presidents receive diplomatic passports when they take office.)

A Justice Department official said Trump's passports have been returned.
The fake news media continues pushing the narrative that President Trump may be guilty of espionage.
From ABC News:
On Aug. 12, a judge released redacted copies of the warrant as well as inventory from the search. The federal government had requested the documents be unsealed.

The filing indicated that the Justice Department is investigating potential violation of at least three separate criminal statutes, including a statute under the Espionage Act. Under the receipt showing property that was seized from Mar-a-Lago, FBI agents noted that they recovered 11 sets of documents of various classifications ranging from confidential to top secret and sensitive compartmented information.

In June, an attorney for Trump signed a statement saying that all classified documents at Mar-a-Lago had been turned over to federal investigators, sources familiar with the matter told ABC News. The signed statement was submitted after the first subpoena but before a second.

The signed declaration came on the heels of a June visit by federal agents who were searching for additional materials that Trump was believed to have failed to turn over to the National Archives. During that visit, Trump stopped by and greeted the agents. Two lawyers representing Trump were present during that visit, sources told ABC News.
Trump posted on his TRUTH Social account that the documents were "all declassified."
"Number one, it was all declassified. Number two, they didn't need to "seize" anything. They could have had it anytime they wanted without playing politics and breaking into Mar-a-Lago. It was in secured storage, with an additional lock put on as per their request…" Trump posted on Truth Social.
Meanwhile, MSNBC clowns parroted the same narrative and suggested Trump may be guilty of espionage.
WATCH:
MSNBC's @FrankFigliuzzi1 & @JohnBrennan defend the feds reportedly taking Trump's passport: "Your passport is not yours, by the way. It's the U.S. government's. It's a privilege and they can take it back" pic.twitter.com/9HpbWnvKOa

— Tom Elliott (@tomselliott) August 15, 2022