In an epic troll, President Trump gave his highly anticipated endorsement to "Eric" for the Missouri Senate Republican Primary.
"I trust the Great People of Missouri, on this one, to make up their own minds, much as they did when they gave me landslide victories in the 2016 and 2020 Elections, and I am therefore proud to announce that ERIC has my Complete and Total Endorsement!" Trump announced.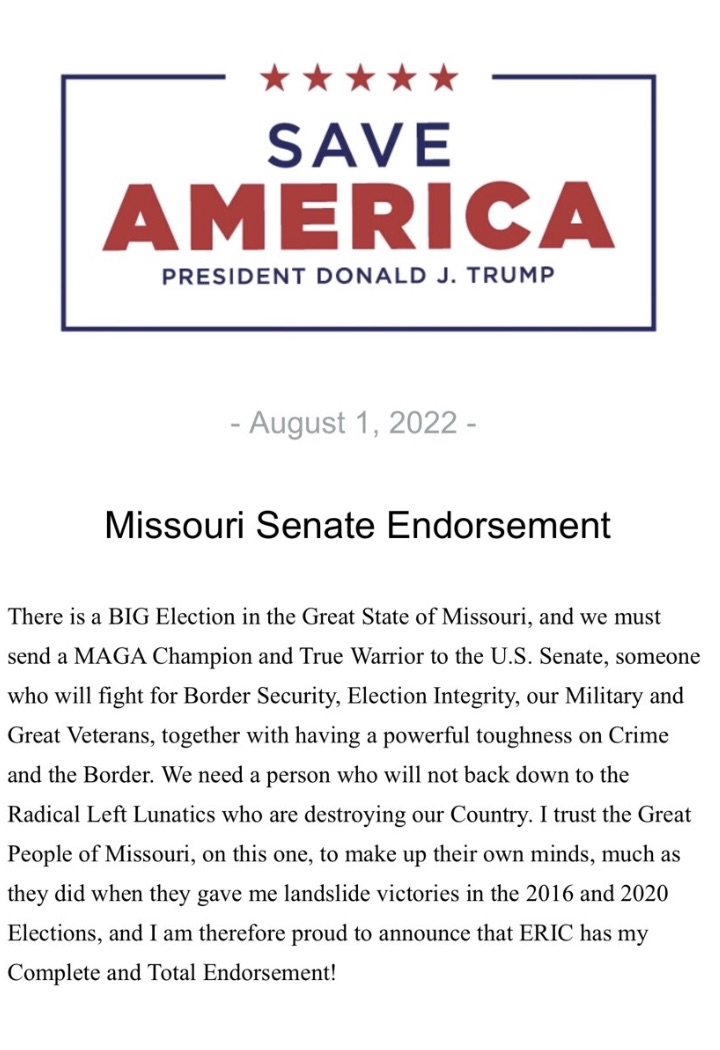 In Trump's statement, it sounds like he is endorsing both Greitens and Schmitt, and leaving it up to Missouri voters.
He hasn't clarified his statement and it feels like masterclass trolling.
Trump endorses "ERIC" without saying whether it's Greitens or Schmitt. A truly bizarre ending to the battle of Erics. pic.twitter.com/FTIBWsZG5r

— Bryan Lowry (@BryanLowry3) August 1, 2022
It appears both Erics are claiming the endorsement.
I'm honored to receive President Trump's endorsement. From the beginning, I've been the true MAGA Champion fighting against the RINO establishment backing Schmitt.

President Trump said it best when he characterized Schmitt's campaign as 'great dishonesty in politics.'

— Eric Greitens (@EricGreitens) August 1, 2022
Let's go!🇺🇸 https://t.co/CtgXuAWYlj

— Eric Schmitt (@Eric_Schmitt) August 1, 2022
Rep. Matt Gaetz congratulated Eric for receiving Trump's endorsement.
Great Endorsement! https://t.co/UmAoGncPRx

— Matt Gaetz (@mattgaetz) August 1, 2022
The St. Louis Post-Dispatch commented on the speculation for the race:
Political observers had for months speculated as to which candidate Trump would back in Missouri's 21-candidate Republican primary to replace Sen. Roy Blunt, a Republican.
In December, conservative radio host Hugh Hewitt pleaded with Trump not to back Greitens, who resigned in 2018 after being consumed with scandals connected to an extramarital affair he had and his unreported receipt of a campaign donor list from the veterans charity he founded.

"Please don't endorse Eric Greitens. That's a nightmare, Mr. President. We'll lose that seat," Hewitt told Trump in a radio interview.

Trump made no promises at the time.

"Well, that's an interesting opinion, that's true," Trump said. "He's right now leading by quite a bit."

Indeed, the former president had been warming to Greitens, Politico reported in early March. After all, despite scandals other Republicans feared could hand the seat to Democrats in the fall, Greitens was out front in opposing Senate Minority Leader Mitch McConnell, with whom Trump has feuded. (Schmitt and Hartzler also distanced themselves from McConnell last week.)

After the phone call, Trump issued a statement signaling he'd like to back Long but wondered if voters had "been considering" the southwest Missouri congressman, indicating Trump wanted to endorse a candidate with strong public support.

Greitens has been the subject of a multimillion-dollar campaign financed by GOP donors and operatives to paint him as unfit for office.

After leading the polls in the early going, Greitens began to fade, with Schmitt appearing to take the lead

in the closing week.

But two weeks after the Politico article, headlined "Trump's McConnell obsession leads him toward Eric Greitens," Greitens' ex-wife accused the ex-governor of spousal and child abuse in court documents.

After those revelations, U.S. Rep. Billy Long said Trump contacted him and talked about the allegations against Greitens, indicating concern from the former president about Greitens' viability.