Western governments have funneled over $100 billion to Ukraine in the war effort against Russia.
A significant portion of the money to prop up the corrupt Ukrainian regime came at the expense of U.S. taxpayers.
Yet, Kyiv is still counting on Ukraine's central bank to buy its debt by selling foreign reserves or printing money.
Although western financial support has increased since May, Kyiv is still counting on Ukraine's central bank to buy its debt by selling foreign reserves or printing money, at the risk of setting off an inflationary spiral https://t.co/1RjuDJun7X

— Financial Times (@FinancialTimes) July 19, 2022
"On Wednesday, Ukraine finance ministry asked foreign creditors to accept a delay in its debt repayments, requesting a two year freeze on billions of dollars in Eurobonds," according to the Ron Paul Institute for Peace and Prosperity.
If it wasn't already clear, the gargantuan amount of money awarded to Ukraine is falling into a bottomless pit of secrecy, corruption, and now, default.
Ukraine is the world's largest money laundering scheme for the globalist elites and corrupt bureaucrats.
Per the Financial Times, "a rescheduling would amount to a Ukrainian default" on Kyiv's tens of billions in foreign debt.
Money Pit: Zelensky signals intent to default on tens of billions in foreign debts https://t.co/V0JYdTwobC

— MarketVitals (@MarketVitalsIO) July 20, 2022
Jordan Schachtel writes in The Dossier:
The news comes just one day after the EU ambassador to Kiev insisted that Ukraine would not default on its foreign debt.

The junk-rated sovereign has a balance of about $25 billion of foreign debt, Bloomberg reports.

Despite all of the money coming in from around the world, Ukraine's budget deficit has spiraled out of control. Zelensky's office now claims to have a $9 billion monthly budget deficit, up 80% from just last month.

"Ukraine's dollar bonds due in 2033 are trading around 18 cents on the dollar, down from about 25 cents at the end of last month and more than 80 cents before Russia's invasion in February," the Bloomberg report adds, highlighting the continuing decline of creditor confidence.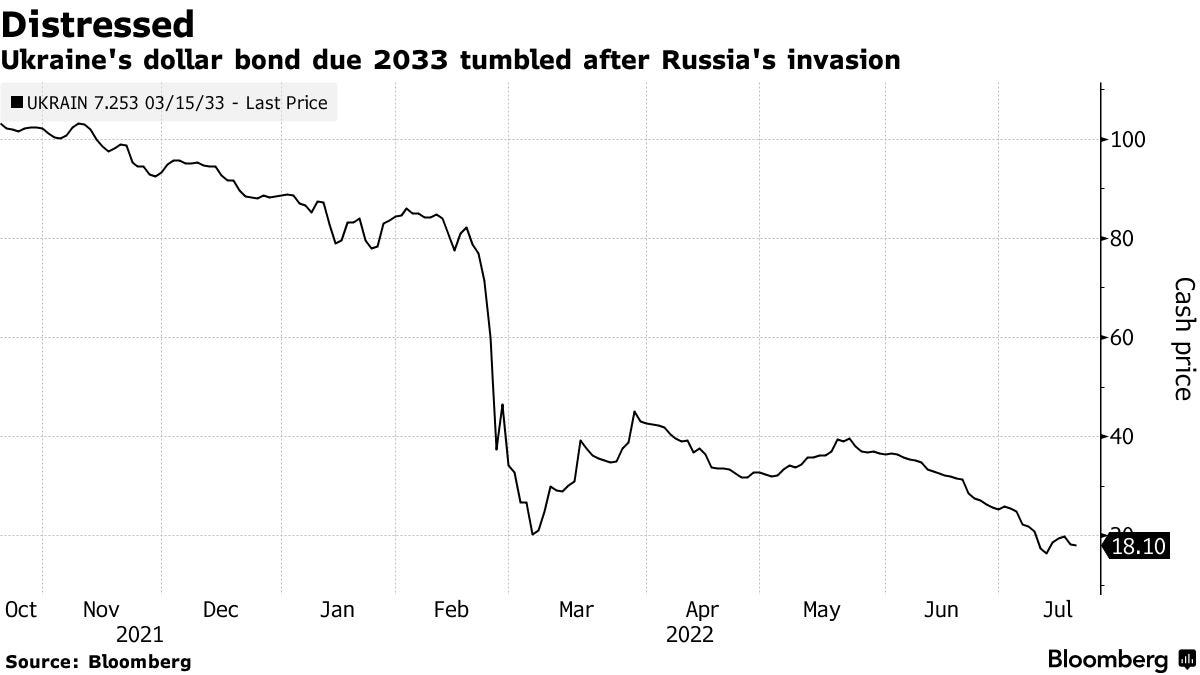 *Image from The Dossier*
Ukraine estimates a 35 to 45 percent crash in its GDP this year. The government in Kiev is hoping to finalize the debt deferral by August 9, Reuters reports.