"The U.S. House of Representatives on Tuesday voted 267-157 to pass a bill that redefines marriage in federal law, codifying a Supreme Court decision that recognized same-sex marriages," The Blaze reported.
The bipartisan Respect for Marriage Act passed with unanimous support from Democrats.
It also received support from 47 Republicans, including GOP conference chairwoman Rep. Elise Stefanik (R-N.Y.), and National Republican Congressional Committee chairman Tom Emmer (R-Minn.).
Full roll call vote on the Respect for Marriage Acthttps://t.co/3qRngXSj9w pic.twitter.com/O8sdWvo0WZ

— Rob Pyers (@rpyers) July 19, 2022
Here are the 47 Republicans who voted for the bill:
47 Republicans just voted affirmatively to redefine marriage. Not to "get government out of it." Not even to accept the Court's decision in Obergefell. To redefine the family in a way that virtually everyone—including Obama—considered unthinkably radical just over a decade ago. pic.twitter.com/YSiSsRy7lB

— Michael Knowles (@michaeljknowles) July 20, 2022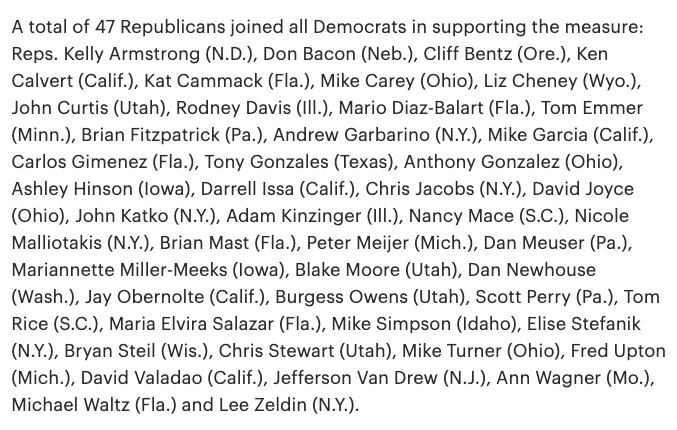 Read the full Roll Call HERE.
The text for H.R. 8404 (Respect for Marriage Act) states:
This bill provides statutory authority for same-sex and interracial marriages.

Specifically, the bill repeals and replaces provisions that define, for purposes of federal law, marriage as between a man and a woman and spouse as a person of the opposite sex with provisions that recognize any marriage that is valid under state law. (The Supreme Court held that the current provisions were unconstitutional in United States v. Windsor in 2013.)

The bill also repeals and replaces provisions that do not require states to recognize same-sex marriages from other states with provisions that prohibit the denial of full faith and credit or any right or claim relating to out-of-state marriages on the basis of sex, race, ethnicity, or national origin. (The Supreme Court held that state laws barring same-sex marriages were unconstitutional in Obergefell v. Hodges in 2015; the Court held that state laws barring interracial marriages were unconstitutional in Loving v. Virginia in 1967.) The bill allows the Department of Justice to bring a civil action and establishes a private right of action for violations.
The bill now heads to the Senate, where at least 10 Republicans will need to vote alongside Democrats to overcome the Senate's 60-vote filibuster threshold and pass the bill.
The Blaze reported:
Though same-sex marriage is already de facto federal law because of the Supreme Court's 2015 decision in Obergefell v. Hodges, Democrats reintroduced the legislation in response to Justice Clarence Thomas' concurring opinion in Dobbs v. Jackson Women's Health Organization — a landmark case that overturned Roe v. Wade — in which Thomas said the court should revisit its substantive due process precedents, including Obergefell. Hysteric Democrats have accused the Supreme Court of threatening to end same-sex marriage rights, and even interracial marriage rights, citing Thomas' opinion and ignoring the court majority's opinion in Dobbs, which explicitly ruled out overturning those precedents.

Justice Samuel Alito, who wrote the majority opinion in the Dobbs decision, emphasized, "Nothing in this opinion should be understood to cast doubt on precedents that do not concern abortion."

Nevertheless, Dobbs galvanized Democrats to schedule a vote on same-sex marriage, which they hoped would put some Republicans on record for opposing marriage equality and serve as a distraction from inflation and President Joe Biden's flailing approval rating.

The Respect for Marriage Act repeals the 1996 Defense of Marriage Act, a law signed by President Bill Clinton that recognized marriage as "only a legal union between one man and one woman as husband and wife." It also defined a spouse as "a person of the opposite sex who is a husband or a wife."

The bill also prohibits individual states from recognizing the traditional definition of marriage as a union between one man and one woman. Democrats said these legal protections are necessary to protect marriage equality.