"A three-star general had his military contract suspended and is now being investigated over a tweet sent to first lady Jill Biden which appeared to mock her," Zero Hedge reported.
"Retired Lt. Gen. Gary Volesky is the Army's former top spokesman, but while in retirement he recently signed a contract with the Army to command the Combined Arms Center and advise active duty officers."
Volesky is being investigated for this now deleted tweet: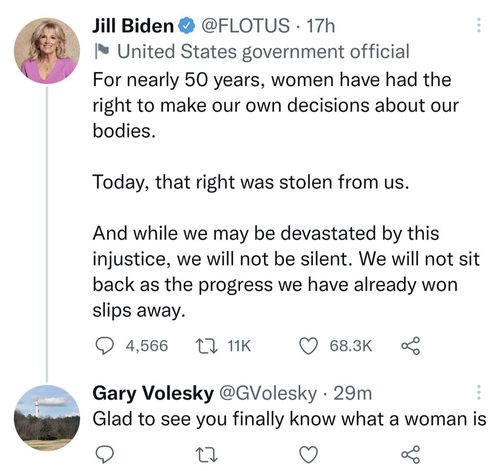 "For nearly 50 years, women have had the right to make our own decisions about our bodies. Today, that right was stolen from us," Jill Biden's initial tweet said.
Gen. Volesky responded using his personal Twitter account, "Glad to see you finally know what a woman is."
Retired Lt. Gen. Gary Volesky was suspended from his contracting role with the Army after he replied to Jill Biden's tweet about Roe v. Wade with a comment appearing to mock the first lady and trans people.https://t.co/HbgbBn2HA0

— NPR (@NPR) July 10, 2022
The U.S. Army has suspended retired Lt. Gen. Gary Volesky, its former head of communications, from his mentorship role and placed him under investigation after he posted a tweet that appeared to mock first lady Jill Biden's tweet about SCOTUS decision https://t.co/h4hH9du6ec

— Alex Thompson (@AlexThomp) July 10, 2022
NPR reported:
His remark appeared to echo an exchange between Judge Ketanji Brown Jackson and Sen. Marsha Blackburn, R-Tenn., during a confirmation hearing for Jackson in March. Blackburn pushed Jackson to define the word "woman" in regards to transgender rights.

Volesky was on a $92-an-hour contract with the Army serving as a senior mentor advising top military officers and other personnel on war games strategy and other military activities, according to the USA Today report.

The Army did not immediately respond to a request for comment, but in a statement to USA Today,spokeswoman Cynthia Smith confirmed that Volesky had been suspended pending the inquiry's outcome. Attempts to reach Volesky were not immediately successful.

Volesky is a decorated, retired three-star general who received one of the military's highest honors, the Silver Star, for his valor in Iraq. He also served in the Gulf War and the war in Afghanistan.

He commanded the Army's I Corps, one of its top formations. He was also commander of the 101st Airborne Division.

Volesky was the chief of the Army's Public Affairs division from 2012 to 2014 and retired from the Army in 2020.
If you remember the exchange between Jackson and Blackburn, Jackson's ridiculous response while refusing to acknowledge what a woman is, was to say "I'm not a biologist."
According to USA Today, the tweet wasn't the first time Volesky had posted about politics.
In 2021, he responded to a tweet by Rep. Liz Cheney, R-Wyo., about the investigation into the Jan. 6 Capitol riot.
"I'm honored to serve on the January 6th select committee. Our oath to the Constitution must be above partisan politics," Cheney tweeted.
"This is all about partisan politics," Volesky tweeted in response, according to USA Today.