Newly released birth rate data from Germany has potentially revealed a massive safety signal for infertility.
The following graph compares German first quarter births by year from 2011-2022: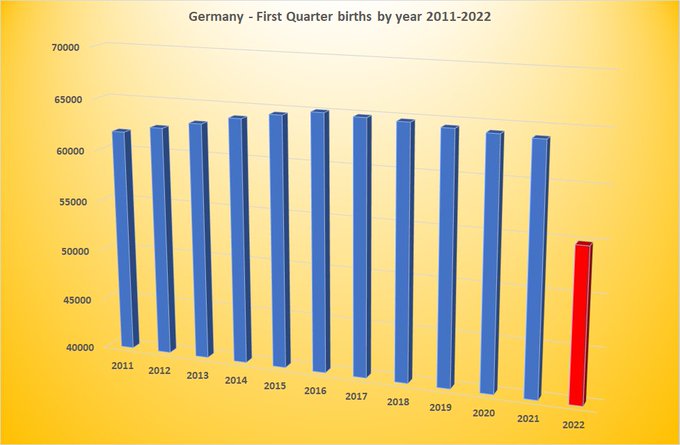 Citizen journalist ArnGrimR explained:
It shows the number of births in Germany in the last 12 years, in first quarter of each year. It shows a drop of about 10% in 2022, from the 10 year average 2011-2021 of 63,911 to 54,871 in 2022. A drop of 9 standard deviations, which places it firmly into the territory of the abnormal. This is not normal, but a reaction to something else that has happened.
Official link to German stats is the official German office of statistics, Destatis Statistisches Bundesambt.
With the English translator, I ran the first quarter birth data for 2011-2022 and tabulated these results.
*Source*
The graph displays a noticeable drop from 2021 to 2022.
This substantial decline in first quarter birth rates coincides with the COVID-19 jab rollout.
Review the subsequent thread that tracks similar patterns in other countries:
This is a massive safety signal for infertility. Germany's FIRST report of birth rates since the rollout.

Remember that the birth rate data is 9 months too late.

If the next quarter is worse, this is Children of Men scenario. pic.twitter.com/AwhvB6KjpG

— Jikkyleaks (Fan account) 🐭 (@Jikkyleaks) June 26, 2022
For a 9 sigma drop in birth rates to have happened in Jan-Mar 2022, something dramatic had to have happened to stop pregnancies occurring in March to June 2021.

I wonder what that could be?
Were couples depressed? Looking to move house? Too busy?https://t.co/GJ8RlL8Z6B pic.twitter.com/VQT8tNRHe2

— Jikkyleaks (Fan account) 🐭 (@Jikkyleaks) June 26, 2022
In the Children of Men, the midwives were the first to notice. The phone stopped ringing. But it only affected humans.

Nobody listened to the midwives. In today's equivalent we are not allowed to speak. Not allowed to raise concerns. https://t.co/2geQKJZvUb pic.twitter.com/7rdwdwILcG

— Jikkyleaks (Fan account) 🐭 (@Jikkyleaks) June 26, 2022
Not just UK, not just Germany.
North Dakota provisional data showing another drop of 11% for Feb-April.

Unprecedented for a state that has a stable birth rate with SD<5% of mean
h/t @ichudov https://t.co/TgD396zowN pic.twitter.com/PLSAxBjNac

— Jikkyleaks (Fan account) 🐭 (@Jikkyleaks) June 26, 2022
I dunno. Probably just a blip. Coincidence. What do I know, I'm just a mouse. @1979pop https://t.co/TwONkJh5Wx

— Jikkyleaks (Fan account) 🐭 (@Jikkyleaks) June 26, 2022
Netherlands…. Same patternhttps://t.co/OSyEZ3EcAl

— Jikkyleaks (Fan account) 🐭 (@Jikkyleaks) June 26, 2022
ArnGrimR noted the following data points:
Less outspoken than the others, these data from Scotland: [link https://www.nrscotland.gov.uk/files//statistics/births-marriages-deaths-quarterly/22/q1/quarter-1-22-report.pdf ]

Or for South Korea, also not as outspoken, and in line with an already downward trend, but following the same pattern:

What does this alarming data mean?
Well, you'd be deemed a conspiracy theorist to suggest depopulation.
The experimental COVID-19 injection is the obvious pharmaceutical product introduced to the population in 2021 and given to billions of people.
cont. from ArnGrimR:
The roll-out for the vaccines happened worldwide in the spring of 2021, exactly in that period about 9 months before the 1st quarter of 2022. The real push started by the end of February 2021 and peaked June 2021, for the first wave of vaccinations.

For Germany, the campaign really started beginning of April, peaking in June. (Bloomberg)
For the UK, between February and May 2021, 75% received at least a first vaccination. (UK Office of National Statistics)

And the detail in the British information allows to see this: If you look at the birth numbers for Feb 2022, you see that unvaccinated new mothers are 33.7% of the new mothers for that month, even though only slightly more than 20% of the population in the UK is still unvaccinated. Which means that out of that 20% comes 33% of the new births in Feb 2022. In this case, most likely due to the fact that the least vaccinated ethnic groups are also the ones with the most children.

Looking at the UK and Germany, a pattern linking the onset of vaccination and the drop in birth rates is rather direct.

The effect of possible miscarriages is not as outspoken unless very early miscarriages in the first week or two (even up to 4-6 weeks), which might be missed as a 'pregnancy', and simply be thought of as a late menstrual cycle.

An article from the Australian ABC reported that in India miscarriage rates increased threefold. The study they referred to did not specify any cause, nor attempted to, but only reported the observations.

In the article, Delhi-based gynecologist Dr Manisha Ranjan was interviewed. The article explained that "about 10 per cent of her patients since April had experienced stillbirths and she believed it was due to COVID-19 complications relating to thrombosis.   

"If we talk about pregnancy, in the first wave we saw a number of patients who were either totally asymptomatic or were not having infection, but in the second wave, when they're infected, the symptoms go [from] moderate to serious complications," she said."

A video on Telegram shows Army vet Pam Long talk about the DMED database, citing a 300% increase in miscarriages.

Miscarriages: a 300% increase in 2021 over the five-year average. The five-year average was 1,499 codes for miscarriages per year. During the first 10 months of 2021, it was 4,182.

VAERS shows 4423 miscarriages reported in relation to the vaccines. Other statistics point in the same direction:
Dr. Naomi Wolf has previously sounded the alarm based on her team's investigative research into the Pfizer COVID-19 jab documents.
(WATCH) Dr. Naomi Wolf Discusses Pfizer COVID-19 Jab Documents and How It Compares to Genocide
If this downward trend worsens the next quarter, it suggests a catastrophic scenario pointing to infertility.
Read the full report and linked sources HERE.