New York gubernatorial candidate Andrew Giuliani, son of former NYC Mayor Rudy Giuliani, said he's banned from appearing in person at a Monday debate against his GOP primary opponents because he refused to show proof of being inoculated against COVID-19.
Giuliani, 36, said he is prohibited from attending in person at WCBS-TV due to the station's COVID-19 jab mandate.
The GOP candidate held a press conference on Sunday morning to protest the situation.
Andrew Giuliani banned from GOP debate at WCBS studio over refusal to provide vax proof https://t.co/kILFGqtjrk pic.twitter.com/M4Upvwp67a

— New York Post (@nypost) June 12, 2022
The CBS2 GOP Primary debate for NY Governor is tomorrow at 7pm. I just learned that one of my 3 opponents will be participating virtually. All 4 of us must be on stage attending in person. The remote option is a nonstarter. Also, the reason to have him virtual is ridiculous.

— Lee Zeldin (@leezeldin) June 12, 2022
The other candidates should withdraw and hold the debate somewhere other than CBS. Surely someone can step up to host? https://t.co/sNoIS4hL37

— Phil Kerpen (@kerpen) June 12, 2022
The New York Post reported:
Giuliani has previously touted that he was unvaccinated, but his announcement on Saturday said only he refused to provide proof of his status. The Post has reached out to the campaign on his current vaccination status.

The son of former Mayor Rudy Giuliani, who has pledged to end coronavirus mandates and rehire all fired public employees with back pay, said he wrote a letter to CBS executives blasting the station's decision.

"While [your rules] will disrupt Monday's debate, the true injustice is that policies such as these have deprived front-line heroes such as firefighters, police and healthcare workers of employment and benefits," the letter read, according to his campaign.

Giuliani will appear virtually in the debate against Long Island Rep. Lee Zeldin, former Westchester County Executive Rob Astorino and businessman Harry Wilson, the release said. The other candidates provided proof of vaccination, according to the Giuliani campaign.
Read Andrew Giuliani's letter to CBS below:
Below is my letter to CBS regarding their decision to exclude me from debating in person.

I will be hosting a press conference today at 11am in front of WCBS studios to discuss further. pic.twitter.com/hUICeHHqW0

— Andrew H. Giuliani (@AndrewHGiuliani) June 12, 2022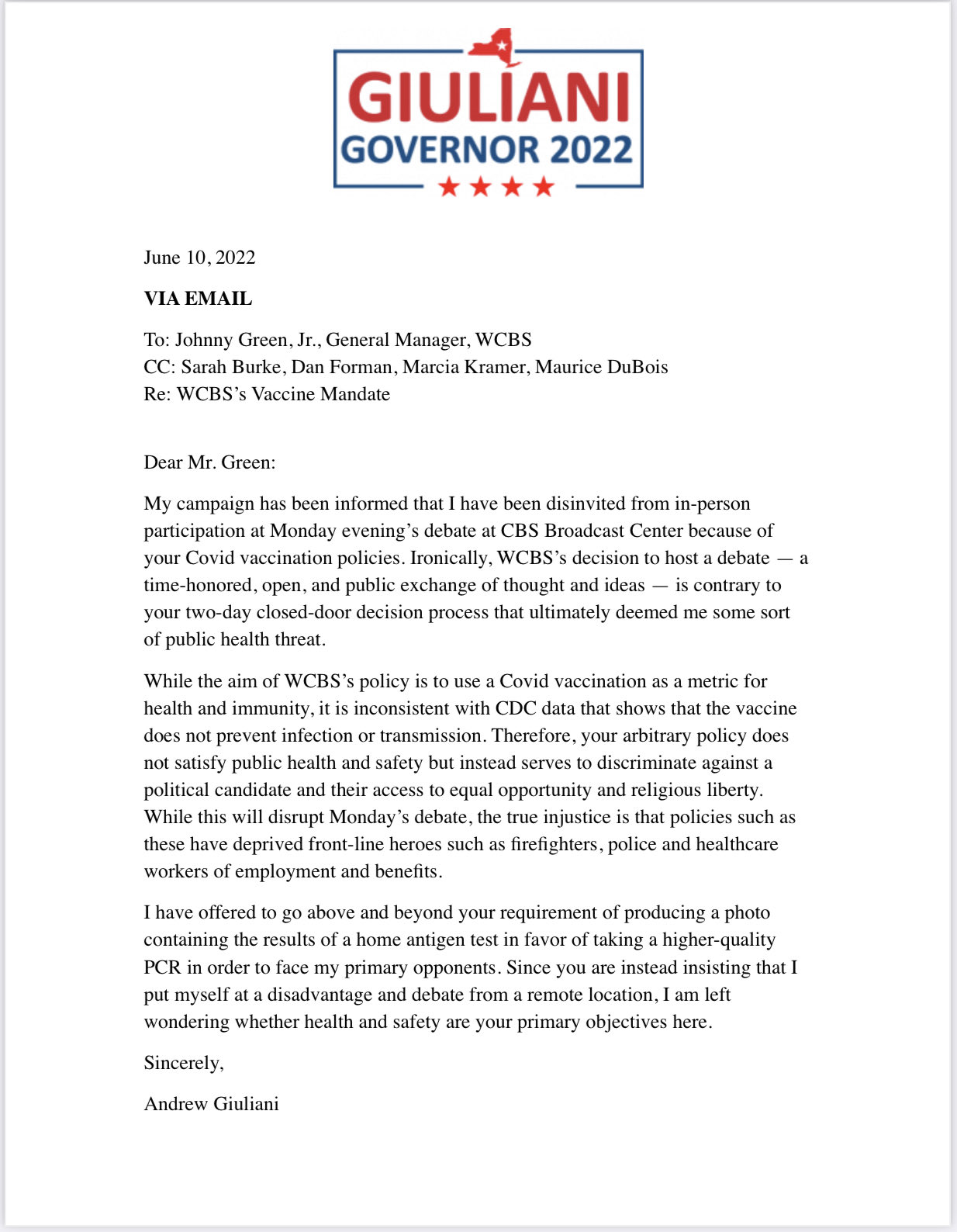 Giuliani offered his platform to one of New York Freedom Rally's activists who has fought against the city's tyrannical medical mandates.
Watch the full press conference HERE.