Nancy Pelosi's husband, Paul, has been arrested for DUI in Napa Valley near the couple's vineyard.
The 82-year-old businessman was booked in Napa County late Saturday night.
His bond was set at $5,000 for driving under the influence and driving with a blood alcohol content level of 0.08 or higher.
It's unclear if Nancy Pelosi was with her husband during his arrest.
BREAKING: Nancy Pelosi's husband arrested for DUI, report says – https://t.co/CBmjo9JCqX pic.twitter.com/ownwA9ZILY

— Breaking911 (@Breaking911) May 29, 2022
Paul Pelosi, the husband of House Speaker Nancy Pelosi, was arrested on DUI charges in California this weekend, booking report shows. https://t.co/2j4P6gSUeq

— CNN Breaking News (@cnnbrk) May 29, 2022
NEW – House Speaker Nancy Pelosi's husband Paul is arrested for drunk driving in California.https://t.co/Pqvwoqarrq

— Disclose.tv (@disclosetv) May 29, 2022
Daily Mail reported:
The two misdemeanor charges are driving under the influence and driving with a blood alcohol content level of 0.08 or higher.

He is believed to have been released after posting $5,000 in bail.

Nancy has not yet commented on his arrested.

She made no mention of it while giving a commencement speech to graduating students at Brown University in Rhode Island on Sunday.

The couple own a vineyard in Napa, in addition to a home in nearby San Francisco, but she does not drink, according to previous statements given by her representatives.

The sprawling estate is one of many the couple owns.

Neighbors were unaware of Paul's arrest.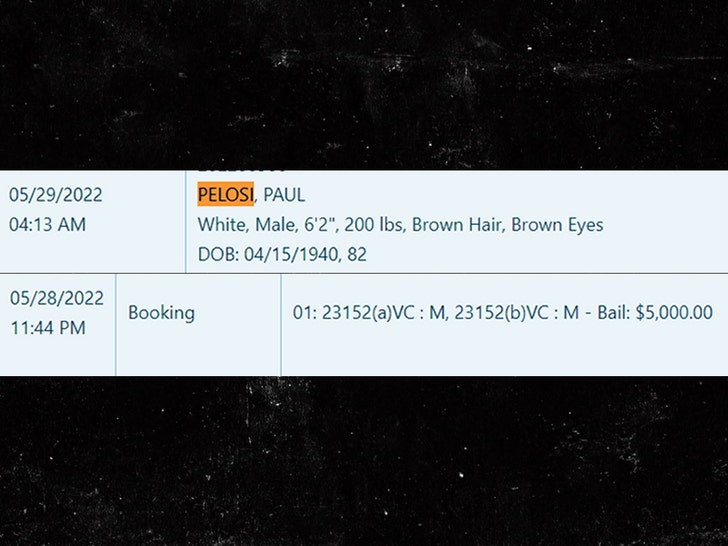 TMZ added:
The details of the incident of the arrest have yet to surface, and we're working on getting a full narrative — as well as a mug shot if available — but at the moment, this is all there is.

BTW, the arrest info here lines up with what we know about Paul publicly, especially his birthday — listed as April 15, 1940. Indeed, the guy's 82 years old.

No word on whether the Speaker herself was with Paul during this bust — as you know, she's often in D.C. for her job … but since it's Memorial Day weekend, she could've possibly been back home with her family for a bit — but it seems unlikely. At the moment, it appears she's in Rhode Island for a commencement speech to graduates there.

She hasn't publicly acknowledged Paul's arrest, and neither have any of her children or immediate family as far as we can tell.