An article published online in the Toronto Star claims a doctor 'put his neck on the line' by vaccinating hundreds of kids under five "off label" against COVID-19.
"A Toronto physician has vaccinated hundreds of children under five — some as young as six months old — against COVID-19, despite the vaccine not being authorized by Health Canada for this age group," the Toronto Star reports.
Public health officials reportedly intervened after they discovered Dr. Christopher Sun, a family doctor in Weston-Mount Dennis, was giving the experimental shots to the ineligible age bracket.
Sun said he gave the COVID-19 shots to about 500 children between the ages of six months and five years during a three-month span "to protect children."
"I put my neck on the line and did what I wanted to get done, which was to protect children," he said in an interview.
Health Canada has not approved any COVID-19 shots for children under five.
In March, Toronto Public Health told him to stop vaccinating kids under five and reported him to the College of Physicians and Surgeons of Ontario, said Sun, adding he still vaccinated this age group until the end of that month.
The Toronto Star added:
He said the CPSO interviewed him about his actions but dismissed the concern. Sun said he has since stopped giving any COVID vaccines off-label — for a purpose or patient group that it's not approved for.

CPSO spokesperson Shae Greenfield said in an email that the college can't comment on this specific matter, but considers the "unique facts" in each case "to determine how best to ensure that the public is protected."

On average only about one per cent of concerns result in a referral to the tribunal, out of more than 3,600 last year, and the college is not aware of others about vaccines for under-fives, Greenfield said.

"Among the factors that would be considered are the nature of the concern, the physician's willingness to correct that behaviour, and whether there is reason to believe that further intervention is necessary to ensure that patients are not subjected to unnecessary risk," Greenfield added

Asked multiple times to confirm details on this case, and about the scope of COVID vaccines given to kids under five in the city, a spokesperson for Toronto Public Health responded in an email that it follows Ontario Ministry of Health guidelines.

"At this time, no COVID-19 vaccine is approved in Canada for children under the age of five years old. The Ontario Ministry of Health guidance does not permit vaccination of children under age five with any publicly funded COVID-19 vaccine," said Lenore Bromley in an email.

Ministry of Health spokespeople would not comment on how many kids under five have been vaccinated in the province, or how many physicians have administered vaccines to this age group.

"A report was run in March 2022 that showed some incidents of children under the age of five being vaccinated," said W.D. Lighthall in an email.

"The information was provided to Public Health Units to review their local vaccine practices and ensure alignment with provincial guidance."
---
There is nowhere in the world that has approved these toxic injections for children under five years old.
These products are proven to be 100% useless against the Omicron strain and have a horrific safety profile.
Yet, this psychopathic doctor felt he "ethically had no reason to say no" to injecting children with a product that could ONLY potentially harm them.
And to 'protect' infants from an illness that statistically presents zero threat to their health and well-being.
The real threat to these innocent children is an unethical maniac masquerading as a physician utilizing the nonsensical fear of propagandized parents.
It made the Substack list! Well done unethical man! Your name shall go down in history as the antithesis of what it is. And remember, you can't spell hypocrisy without psycho!https://t.co/rjPCuDnMiR

— Jessica Rose (@JesslovesMJK) May 28, 2022
Jessica Rose explained her latest VAERS breakdown on her Substack Newsletter:
As life usually has it, this has 'come up' at the same time that I have been given the go-ahead to speak at yet another VRBPAC meeting: "Vaccines and Related Biological Products Advisory Committee June 14-15, 2022 Meeting Announcement", to discuss injecting 6 month-old babies-4 year-olds with the Pfizer and Moderna COVID-19 injectable products.

On June 15, 2022, under Topic II, the committee will meet in open session to discuss amending the EUA of the Moderna COVID-19 mRNA vaccine to include the administration of the primary series to infants and children 6 months through 5 years of age, and also to discuss amending the EUA of the Pfizer-BioNTech COVID-19 mRNA vaccine to include the administration of the primary series to infants and children 6 months through 4 years of age.

Really? Amending the EUA huh? Wow. Doesn't that mean that these products being discussed are still not FDA-approved? Why, yes it does!

So far, VAERS corroborates that it is not just MDs like Sun (ironic name, wuh?) breaking every ethical code that we have; it is random administrators of the injections in the United States. And likely, all over the world. I have prepared a few slides already for this upcoming VRBPAC meeting and I will share a couple of them with you here. 1,832 adverse events have been reported to VAERS for infants 0-5 as of May 27, 2022. The following bar plot shows the data for 0-5 year-olds by dose. Not all of the children have dose data as indicated by N. You'll note that some of these children have been injected 3 times (blue).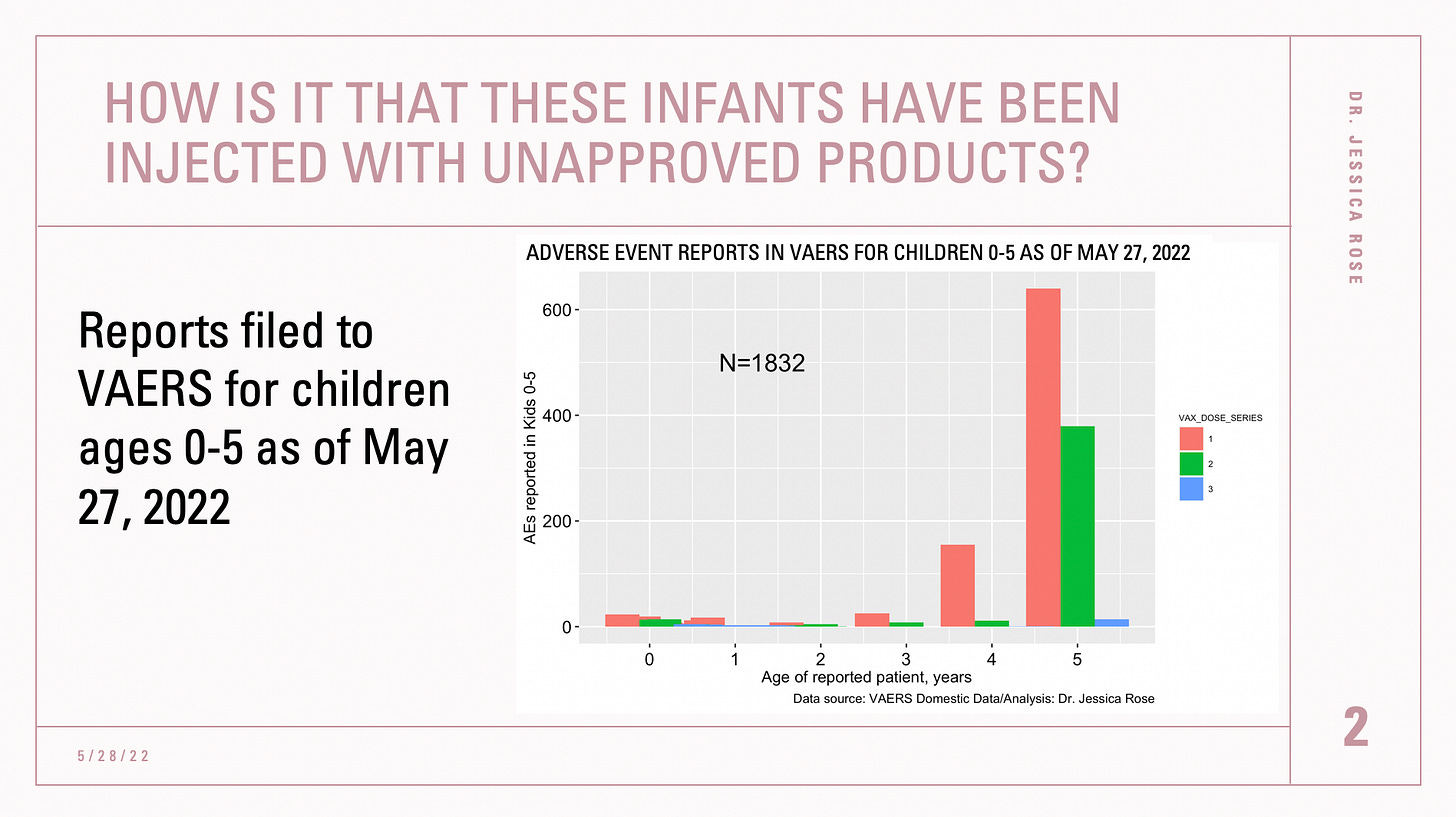 *Source – Unacceptable Jessica*
How many psychopaths in the United States, and around the world, are illegally and unethically injecting children under five with the COVID-19 shots?