Australia released its provisional mortality statistics this week, and the shocking data reveals the unmitigated disaster of the country's COVID-19 response.
All-cause mortality in Australia has skyrocketed, and the country witnessed more COVID-19 deaths after the experimental COVID-19 shot was introduced to the population.
From April 2021, there has been a significant increase in all-cause excess mortality across all age/sex groups.
Australia is looking like (another) disaster for all-cause mortality.

This appears to have started in April 2021.https://t.co/Ok0GTl7hwq

— Jonathan Engler (@jengleruk) May 27, 2022
Holy crap it's got worse.

After 2 years of government policy and the suppression of doctors who raised concerns, the all-cause mortality in Australia has skyrocketed.

Data just released.
Democide.@real_GGoswami https://t.co/JFiqlqaBcy
[red shading = excess deaths] pic.twitter.com/kM1rIrDHkR

— Jikkyleaks (Fan account) 🐭 (@Jikkyleaks) May 25, 2022
🚨 For reference 25.95% is the biggest increase in Excess Mortality that Australia has seen since the Pandemic began.

🇦🇺 Excess Deaths: Feb '20–Jan '22 👇🏼 pic.twitter.com/LTkVctv1gr

— Lindsay (@TexasLindsay) May 14, 2022
As Joel Smalley writes, Australia has begun to reap what it has sown.
It's grim.
From Smalley's Dead Man Talking:
Looking at both sexes and all ages, it is clear that things have gone really wrong for Australia since the week ending 11th April 2021. Between then and the end of Feb 2022, there have been 16k excess deaths.

There have been less than 4k COVID deaths in that same time with most of those coming since Sept 2021.

So, much like every other country of the world, Australia has had more COVID death since the COVID vaccine was introduced in Feb 2021 and substantially more excess death from other causes.

By the end of the period, more than 90% of the adult population has been jabbed.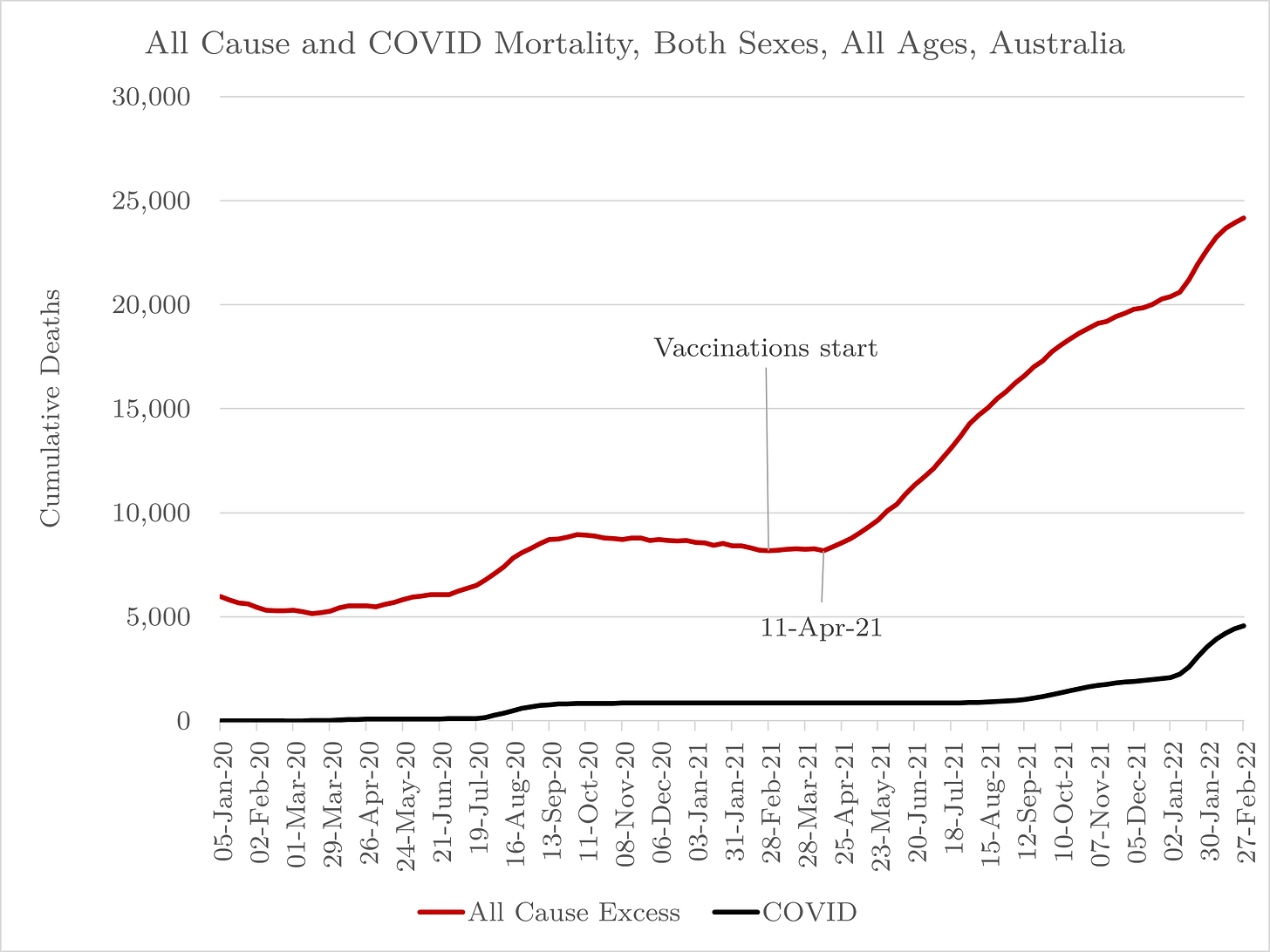 What if we break it down by sex and age?

In the over 75s, the pattern is quite consistent, regardless of sex. There was modest excess death during 2020, the year of the plague, followed by significant excess starting exactly on 11th April 2021, just under two months after the mass COVID vaccinations began.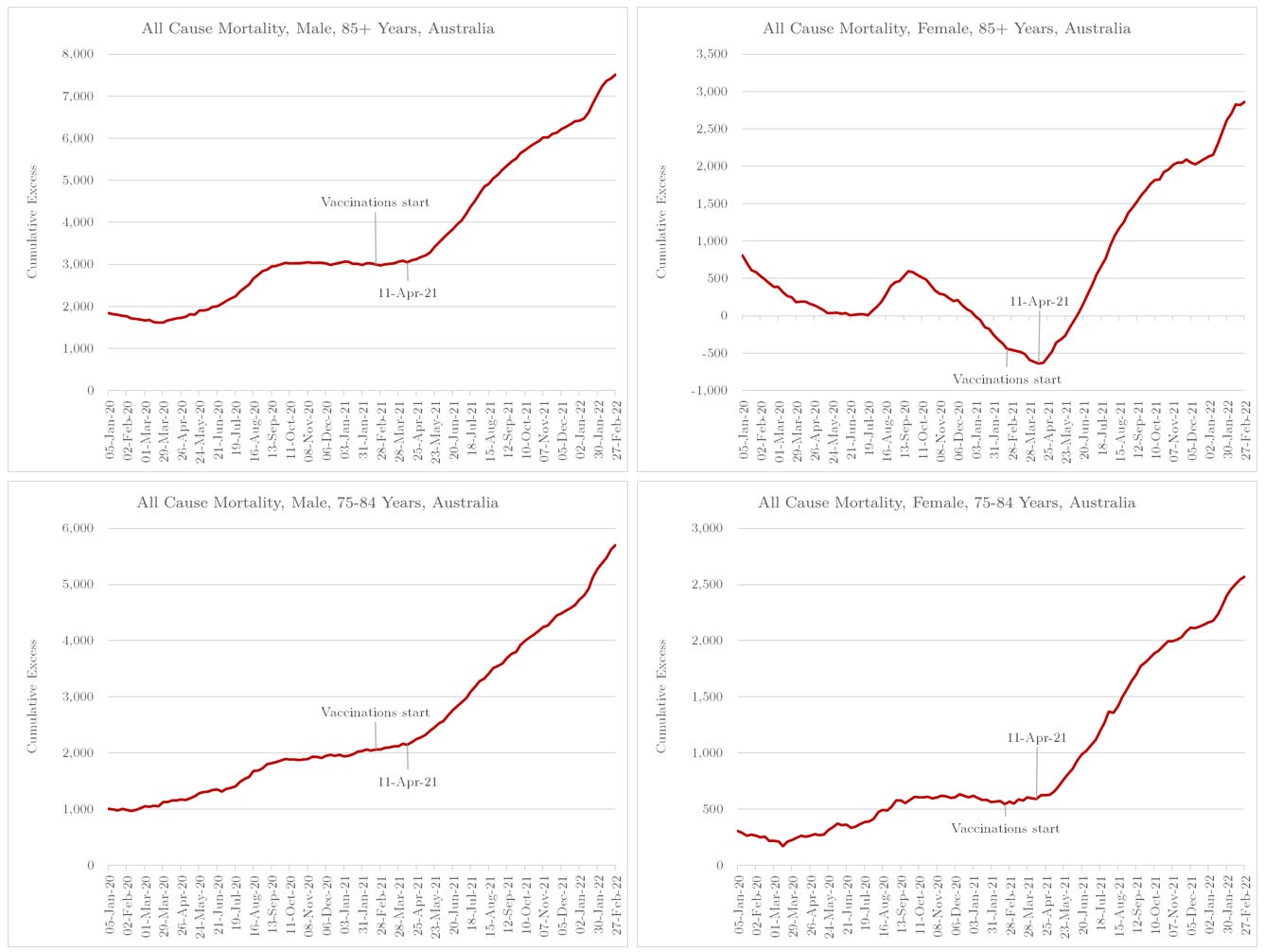 In the 65 to 74 year olds, the men have been dying at a steady excess pace since the start of 2020 with no obvious inflection like the older age groups. The women, on the other hand, were dying at a slightly slower pace but caught up after an inflection on 25th April 2021, two weeks after the older age groups.

Things to start to get interesting in the 45 to 64 year olds. The men have been dying less than expected since the start of 2020 but stop their decline when vaccination starts and rally in early September 2021.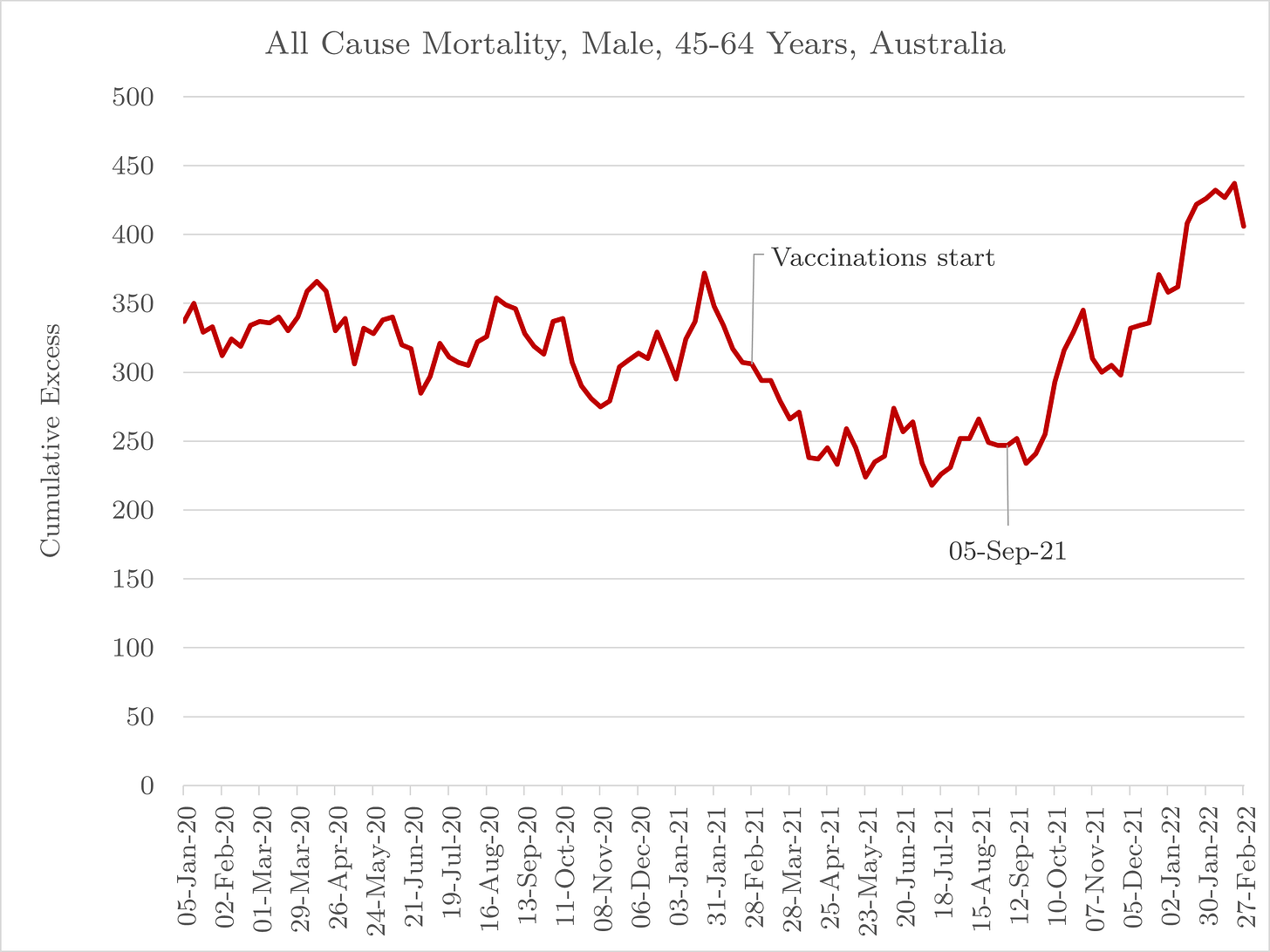 Conversely, the women seemed to have a little spike Feb to May 2020 when COVID was pandemic before also declining in the run up to mass vaccination. But the biggest anomaly is that their death rally starts on 18th April, 1 week after the oldest groups but 1 week before the 65 to 74s and a massive 5 months before the men.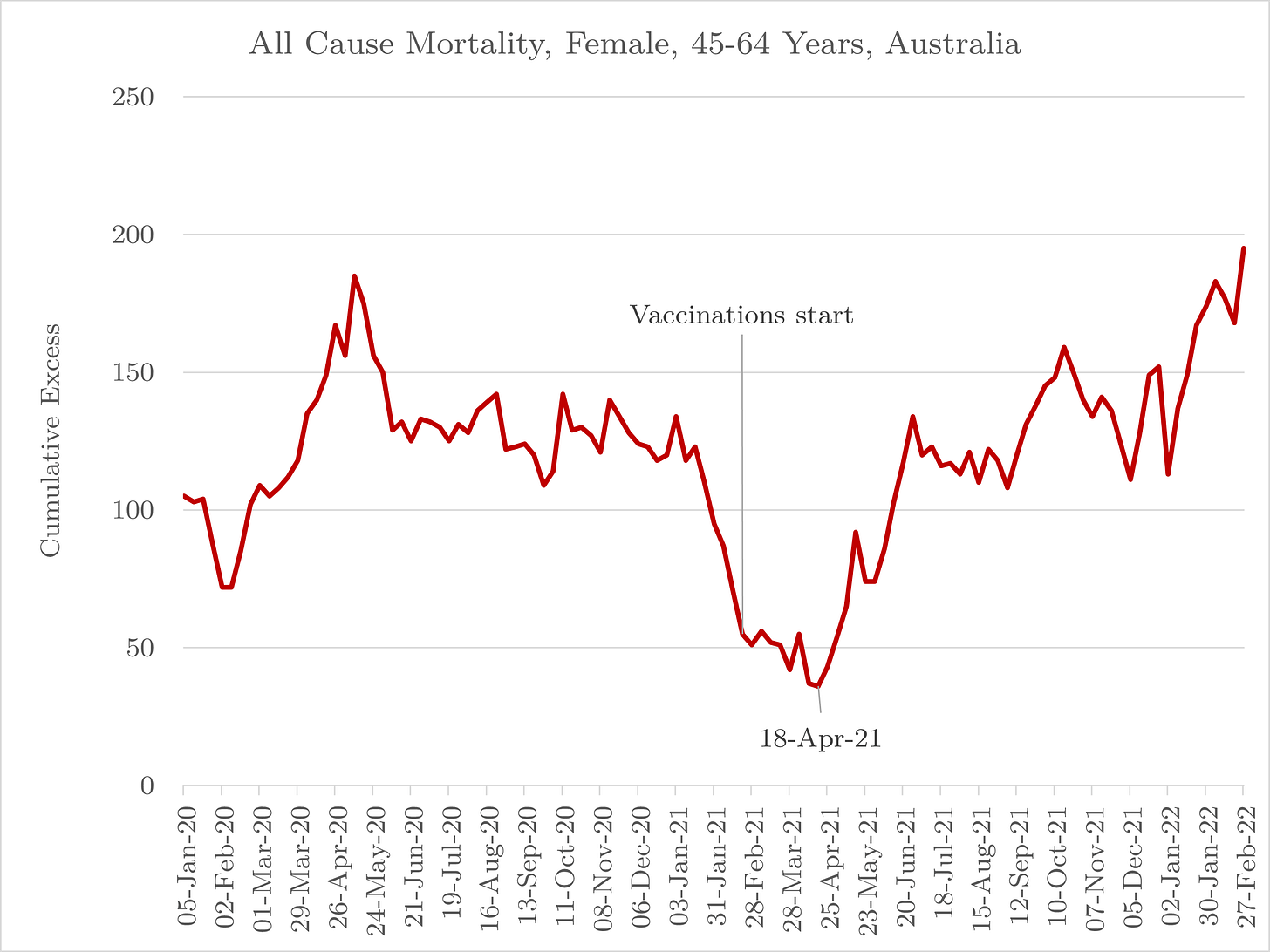 Access the ABS Provisional Mortality Statistics HERE.
As winter approaches in Australia, there are reports of overwhelmed hospitals and ambulances.
WATCH:
"It's not even winter yet": Hospitals are filling up in Victoria Australia pic.twitter.com/o3APKW9O4w

— Wittgenstein (@backtolife_2022) May 28, 2022
From The Age:
Conditions inside Victorian hospitals are as dire right now as healthcare workers would expect in the depths of winter, as they grapple with dual flu and COVID-19 outbreaks and a spike in ambulance queues.

A code red was declared for Victoria's ambulance service early on Friday morning when a triple-zero system crash coincided with a surge in patient demand that reportedly left about 70 patients waiting for an ambulance to arrive.

"This is the state we would be worried about getting into at wintertime. It's here. It's not even winter yet," said Mark Putland, emergency department director at the Royal Melbourne Hospital. "It is a serious concern."

Putland said the average waiting time at the hospital's emergency department now hovered between nine and 10 hours, but other patients were waiting more than 20 hours due to bed shortages.

The problem is not confined to Melbourne, with text messages seen by The Age showing there were no free ambulances available to respond to new callouts in Shepparton and Bendigo on Wednesday night.

The message sent to paramedics urgently sought staff to come in during their time off "due to 0 [per cent] fleet availability".

Senior health staff in Victoria are 

calling for alternative accommodation to be urgently found

 for hundreds of elderly people or those with a disability, who are ready to be discharged but do not have anywhere else to go, saying it would immediately help get things flowing at clogged emergency departments.
One senior paramedic described the state of ambulance ramping as shocking, saying the number of patients forced to wait on stretchers inside or outside the hospital had quadrupled over a year.
Among the people who were critically ill: people unconscious following a serious overdose, those having seizures or strokes, and patients having
heart attacks
who needed to be immediately seen and treated by a cardiologist.