Sweden grabbed the spotlight throughout COVID for its more hands-off, laissez-faire response to the illness.
The Scandinavian nation didn't take the strict lockdown, mask Nazi approach like most European countries.
What about its monkeypox response?
How will that compare to COVID-19?
Journalist Peter Sweden reports that the country's response to monkeypox may not include the same laissez-faire attitude.
"Sweden is classifying monkeypox as a "disease dangerous to public health", allowing the government to impose measures and restrictions to stop the spread of infection," he tweeted.
Sweden is classifying monkeypox as "dangerous to public health" as covid was.

Read all about it in my latest Substack article.

And make sure to subscribe to my Substack, that way you will get my latest updates directly👇https://t.co/WWLwO92iGR

— PeterSweden (@PeterSweden7) May 20, 2022
From svt NYHETER:
The government has decided that monkey pox should be classified as a general dangerous disease. This was announced by Minister of Social Affairs Lena Hallengren on Friday in a press release.

"The classification gives access to take infection control measures aimed at preventing further spread," says Minister of Social Affairs Lena Hallengren (S) in a press release. The decision came after a request from the Swedish Public Health Agency.

"It is also important that information reaches vulnerable groups and that the health service is prepared to handle and trace suspected cases," Hallengren continues.
Peter Sweden writes:
The disease has spread across Europe rather quickly in the last few days, with over 40 confirmed and suspected cases in Spain and Portugal. Today Britain is reporting that the number of cases have more than doubled since yesterday, with 20 infected now.

France, Germany, Belgium and Italy have also reported infections now.

Britain has already announced they are ordering more doses of smallpox vaccine Imvanex, which is said to be 85% effective against monkeypox

The USA have also announced they have already ordered 13 million vaccines at a cost of $119 million.

Meanwhile, shares for Bavarian Nordic, a Danish biotechnology company who produce the smallpox vaccine Imvanex has skyrocketed by almost 60% in the last few days.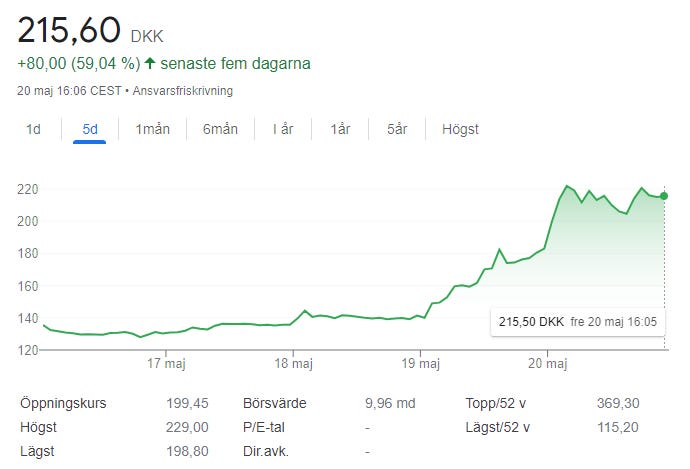 *Source – The Freedom Corner with PeterSweden*
The Swedish government's announcement follows the WHO's emergency meeting on the monkeypox outbreak.
WHO Calls Emergency Meeting Over Monkeypox, Warns Summer Parties and Festivals Could Accelerate Spread
And in a matter of days, the World Health Organization will discuss a Pandemic Treaty with the prospect of stripping sovereignty from nations during a 'pandemic.'
The W.H.O. Pandemic Treaty Represents The Greatest Threat To U.S. National Sovereignty