The CEOs of multiple major U.S. airlines issued a joint statement Wednesday asking Biden to end federal mask mandates.
The corporate executives cited declining COVID-19 infection and death rates and increased inoculation rates in their argument to scrap the idiotic mask rule.
Plus, masking does nothing to prevent the spread of COVID-19, thus making the requirement a nuisance for passengers and crew.
"Now is the time for the Administration to sunset federal transportation travel restrictions – including the international pre-departure testing requirement and the federal mask mandate – that are no longer aligned with the realities of the current epidemiological environment," the CEOs wrote in a letter disseminated by the Airlines for America trade association. [emphasis theirs]
BREAKING: CEOs of Delta, American, United, JetBlue and other airlines urged Biden to end a mask mandate on planes.

They say the restrictions 'are no longer aligned with the realities of the current epidemiological environment' https://t.co/YCO7S6swGa

— Benny (@bennyjohnson) March 23, 2022
Airlines to Biden: Drop the Mask Mandate.
10 CEOs of US passenger and Cargo airlines send letter to President Biden calling for an end to the onboard mask mandate and predepature testing rules pic.twitter.com/Xcl1kWJ3pf

— Kris Van Cleave (@krisvancleave) March 23, 2022
Here's a copy of the letter: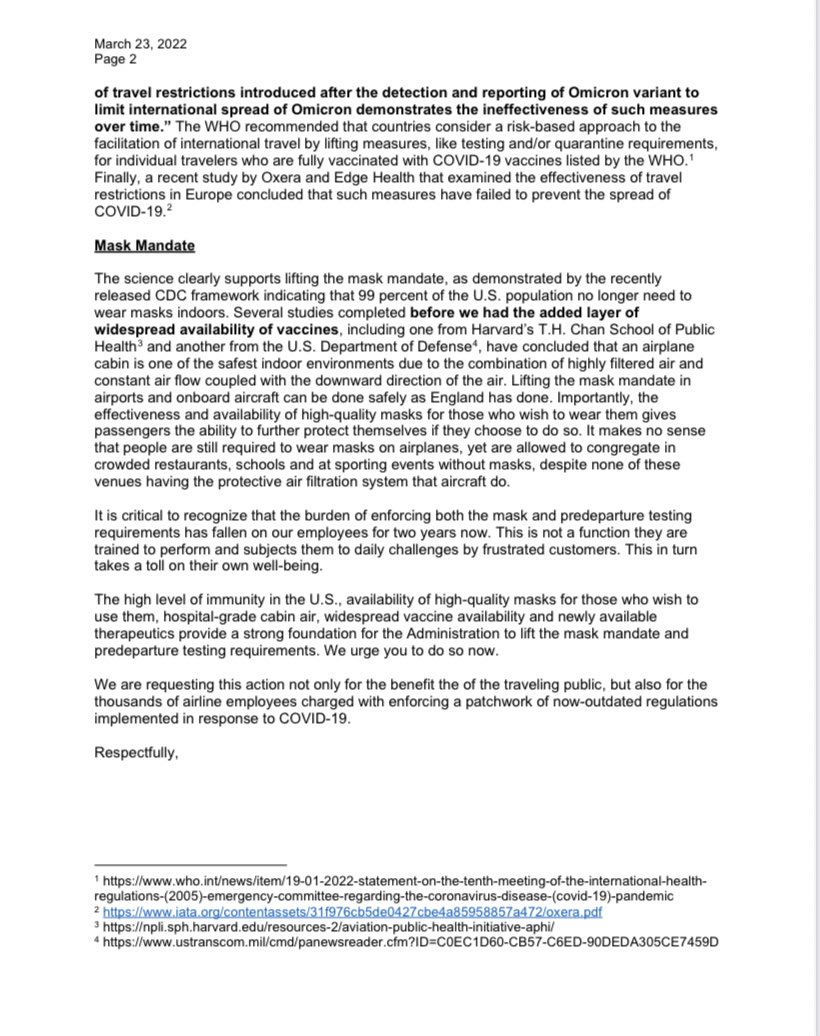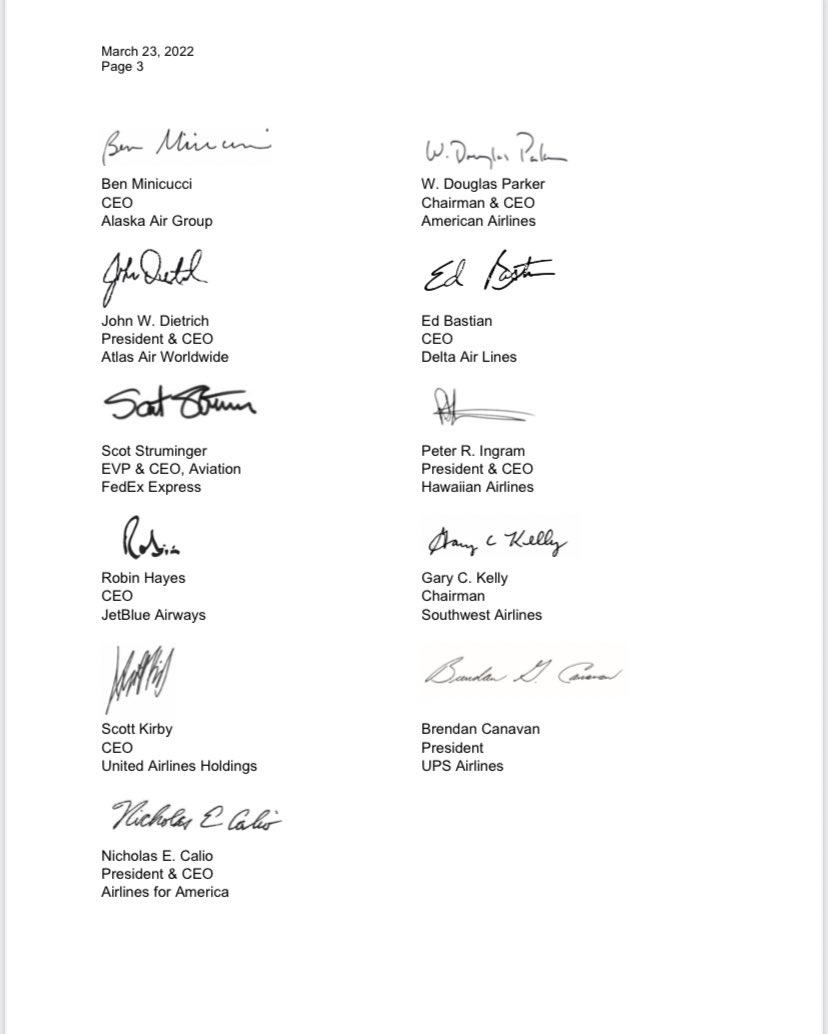 ABC News reported:
"It makes no sense that people are still required to wear masks on airplanes, yet are allowed to congregate in crowded restaurants, schools and at sporting events without masks, despite none of these venues having the protective air filtration system that aircraft do," the letter said.

In addition, the group said the burden of enforcing the mask mandate has fallen on their employees, saying, "This is not a function they are trained to perform and subjects them to daily challenges by frustrated customers. This in turn takes a toll on their own well-being."

The number of unruly passengers on planes spiked during the pandemic. This year alone, the Federal Aviation Administration (FAA) has received 961 reports of unruly passengers – 635 of which were related to face masks.

The current federal mask mandate on public transportation is set to expire April 18, the Biden administration announced earlier this month.
The U.S. Senate recently passed legislation to scrap the federal mask mandate.
U.S. Senate Passes Bill to END Public Transportation Mask Mandate
However, it's unclear if the bill would pass in the House or have enough support to override a Biden veto.
Infowars added:
The CEOs note the pre-departure test requirement is extremely burdensome to US travelers and companies, and highlight the World Health Organization's own admissions earlier this year that "the failure of travel restrictions introduced after the detection and reporting of Omicron variant to limit international spread of Omicron demonstrates the ineffectiveness of such measures over time." [emphasis theirs]

Addressing face masks, the letter says, "The science clearly supports lifting the mask mandate, as demonstrated by the recently released CDC framework indicating that 99 percent of the US population no longer need to wear masks indoors."