As far as Gov. Ron DeSantis is concerned, Florida native Emma Weyant is the rightful NCAA Women's Swimming 500-yard freestyle champion.
DeSantis issued a proclamation in support of Weyant after Lia Thomas was declared the first transgender to capture an NCAA title.
The Florida governor rejected Thomas' claim to the NCAA Women's 500-yard freestyle championship, which Thomas finished a full second ahead of the former Olympian.
BREAKING: Florida Governor Ron DeSantis issues a proclamation rejecting the victory of Lia Thomas and declaring Florida's Emma Weyant as the best women's swimmer in the NCAA's Division-1 500y freestyle. pic.twitter.com/65KjXeevZV

— Election Wizard 🇺🇸 (@ElectionWiz) March 22, 2022
By allowing men to compete in women's sports, the NCAA is destroying opportunities for women, making a mockery of its championships, and perpetuating a fraud.

In Florida, we reject these lies and recognize Sarasota's Emma Weyant as the best women's swimmer in the 500y freestyle. pic.twitter.com/tBmFxFE3q6

— Ron DeSantis (@GovRonDeSantis) March 22, 2022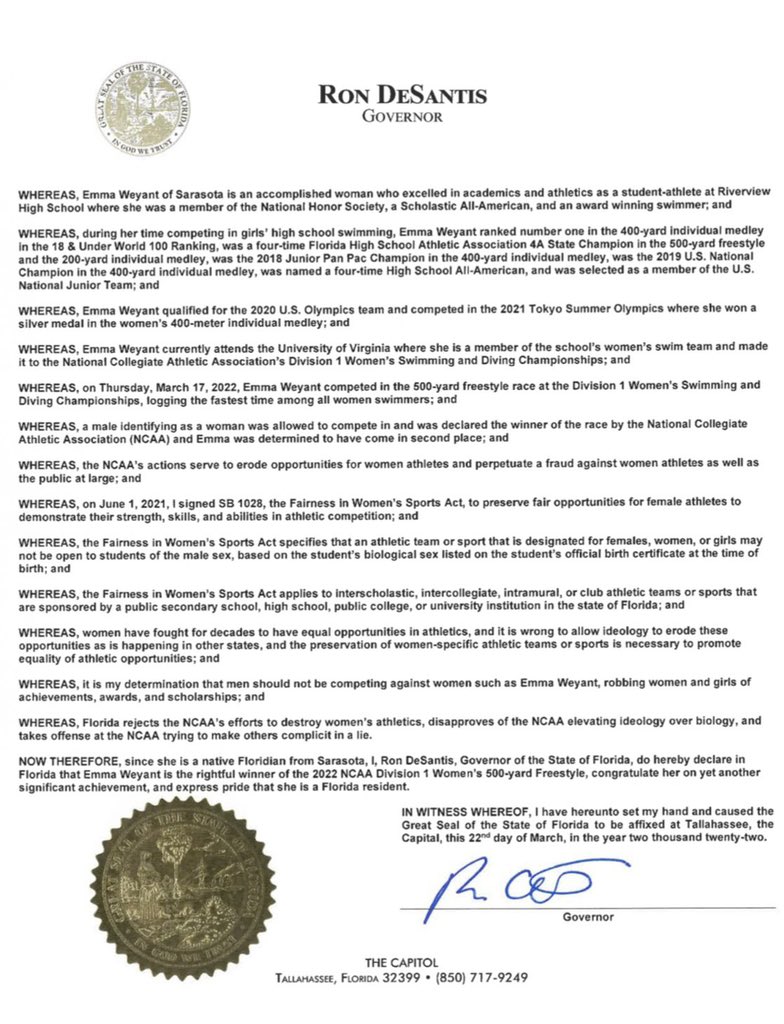 DeSantis To Sign Proclamation Declaring Florida Swimmer Winner Of Race Over Trans Athlete Lia Thomas https://t.co/mIUHcs27bb pic.twitter.com/opRd4hsOXw

— Daily Wire (@realDailyWire) March 22, 2022
Daily Wire reported:
Florida Republican Governor Ron DeSantis said during a press conference on Tuesday that he will sign an official proclamation declaring Sarasota-native and Olympic silver medalist Emma Weyant the winner of last week's 500-yard freestyle event in the Women's Swimming and Diving Championships after Weyant finished second place behind transgender athlete Lia Thomas.

Weyant, who is a freshman at the University of Virginia, clocked a time of 4:34.99 last Thursday, falling behind Thomas during the final stretch of the 500-yard event.

"If you look at what the NCAA has done by allowing basically men to compete in women's athletics, in this case, the swimming, you had the number one woman who finished was from Sarasota and then Weyant, she won the silver medal, she's been an absolute superstar her whole career," DeSantis said. "She trains, I mean, to compete at that level is very, very difficult. And you don't just roll out of bed and do it. That takes grit, that takes determination, and she's been an absolute superstar and she had the fastest time of any woman in college athletics."

"Now, the NCAA is basically taking efforts to destroy women's athletics," he continued. "They're trying to undermine the integrity of the competition, and they're crowning somebody else the woman's champion and we think that's wrong. And so in Florida, I'm going to be [inaudible] because this is this is a Floridian who I think deserves to be recognized, you know, we're going to be doing a proclamation saying that Emma is the best female swimmer in the 500 meter freestyle, because she earned that."
The Gateway Pundit noted Thomas' transition from men's to women's swimming:
Thomas, who was born Will Thomas, came out as transgender to their family in 2018 and only began transitioning in 2019 and swam for the University of Pennsylvania men's team until the 2021-2022 season.

Highlighting Weyant's impressive achievements as both a student and athlete, DeSantis reiterated Florida's view that allowing individuals who are biologically male to compete against women "perpetuates a fraud against women athletes" and "erodes opportunities for women."

Weyant had previously qualified for the 2021 Tokyo Summer Olympics and won a silver medal in the women's 400-meter individual medley.

Without pulling any punches, DeSantis set the record straight. "It is my determination that men should not be competing against women such as Emma Weyant, robbing women and girls of achievements, awards, and scholarships," he said.
DeSantis indicated he felt obligated to protect the fair-playing field for Weyant ""since she is a native Floridian from Sarasota."
Yesterday, Virginia Tech swimmer Reka Gyorgy about the spot in the finals she felt Lia Thomas took from her.
Virginia Tech Swimmer Speaks Out About Her Spot in NCAA Women's Championships Taken by Biological Male