We're over a year into the COVID-19 jab rollout, and these toxic injections remain available to children, teenagers, and young adults.
Mainstream media and public health agencies have gaslighted the public about the dangers of vaccine-induced myocarditis, calling the condition "mild" and "rare."
However, myocarditis, a potentially life-threatening inflammation of the heart, is NOT mild and more common post-injection than the public is told.
The societal pressure for low-risk teens to receive a shot with serious cardiac-related side effects constitutes a crime against humanity.
And many universities have required these dangerous shots for college students to attend classes.
We have failed this generation for allowing the destruction of their physical health to reach this point.
Although the warning signs of vaccine-related myocarditis have been present roughly a year, the push to inoculate healthy individuals for an illness no threat to them has persisted.
Israel Finds Probable Link Between Experimental Pfizer COVID-19 Jab and Myocarditis, Mainly in Young Men
NEW STUDY: Hong Kong Data Shows SIGNIFICANT Increased Risk of Acute Myocarditis/Pericarditis in Adolescent Males Following Comirnaty COVID-19 Jab
Preprint Study Shows Increased Risk of Myocarditis Following Sequential COVID-19 Injections; Strongest Association in Males Under 40
CDC Quietly Confirms mRNA COVID-19 Injections Increase Risk of Myocarditis & Myopericarditis
Sadly, the pace of vaccine-induced myocarditis is speeding up two months in 2022.
According to the most recent Vaccine Adverse Event Reporting System (VAERS) data, the number of myocarditis and pericarditis reports in the first two months of 2022 is already almost half as many as the total number of submissions in 2021.
There is nowhere to run or hide from the VAERS myocarditis data because it is backed up by numerous other data points, including CDC's own study showing that myocarditis VAERS reports are likely underreported https://t.co/6Fl3VKhZQP

— Daniel Horowitz (@RMConservative) March 11, 2022
Daniel Horowitz from The Blaze had the exclusive report:
We are over a year into the known safety signals of this vaccine for myocarditis, and yet the shots still have not been pulled, even for younger males. In fact, it's still a requirement in many colleges. Yet reports of myocarditis and pericarditis are so prevalent now that just in the first eight weeks of 2022, we're already at 47% of the total VAERS submissions for 2021. There were 24,177 reports of pericarditis/myocarditis submitted to VAERS in 2021. In 2022, just through Feb. 25, there were 11,289 reports, which is nearly half of last year's total. Here is the graphic presentation from Open VAERS: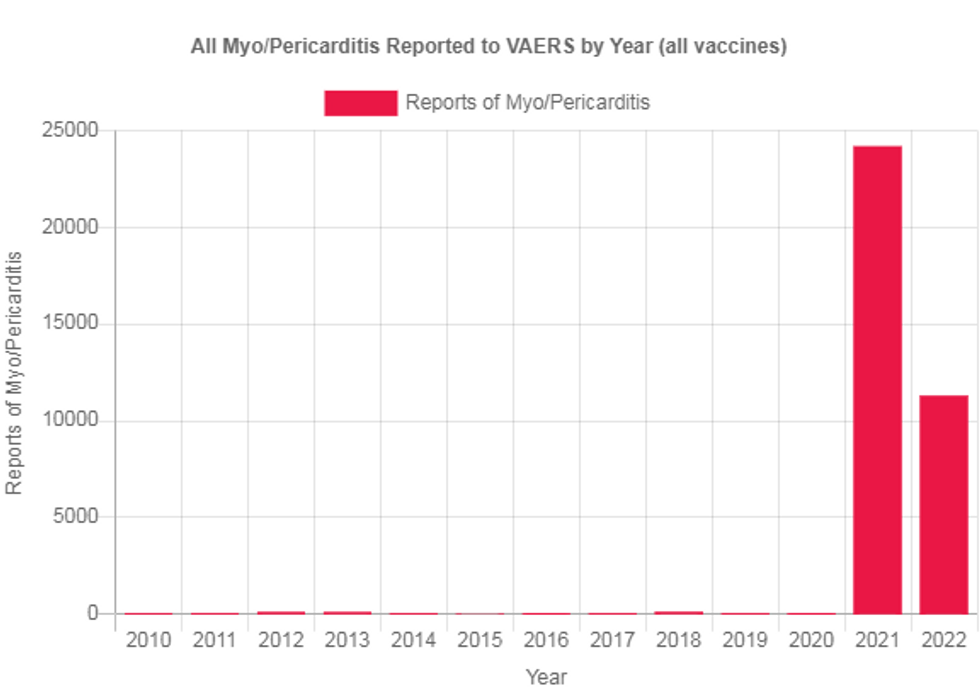 The reporting to VAERS is very disturbing because the trend line of vaccination, especially for the younger people more prone to this heart inflammation, has halted to a trickle in recent weeks. So why are there so many more reports this year? There are likely two possible explanations. Either more people and doctors know about VAERS and know to look for myocarditis, or there is a time bomb with many more people now realizing they have heart problems months later. Either way, this means that the initial estimates of case prevalence were just the tip of the iceberg, and we are likely to see young hearts damaged for years to come.