South African hip hop artist DJ Dimplez, whose real name is Boitumelo Mooi, has passed away due to "a sudden brain hemorrhage."
As The South African reported, the tragic death of the 28-year-old hip hop star has shocked the entertainment industry:
Twitter users and industry friends of the artist such as Sizwe Dhlomo and Bonang Matheba are still in shock as they're still mourning DJ Dimplez' friend – Riky Rick who passed away five days ago.

Dimplez featured late producer and artist Riky Rick on his 2014 track Amatombazana and made hit songs including We Ain't Leaving where he featured Anatii and L-Tido.

Dimplez is also known for his hit track Way Up featuring Cassper Nyovest and JR and for his 2019 album Kubu.
Twitter users posted heartfelt tributes to the hip hop pioneer:
Celebrities and fans mourn the sudden death of DJ Dimplez, whose real name is Boitumelo Mooi. #RIPDJDimplez https://t.co/PpQCz77Fnf

— TRUELOVE Magazine (@TrueLoveMag) March 6, 2022
Rest In Peace DJ Dimplez💔🕊 #RIPDJDimplez pic.twitter.com/Ct4vfQQYBl

— SLIKOURONLIFE (@slikouron) March 6, 2022
Sad news 💔 The music industry loses another pioneer. DJ Dimplez has passed away on Sunday. Dimplez is one of the pioneers who pushed SA Hip-Hop and is responsible for the birth of PopCast podcast and the popular Pop-Bottles gathering.#RIPDJDimplez 🕊 pic.twitter.com/2jvCWbSwh7

— YOMZANSI (@YOMZANSI) March 6, 2022
https://twitter.com/SizweDhlomo/status/1500467867908820993?ref_src=twsrc%5Etfw%7Ctwcamp%5Etweetembed%7Ctwterm%5E1500467867908820993%7Ctwgr%5E%7Ctwcon%5Es1_&ref_url=https%3A%2F%2Fwww.thesouthafrican.com%2Flifestyle%2Fceleb-news%2Fbreaking-hip-hop-star-tumi-mooi-dj-dimplez-has-passed-away-died-6-march-riky-rick%2F
#But this is not right #RIP @djdimplez 🙆🏿‍♂️🙆🏿‍♂️💔💔💔💔💔💔 https://t.co/AHTePfE6SG

— djmahoota (@djmahoota) March 6, 2022
You were an instrumental part of many of our best days and best memories. 🥺 My heart breaks for your family, for Milkshake & Vigi and all your friends in DJ fraternity and beyond. Rest easy Tumi. 🕯🙏🏾 #RIPDJDimplez https://t.co/iZJQ690opc

— Hulisani Ravele (@HulisaniRavele) March 6, 2022
News 24 reported:
"It is with deep sadness that the Mooi family announces the untimely passing of Boitumelo Athiel Mooi, popularly known as DJ Dimplez," the family confirmed in a statement to Channel24.

The family said DJ Dimplez died on Sunday of a sudden brain haemorrhage. They requested respect and space as "we process Tumi's tragic passing."
DJ Dimplez posted a video to Twitter on September 13, 2021, with the caption, "Second Jab."
Second Jab. pic.twitter.com/RzzVcVFi0d

— Dj Dimplez (@DjDimplez) September 13, 2021
As explained by this study from Neurological Sciences, brain hemorrhages are a severe neurological complication associated with the COVID-19 jabs:
"The most devastating neurological post-vaccination complication is cerebral venous sinus thrombosis. Cerebral venous sinus is frequently reported in females of childbearing age," https://t.co/b2Q37qur3p

— Daniel Horowitz (@RMConservative) March 6, 2022
As a matter of concern, increasing number of reports about adenoviral vector vaccine-induced cerebral vascular adverse events, like cerebral venous thrombosis, arterial stroke, and intracerebral hemorrhage, is getting published in leading medical journals. These reports are alarming as post-vaccination vascular events culminate either in severe disability or death. Vaccine-induced cerebral vascular adverse events are generally associated with severe immune-mediated thrombotic thrombocytopenia. Thrombocytopenia generally clinically manifests within 5 to 30 days after administration of adenovirus vector-based vaccines. In post-vaccination thrombotic thrombocytopenia, a picture similar to that of heparin-induced thrombocytopenia is encountered. When heparin binds platelet factor 4, there is generation of antibodies against platelet factor 4. Antibodies against platelet factor 4 result in platelet destruction and trigger the intravascular blood clotting [14]. The post-mortem examination, in patients with vaccine-induced thrombocytopenia, demonstrated extensive involvement of large venous vessels. Microscopic findings showed vascular thrombotic occlusions occurring in the vessels of multiple body organs along with marked inflammatory infiltration [15]. The vector-based vaccines contain genetic material of SARS-COV-2 that is capable of encoding the spike glycoprotein. Possibly, leaked genetic material binds to platelet factor 4 that subsequently activates formation of autoantibodies. These autoantibodies destroy platelets [16, 17].

Cerebral venous thrombosis

Cerebral venous thrombosis is the one of the most feared devastating COVID-19 vaccine-associated neurological complication. Cerebral venous thrombosis should be suspected in all vaccinated patients, who has persistent headache. Headache is generally unresponsive to the analgesics, and some patients may have focal neurological deficits. Affected patients are generally females of younger ages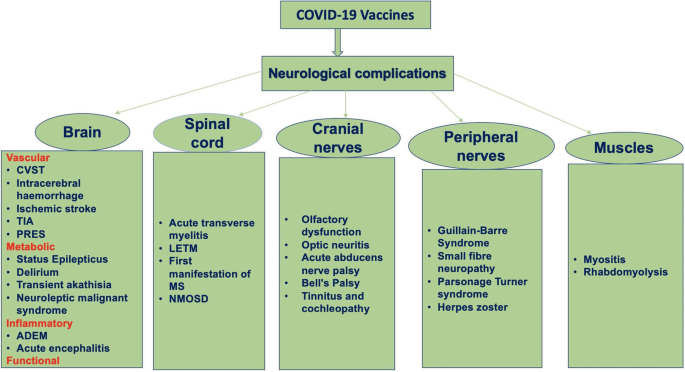 *Source*
Johns Hopkins Medicine defines Cerebral venous sinus thrombosis (CVST):
Cerebral venous sinus thrombosis (CVST) occurs when a blood clot forms in the brain's venous sinuses. This  prevents blood from draining out of the brain. As a result, blood cells may break and leak blood into the brain tissues, forming a hemorrhage.

This chain of events is part of a stroke that can occur in adults and children. It can occur even in newborns and babies in the womb. A stroke can damage the brain and central nervous system. A stroke is serious and requires immediate medical attention.

This condition may also be called cerebral sinovenous thrombosis.