Canada takes center stage this weekend as the 50,000 trucker "Freedom Convoy" rolls into Ottawa to protest medical mandates.
The truck driver's opposed to medical tyranny drove from all parts of Canada to converge on Parliament Hill on January 29th.
The 50-mile long convoy has inspired others worldwide in the fight to end COVID madness.
Glimpses of the footage have sent emotional shockwaves across the world that humanity can finally unite to defeat government and corporate medical authoritarianism.
The Canadian farmers are now joining the 50,000 Canadian truckers in their convoy for freedom towards Ottawa. #Canada #CanadaTruckers #TruckersForFreedom2022 #ConvoyForFreedom
🇨🇦pic.twitter.com/U3H1tuwcGo

— James Melville 💜 (@JamesMelville) January 28, 2022
Canadian Trucker convoy heading to Ottawa.supported on every road by hundreds off people pic.twitter.com/LqXkQmUg3S

— Wittgenstein (@backtolife_2019) January 28, 2022
WATCH: Canadians gather at dozens of overpasses to greet the trucker convoy.

— Election Wizard 🇺🇸 (@ElectionWiz) January 27, 2022
Zero Hedge describes the worldwide inspiration of the Canadian truckers:
Truck drivers from Canada to the US to Australia to Europe are banding together in protests worldwide against their respective governments' overreach of public health, especially forced vaccine mandates.

Freedom convoys from America are expected to join tens of thousands of truckers in Ottawa on Saturday to get the government to repeal cross-border COVID vaccine passports.
South Carolina, US. American truckers heading up to Ottawa to join the Canadian truckers!
SHARE this far and wide🇺🇸
Join Us👉SergeantNewsNetwork pic.twitter.com/M0e9NwYtk6

— WendySue (@WendySueHoo1) January 26, 2022
Cont. from Zero Hedge:
A Facebook group in Australia called "2022 Official Convoy to Canberra" has more than 66k members and is preparing a convoy to arrive in the capital by Jan. 31 to protest vaccine mandates.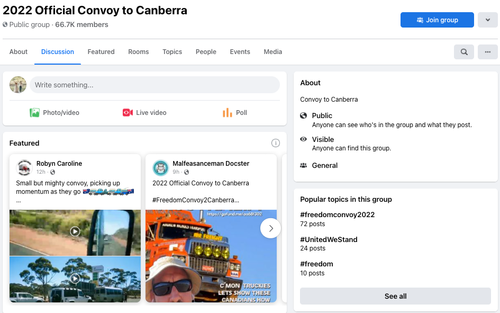 Yes Australia!!

Australian WA truckers are now headed in Convoy to Canberra

As Italian truckers come out & Canadian truckers & farmers inspire us; We Salute you!

Stand #together #TruckerConvoy2022 #TruckerforFreedom pic.twitter.com/MZlq9M0QgB

— Alan D Miller (@alanvibe) January 28, 2022
Multiple European convoys are being organized to converge on Brussels at an unspecified date. A Telegram group with 14,500+ members is assembling a 'Freedom Convoy' across the continent to meet at the European Union capital.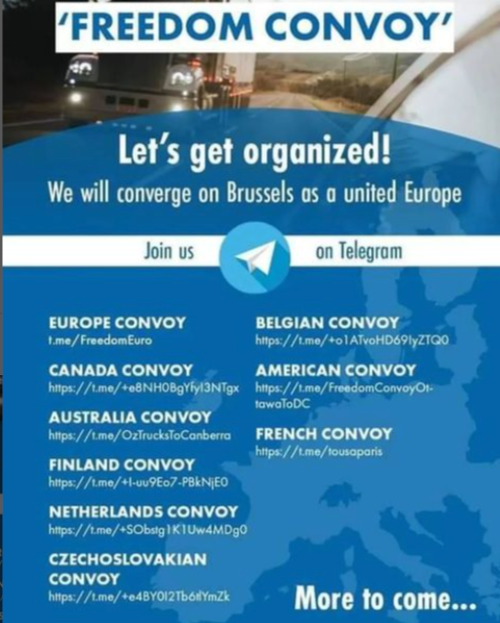 It's going WORLDWIDE!

Now…ITALY TRUCKERS TOO! pic.twitter.com/4uUSF8UXd3

— @JaneMia_3 (@Zordon_7) January 28, 2022
The inspiration has also reached Brazil as truckers started a convoy in solidarity with the freedom movement:
Brazilian truckers, inspired by the Canadian convoy, created their own convoy in solidarity with the freedom movement! pic.twitter.com/WkE2IStZxL

— The Vigilant Fox (@VigilantFox) January 28, 2022
Truckers epitomize the working class and outrage against the elites for inflicting medical tyranny against the global population.
While a worldwide trucker revolt could spiral economies into recession, maybe it's the wake-up governments need to end their onslaught against medical freedom.