Two Texas fathers who were arrested after passionately speaking out at local school board meetings, have STILL not received court dates for their respective misdemeanor charges of "Hinder[ing] Proceedings by Disorderly Conduct."
Jeremy Story and Dustin Clark were both arrested on September 17th by Williamson County Sheriff's deputies for incidents taking place earlier this Fall at local Round Rock Independent School District board meetings.
Both dads are now speaking out, claiming that the judicial inaction is an attempt to keep them silenced.
Both Story and Clark seem to think the board can't take the heat with recent pushback on mask mandates and other scandals, so they are choosing to slow roll the pair while things play out.
Fox News covered the dad's comments:
Two Texas fathers who got arrested for allegedly disturbing meetings of the Round Rock Independent School District school board told Fox News they ultimately blame the school board and Superintendent Hafedh Azaiez for the arrests.

The fathers characterized the actions as an effort to "intimidate" them into silence. The school board president disputed their claims.

"I believe I was arrested on 9/17/21 to intimidate me and other parents and community members from continuing to speak out against the superintendent and five of the school board members," Dustin Clark, a father of four children in public schools who began speaking out at school board meetings virtually in April, told Fox News.

"We believe we were intentionally targeted for arrest to silence our voices because we were speaking out against the school district for illegal activity."

The Williamson County Sheriff's Office arrested Clark and Story simultaneously around 5 p.m. Sept. 17, according to the fathers. Ryan Deck, the fathers' defense attorney, told Fox News that while the sheriff's office carried out the arrest, the school district's separate police department filled out the probable-cause affidavit leading to the arrest.

Both Clark and Story face a misdemeanor charge of "Hinder Proceedings by Disorderly Conduct," but the charges name different dates. The charge against Story traces back to an Aug. 16 board meeting while the charge against Clark traces to Sept. 14.

While Clark initially started speaking at board meetings to oppose mask mandates in schools, both he and Story expressed concerns about Hafedh Azaiez, a candidate the school board was considering for superintendent. Despite their concerns and those of two members of the school board, the five other school board members voted to hire Azaiez rather than wait to investigate him
So yeah, you heard that right.
Not only did Story and Clark voice concerns about the school board's mask mandates and other COVID policies, they were extremely vocal about a particular school Superintendent the board hired.
He is currently involved in two scandals; an eerily similar "silencing" incident in another school district and an active police investigation into an alleged assault.
No wonder these dads are suspect of their motives.
The article provides some more background on Azaiez and why he's under the microscope:
"We uncovered a video where he had used the police in his former district to silence a 68-year-old grandmother," Story told Fox News, referring to a June 14 video of police officers delivering a restraining order to Raquel Gonzales Martinez, an order barring her from setting foot on school grounds for two years. 

When asked about the restraining order, Martinez told Fox News she "caught an employee meeting with the board president and a board member," a meeting she described as corrupt. The Donna ISD and LaCoste-Caputo declined to comment on the incident.

Story also cited an ongoing domestic case involving Azaiez. While LaCoste-Caputo said Azaiez does not currently face criminal charges, the Travis County Sheriff's Office has confirmed it has an active investigation into Azaiez for alleged assault.
So it's not a very good look for this Azaiez guy to have his name entangled once gain in a scandal involving school officials conspiring to take away the 1st Amendment rights of local parents concerned about their own child's education.
Throw in a confirmed criminal investigation and you've got a legal minefield to traverse.
The article goes on to describe the meetings earlier this year in which Clark and Story spoke in front of the board that landed them in handcuffs.
You can watch this old video of local coverage at the time:
The school board has a history of trying to seemingly stack the deck against parents attending meetings. Jeremy Story posted these pictures depicting seating arrangements.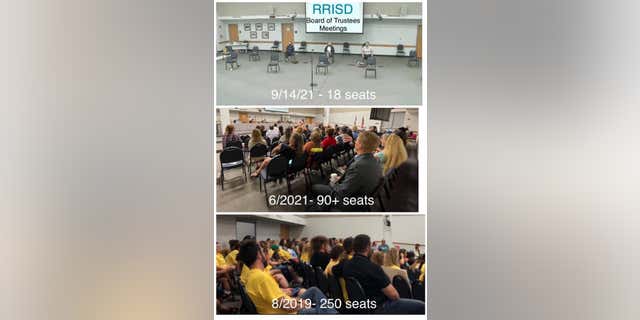 As you can see, the number of live attendees the board itself "allowed" in over the past couple of years has diminished greatly.
From 250 plus seats in 2019 to only EIGHTEEN seats this past September.
Round Rock ISD wrongfully uses campus police to arrest those trying to attend public school board meeting to speak. Unconstitutional and a violation of taxpayer rights. pic.twitter.com/PMxpBkZDtL

— Dustin Faulkner (@dloydfaulk) September 18, 2021
Just what are they trying to hide? (Rhetorical question)
It's been right in front of our eyes.
The Marxists are bold but they are stupid. Parents aren't putting up with this any longer.