The censorship of Ivermectin as a viable treatment for COVID-19 will go down in history as a crime against humanity.
Thousands, and possibly millions, of lives could have been saved without the insatiable greed of Big Pharma and government bureaucrats.
Pfizer, Moderna, and other pharmaceutical companies are making a fortune from the experimental COVID-19 vaccines.
And they're not liable for the thousands of lives wrecked by vaccine-related injuries and deaths.
But many government bureaucrats like Fauci have a financial stake in the experimental jabs.
Questions for Dr. Fauci:

1) Why is NIH (& its sub-agencies & employees) listed as co-owners of the patent for Moderna vaccine?

2) Do you (or your relatives) own stock in any of the COVID vaccines being developed?

3) Why have 4 NIH scientists filed patent as co-inventors?

— Emerald Robinson ✝️ (@EmeraldRobinson) August 7, 2020
Anthony Fauci's. @NIH owns HALF the patent rights to Moderna COVID19 Vaccine😳https://t.co/014DmhHc9Q

— TheDetroitReal (@TheDetroitReal1) July 7, 2020
However, the same can't be said for Ivermectin.
Ivermectin is widely affordable at only a few dollars per prescription.
And Ivermectin has worked as a COVID-19 treatment in the seldom places it has been available.
Ivermectin is a cheap generic drug so you'll never hear about any of these studies on your TV.

— Saifedean.com (@saifedean) July 2, 2021
Today I spoke to a COVID survivor who is also my colleague, in his late 50's. He told me that he took ivermectin tablets, 3 days after taking them he started feeling better and breathing went back to normal.
Back at work from 2 weeks of quarantine

WTF is Ivermectin, I need it?🙈

— Cebo (@chiefcebo_) June 30, 2021
Finally covering the story on COVID drug treatments that I wasn't allowed to air on FOX.

A look at why one Houston hospital has a dramatically lower COVID death rate than anywhere else and the ways the media skated around the facts at that hospital.https://t.co/1XHZYrtGHy

— Ivory Hecker (@IvoryHecker) June 24, 2021
But governments, mainstream media, and Big Tech have all conspired to silence the good news about Ivermectin's effectiveness.
Why?
To ensure Big Pharma reaps the financial rewards of the experimental COVID-19 vaccines.
And in return, Big Pharma will funnel some of that money into the same entities that censored the cheap, effective alternative.
But one European Union country went against the grain and approved Ivermectin as a COVID-19 treatment.
That country was Slovakia.
Here's what happened to COVID-19 in the European nation of 5.45 million: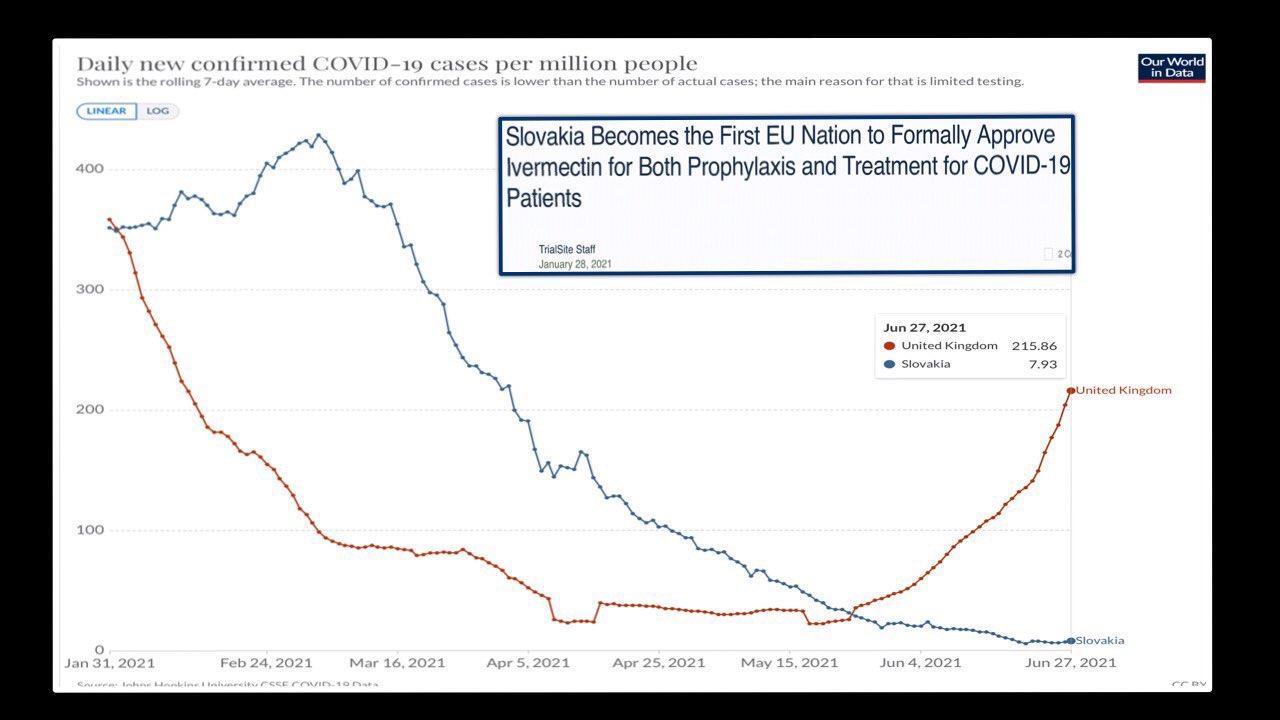 The United Kingdom is one of the world's most COVID-19 vaccinated countries.
As of May 12, 2021, Slovakia had the slowest COVID-19 vaccination rate in Europe.
The Netherlands has the slowest vaccination rate in all of Europe, apart from Slovakia 👇 https://t.co/qpBIAikSu1

— Joop Hazenberg (@joophazenberg) May 13, 2021
And according to this vaccination rate chart on CNN, Slovakia still ranks in the bottom half of EU nations.
Ivermectin vs Experimental Vaccines.
Who's winning?
According to Worldometer, the United Kingdom has eclipsed 20,000 COVID-19 cases every day since June 28th.
If you glance at Slovakia's Worldometer page, zero newly recorded COVID-19 cases since June 12th.
That's where the numbers stand at the time of writing.
Ivermectin is winning by a knockout.
And it's time every country approve it as a COVID-19 treatment.
The more, the merrier.
Slovakia approves ivermectin.https://t.co/J0wDeviCUI

— Covid19Crusher (@Covid19Crusher) January 27, 2021
"I would like to share with you the enormous joy I have. The Minister of Health of the Slovak Republic has finally approved the treatment of IVM. He granted an exemption for the import & use of IVM. Thank you for the tireless efforts…" Helenka https://t.co/fVHV1kRn09

— Frontline Covid-19 Critical Care (@Covid19Critical) January 28, 2021
Slovakia approves ivermectin for 6 months. this will be an interesting thing to monitor. https://t.co/cTlkf9ypA3

— Elinor Cohen 🙂 #WomenInTech (@SMMgirl) January 28, 2021
But what about that deadly new Delta variant?
Let's glance at India, where that mutation originated:
The Indian state of Uttarakandh's gov't.. announces to the world (with the majority of the globe seemingly trying hard to ignore), that they will distribute ivermectin to all citizens of the state. Guess what happens? Shocker I know. Can we end the $%#! pandemic now please? https://t.co/heutaOqVC6

— Pierre Kory, MD MPA (@PierreKory) June 30, 2021
Despite the Ivermectin success stories, don't expect the experimental vaccine propaganda to ease up anytime soon.