After digging through the latest VAERS reports, a disturbing case has been discovered.
Tragically, a 15-year old boy from Colorado died from a heart attack two days after receiving the Pfizer COVID-19 experimental vaccine.
And the scariest part of this case is that the teenager had no prior health conditions before receiving the jab.
Yet, he experienced adverse reactions the day after receiving the jab and passed away of cardiac failure the following day.
Here's a picture of his VAERS report: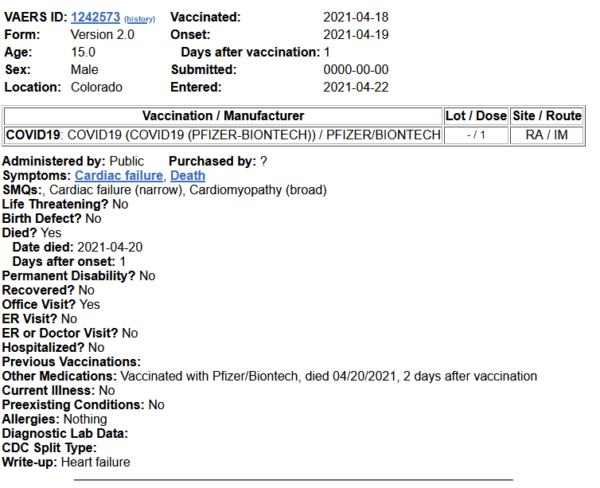 Why was a perfectly healthy 15-year old taking an experimental vaccine for a virus that is virtually zero risk to children?
With no other known medical conditions, what else could have caused such a catastrophic reaction?
How many 15-year olds do you know that suffered from a heart attack?
I've never heard of a heart attack victim that young in a person with zero known health conditions.
No allergies.
No birth defects.
No medical conditions.
But the person passes away from a heart attack at 15 years old?
Yet, Big Pharma refuses to admit that their experimental jabs are hurting more than they're helping.
Here's more info of this tragic case:
A 15-year-old boy in Colorado is dead after he suffered a heart attack only two days after receiving the controversial Pfizer COVID-19 vaccine.

He had no known allergies, birth defects, or other medical conditions.https://t.co/gwFczW8k6K

— National File (@NationalFile) May 1, 2021
This week's VAERS update also contains two reports of healthy teenagers who died after receiving the @pfizer vaccine – a 15-year-old boy in Colorado who died two days after vaccination and a 16-year-old girl in Wisconsin (which was reported independently twice). pic.twitter.com/R43c1vemFY

— Alex Berenson (@AlexBerenson) April 30, 2021
Healthy 15-Year-Old Boy Dies Of Heart Attack Two Days After Taking Pfizer Vaccinehttps://t.co/GDKX96uwo6

— Henry Makow (@HenryMakow) May 3, 2021
15 year olds do not die of heart attacks. There was no indication for this treatment and it was not licensed.

This child was murdered. Anybody that knows of this event should call the police. #covidvaccine https://t.co/yFGG67OtER

— Dr Ah Kahn Syed (@arkmedic) May 1, 2021
A new report in the CDC and Prevention and Food and Drug Administration's Vaccine Adverse Event Reporting System said that a 15-year-old boy from Colorado died from cardiac failure April 20, two days after receiving the Pfizer COVID vaccine. https://t.co/y4y4uAmnvq

— FOX21 News (@FOX21News) May 4, 2021
National File had the scoop:
According to data in the national Vaccine Adverse Event Reporting System, a 15-year-old boy in Colorado died of a heart attack only two days after being injected with the controversial Pfizer COVID-19 vaccine despite having no previous history of allergic reactions.

The case, listed in the database as VAERS ID 1242573, reveals that the 15-year-old boy was "vaccinated with Pfizer/Biontech" on April 18, 2021. He began to experience adverse reactions to the vaccine on April 19, 2021, and "died 04/20/2021, 2 days after vaccination." The VAERS database also reveals that he had no other illnesses, no preexisting conditions, no known allergies, no birth defects, and no permanent disabilities. He merely died of "cardiac failure" exactly two days after receiving the controversial vaccine.

The revelation comes as the mainstream media and Biden regime have repeatedly criticized those suggesting healthy, young people should consider skipping the COVID-19 vaccine. Joe Rogan famously made this suggestion on the April 23 episode of his Joe Rogan Experience podcast, provoking a litany of leftist responses and criticism.

However, the science appears to agree with Rogan: Healthy young people have virtually no chance of dying from COVID-19, but are more likely than older demographics to suffer severe adverse reactions to the vaccine, as National File reported extensively.

The report also comes as a woman experienced near total body paralysis and intense pain after taking the same Pfizer vaccine that taken before the 15-year-old's death. Tennessee woman Brandy Parker McFadden was shaken awake by searing pain after taking the vaccine, and soon realized she could not move her arms or legs. taken to the hospital, where doctors began panicking. "I woke up. I can't move my arms. I can't move my legs. So, he's freaking out. The doctors are panicking," said McFadden.

Despite horrifying reports of death and disability that appear to be connected to the Pfizer, vaccine, the company insisted its vaccines are safe. A statement sent to WKRN News 2 by Pfizer following the incident read in part, "To date, more than 200 million people around the world have been vaccinated with our vaccine. It is important to note that serious adverse events that are unrelated to the vaccine are unfortunately likely to occur at a similar rate as they would in the general population," National File reported.