The U.S. Supreme Court on Tuesday permitted the House Ways & Means Committee to obtain Trump's tax returns.
"The application for stay of the mandate presented to The Chief Justice and by him referred to the Court is denied. The order heretofore entered by The Chief Justice is vacated," the order stated.
BREAKING: Supreme Court permits House to obtain Trump's tax returns. https://t.co/evu9H8vFCd pic.twitter.com/PpxH2Ki1NK

— Kyle Cheney (@kyledcheney) November 22, 2022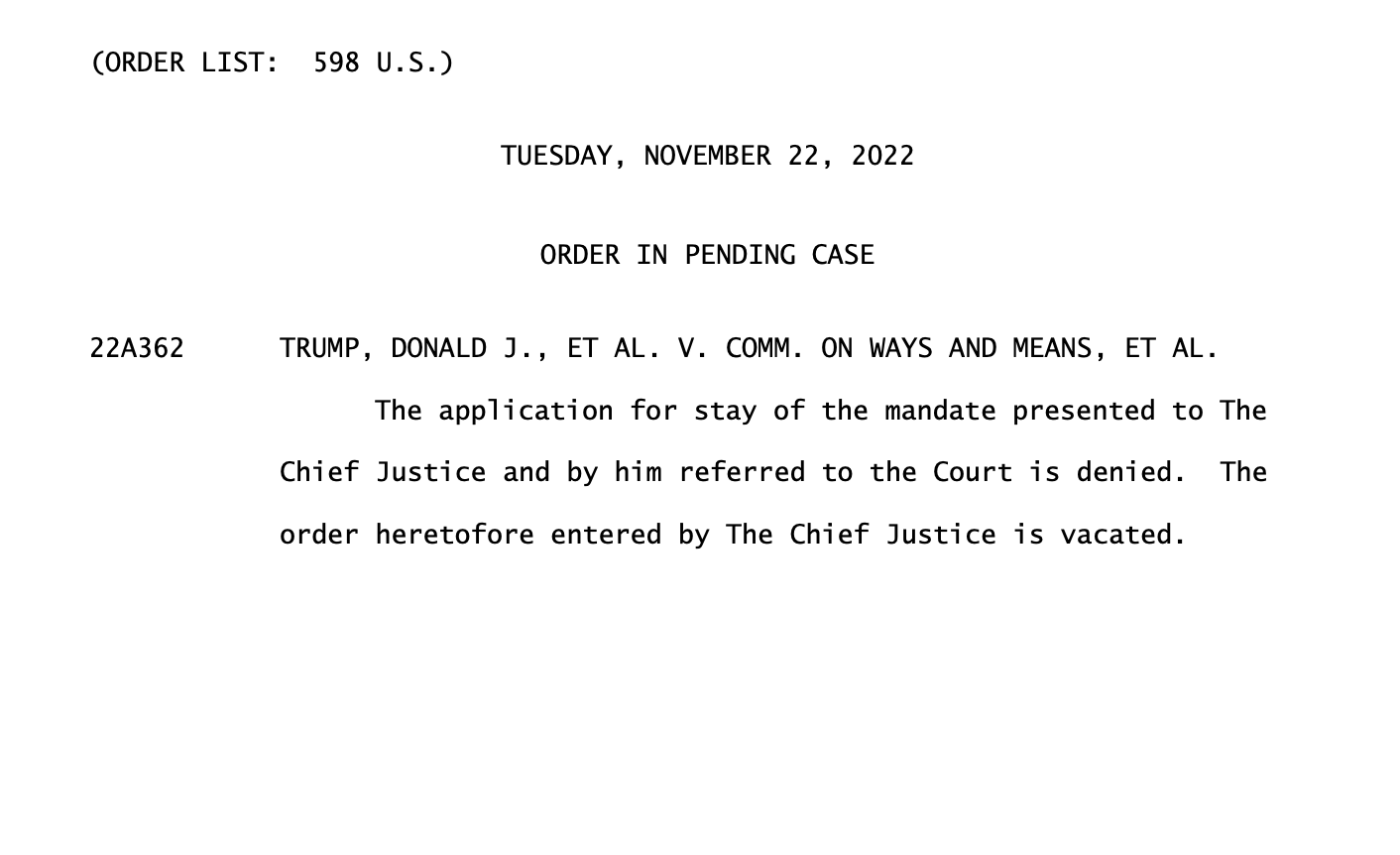 BREAKING:

WASHINGTON (AP) — Supreme Court clears way for handover of Trump tax returns to congressional committee after 3-year legal fight.

— Kyle Griffin (@kylegriffin1) November 22, 2022
BREAKING: The Supreme Court REJECTS Trump's bid to prevent the House Ways & Means Committee from obtaining his tax returns. No noted dissents.

The brief order may end years of litigation over the committee's efforts to review the tax records of Trump and his businesses. pic.twitter.com/raETmlco4T

— SCOTUSblog (@SCOTUSblog) November 22, 2022
From The Washington Post:
The Supreme Court on Tuesday denied former president Donald Trump's efforts to block the release of his tax records to a congressional committee that has sought the information for years.

The court's order means that the Treasury Department may quickly hand over six years of tax records from Trump and some of his companies to the House Ways and Means Committee.

There were no recorded dissents in the court's order. As is often the case in emergency applications, the court did not state a reason for denying Trump's request.

Lawmakers have said they need Trump's tax returns from his time in office to help evaluate the effectiveness of annual presidential audits. Trump has argued that Democratic lawmakers are on a fishing expedition designed to embarrass him politically.

Time is not on the side of Democrats who run the committee. Demands for the records would almost surely have expired in January, when Republicans take control of the House as a result of the recent midterm elections.

"Delaying Treasury from providing the requested tax information would leave the Committee and Congress as a whole little or no time to complete their legislative work during this Congress, which is quickly approaching its end," House general counsel Douglas N. Letter said in a filing to the court.
Read the filing to the court HERE.