As we previously reported, a British eco-terrorist group called "The Tyre Extinguishers" launched operations in the United States to target the "privileged few that flaunt their wealth" by deflating tires on "gas-guzzling" SUVs.
Their first outing in America was an "attack" in New York City's Upper East Side neighborhood by deflating the tires of 40 SUVs. 
Group of Climate Crazies Announce They've Launched Operations in America, Say They'll Deflate SUV Tires Around the Country After Hitting NYC
The group threatened to hit additional cities in America and has kept its word on that threat.
Over the past week, The Tyre Extinguishers continued their radical efforts, deflating tires and disrupting daily lives in San Francisco's Bay Area, Chicago, Illinois, and Scranton, Pennsylvania.
From MSN:
A U.K.-based activist group called "The Tyre Extinguishers" has landed in the U.S. and claims they've deflated tires on dozens of SUVs in several major cities, including New York, Chicago, and the Bay Area. The group, which says the thirsty SUVs significantly contribute to climate change, has no official leadership but encourages independent participation through social media and offers a hallmark note to be left on the victims' cars.
FIRST ACTION IN AMERICAN MIDWEST AS TIRE EXTINGUISHERS ACTIONS SPREAD

20 SUVs disarmed in Lincoln Park, Chicago, in early hours of 3rd July, after actions this week in New York, NY and Scranton, PA.

Where's next? Take action in your area: https://t.co/cmqm5IOeg7 pic.twitter.com/dTwM7aopbu

— The Tyre Extinguishers (@T_Extinguishers) July 3, 2022
According to SFGATE, the group has expanded outside of large metro areas. The town of Vacaville, CA, which is about 55 miles outside of San Francisco, was targeted by the group of radical environmentalists.
The incidents took place in Vacaville and soon went viral through Facebook and Reddit posts. This is the first known instance of members from Tyre Extinguishers, the group responsible, deflating tires in California. The U.K.-based group made their U.S. debut over the past few weeks by deflating tires in Chicago, New York City and Scranton, Pennsylvania.

"As far as we know, this is the first action in the Bay Area – the first of many!" Marion Walker, a spokesperson for Tyre Extinguishers, said in an email to SFGATE. According to Walker, the group's autonomous nature prevents other members from knowing who is deflating tires and where.

Lt. Katie Cardona with the Vacaville Police Department said the department received one report on July 5 of a tire on a resident's Honda Pilot SUV being deflated overnight.

"We are aware that there are reports of additional tire deflations on social media, but those have not been reported to us," Cardona told SFGATE. She added that the incident involving the Honda Pilot is being investigated as a case of vehicle tampering, which is a misdemeanor offense punishable by up to a year in jail and a maximum fine of $1,000.
To add insult to injury, the eco-terrorist group leaves behind a 'calling card' with every victim to lecture the SUV owner about their sins against the environment.
The top line in bold says everything you need to know about the warped thoughts behind the group.
"ATTENTION – Your Gas Guzzler Kills."
From The Tyre Extinguisher's calling card:
"ATTENTION – Your gas guzzler kills. We have deflated one or more of your tires. You'll be angry, but don't take it personally. It's not you, it's your car.

We did this because driving around urban areas in your massive vehicle has huge consequences for others … and [we are] "taking actions into our own hands because our governments and politicians will not."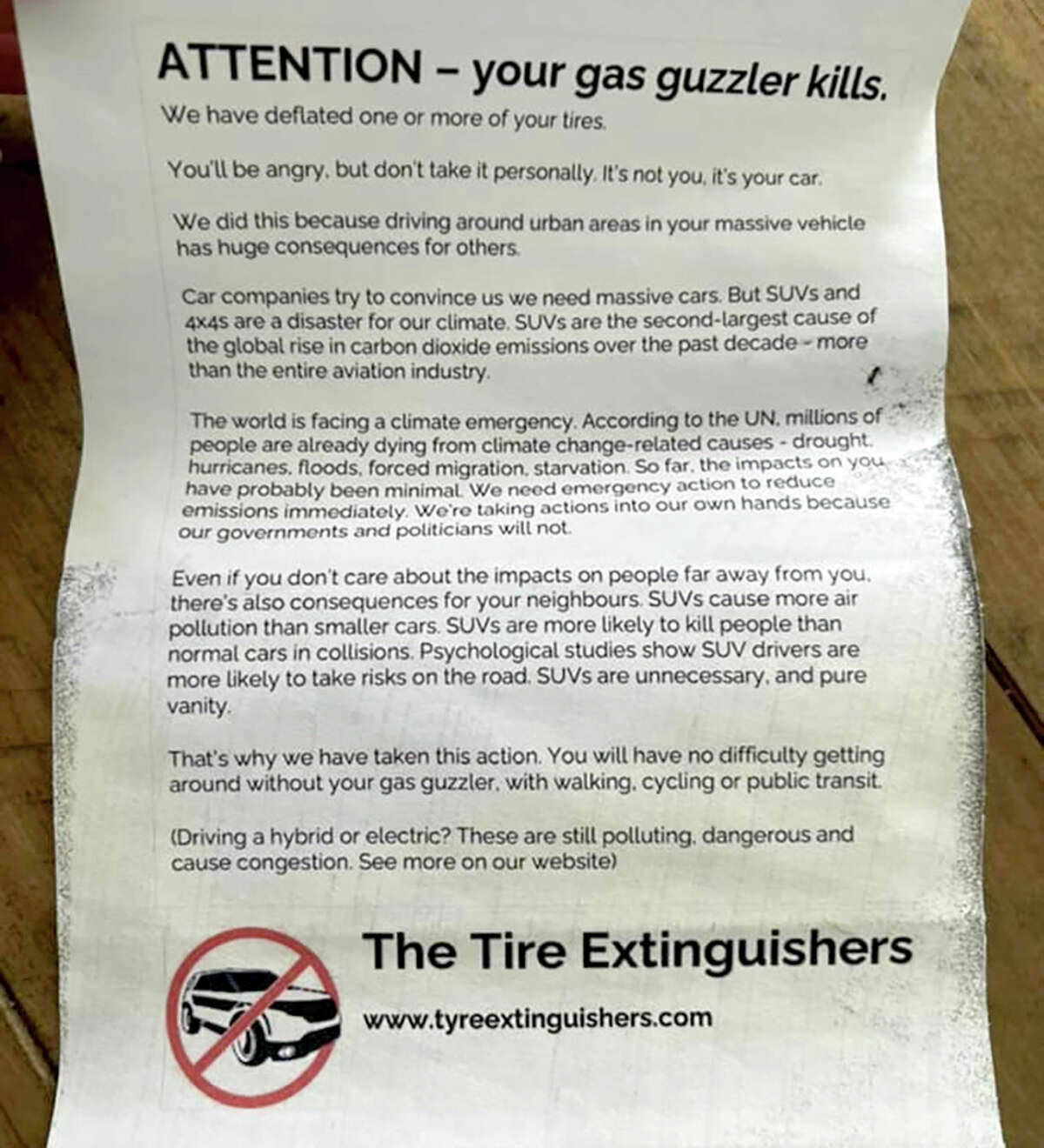 While the group claims its goal is to "target" the "privileged few that flaunt their wealth," their actions, targeting SUVs, impact working-class individuals and families.
"If they do this to my car which I need to drive a whole 45 minutes to work and 45 minutes back from work at 10 p.m. when no public transit are working, well … [I'm] willing to take a week off to hunt them down and make sure whatever they're using to puncture tires will be impaled somewhere on their body where the sun don't shine," a disgruntled Reddit user commented, according to SFGATE. 
On their website, The Tyre Extinguishers instructs people how to deflate tires, not slash or damage them. 
Nevertheless, the radical environmentalist group says their operations are just getting fired up. 
Marion Walker, a spokesperson for Tyre Extinguishers, said in an email to SFGATE:
"As far as we know, this is the first action in the Bay Area – the first of many!"