My friend and I started a running joke last week.
We noticed a handful of residents sporting a Ukrainian flag that wasn't being flown prior to the Russian invasion.
Given the public's brainwashing on Ukraine, displaying unwavering support for the corrupt, western-puppet regime is the latest virtue signal.
The past several weeks have resulted in posting a Ukrainian flag becoming the equivalent of changing your profile picture to a black square or telling the world you received your COVID-19 jab.
So, when we walked by a Ukrainian flag, we'd joke that they were vaccinated.
I stand with Ukraine has become the new virtue signal, for both sides of the isle. It's another case of mass formation psychosis. pic.twitter.com/bSoU0WR0bi

— Rooster J Cogburn (@Libertad_Tejas) March 20, 2022
"Not sure why the world's worst people promote my activism but I'm for sure the resistance!" pic.twitter.com/alJEZXO4go

— An0maly (@LegendaryEnergy) March 23, 2022
Ironically, a new poll from EKOS shared by the Toronto Star shows vaccinated individuals are more likely to support WWIII over Ukraine.
Information Liberation explains:
Asked how Canada should respond to the Ukraine invasion, Canadians who received "three or more shots" overwhelmingly supported expanding sanctions (86%), seizing Russians assets (85%), cutting off shipments of Russian oil (81%) and sending additional military equipment to Ukraine (82%). Over half (52%) supported providing Ukraine with fighter jets.

In contrast, the overwhelming majority of purebloods opposed all of those insane measures, wisely seeking to avoid World War 3.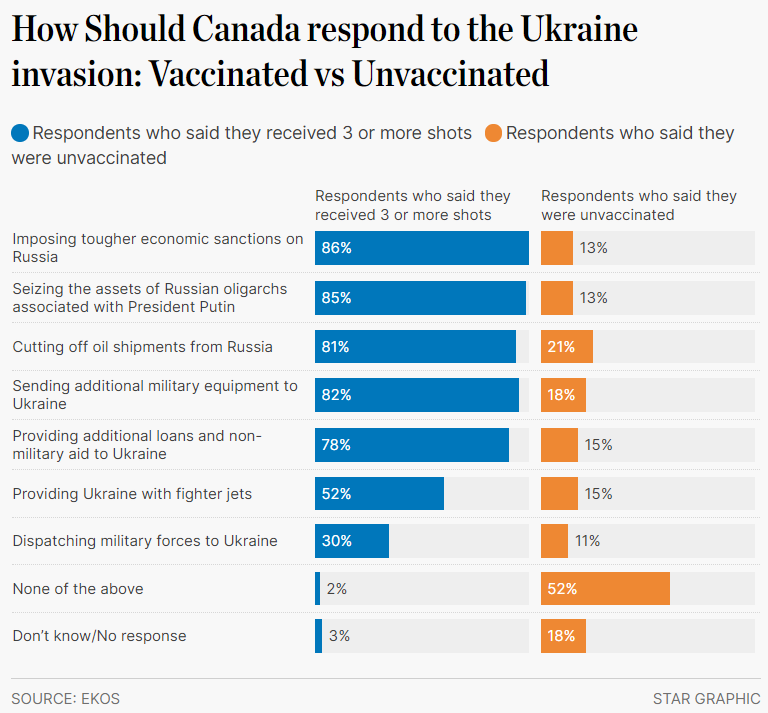 *Source – Information Liberation*
The overwhelming majority probably would have said "use diplomacy" if it was an option but the warhawks behind the poll left it off the list.
Regardless, purebloods think more rationally to avoid actions that would lead to a global conflict of dire consequences.