If the Supreme Court of the United States refuses to even hear evidence about the most fraudulent election in our lifetimes, with cheating occurring dozens of different ways, then the rule of law is dead.
So what can be done?
Well, there's a remedy for that.
Trending: Lin Wood Special Broadcast: A Process WILL Play Out To Put President Trump Back In Office!
It's called the Insurrection Act of 1807 and it was designed for situations like this.
Even Sidney Powell is now starting to talk about it.
Take a look:
"The confluence of events now evident, it can be cogently argued, presents a compelling case for the president's invocation of the Insurrection Act."— @StephenMeister https://t.co/TajtHCzZrv @realDonaldTrump

— Americas Heroes (@illuminateheros) December 11, 2020
Here's more from Stephen Meister, writing for the Epoch Times:
During the presidency of Thomas Jefferson, the 10th Congress enacted the Insurrection Act of 1807.

Jefferson signed the measure into law to foil the plot of Revolutionary War hero Aaron Burr—following the destruction of his political career after he shot and killed Alexander Hamilton in a duel—to raise an army toward establishing his own dynasty in what was then the Louisiana Territory.

The Insurrection Act empowers the president of the United States to deploy U.S. military and federalized National Guard troops to suppress civil disorder, insurrection, and rebellion. Section 252 of the Act states:

"Whenever the President considers that unlawful obstructions, combinations, or assemblages, or rebellion against the authority of the United States, make it impracticable to enforce the laws of the United States in any State by the ordinary course of judicial proceedings, he may call into Federal service such of the militia of any State, and use such of the armed forces, as he considers necessary to enforce those laws or to suppress the rebellion."

Generally, the U.S. military remains free of civil conflicts on U.S. soil, as no one wants U.S. armed forces using physical force against U.S. civilians. Indeed, when President Donald Trump threatened to invoke the Insurrection Act and send the National Guard in response to the George Floyd riots, including, for example, to address Seattle's failure to restore law and order over the so-called "autonomous zone," then-Defense Secretary Mark Esper openly stated his disagreement with the president.

Ultimately, the president didn't then invoke the Insurrection Act. But considering the possibility of the Act's invocation now, to address "unlawful obstructions" to an attempt to verify ballots, and an "insurrection" surrounding the 2020 election generally, two powerful distinctions must at the outset be noted: (1) Esper is no longer defense secretary, as Trump has replaced him with Christopher Miller, the director of the National Counterterrorism Center, and (2) troops could be deployed to take control over ballots and voting machines in swing states, rather than suppressing and dispersing rioting civilians.

The president's invocation of the Insurrection Act isn't a declaration of martial law. The Constitution isn't suspended. The writ of habeas corpus isn't suspended. The president would be using troops to enforce the law, not override it.

To understand the case for Trump's potential invocation of the Insurrection Act, we must consider more broadly the 2020 election and surrounding historical circumstances.

Numerous 'Badges of Fraud'

In law, fraud is often proved by what are known as "badges of fraud"—telltale signs that a fraud has taken place—short of positive proof of the actual fraud, because fraudsters have a tendency to cover their tracks.

Case in point: Harry Markopolos. At least seven years before the lid was blown off the $65 billion Ponzi scheme run by Bernie Madoff, Harry Markopolos, a money fund manager, blew the whistle on Madoff's decades-long Ponzi scheme. Markopolos's "proof" was a single compelling badge of fraud: In his words, Madoff's "impossibly smooth" returns over decades.

Markopolos, who made investments for a living, knew no one could have such a consistent record, with no downturns, no volatility, and for so many years on end. Markopolos published a book titled "No One Would Listen," remarking, after Madoff's enormous scheme was exposed, "the math was so compelling."

Badges of Fraud in 2020 Election

Consider now—away from the mountains of direct evidence of voter fraud—the "math" involved in the 2020 election:

Shortly after midnight (Eastern time), Trump was leading in all six of the swing states still at issue: Michigan, Wisconsin, Pennsylvania, Georgia, Arizona, and Nevada, and had racked up, apart from those six states, 232 electoral votes to Biden's 227.
During the early morning hours of Nov. 4, not one or two, but all six states flipped for Biden.
The early-morning Nov. 4 "blue-shift" took place only in the six swing states, through a series of "spikes," almost entirely consisting of mailed ballots (made possible due to radical changes in voting laws amid the CCP virus pandemic) in which Biden received the vast majority of the votes. According to an analysis published through Substack, these spikes include:

"An update in Michigan listed as 6:31 a.m. Eastern time on Nov. 4, 2020, which shows 141,258 votes for Joe Biden and 5,968 votes for Donald Trump"
"An update in Wisconsin listed as 3:42 a.m. Central time on Nov. 4, 2020, which shows "143,379 votes for Joe Biden and 25,163 votes for Donald Trump"
"A vote update in Georgia listed at 1:34 a.m. Eastern time on Nov. 4, 2020, which shows 136,155 votes for Joe Biden and 29,115 votes for Donald Trump"
"An update in Michigan listed as of 3:50 a.m. Eastern time on Nov. 4, 2020, which shows 54,497 votes for Joe Biden and 4,718 votes for Donald Trump"

Those four spikes yielded 426,241 Biden votes but only 64,964 Trump votes.
Somehow Biden did very poorly in all parts of the country except, only and exactly, where it mattered. Out of the 3,000 counties in the United States, 19 so-called "bellwether" counties have had a perfect record, since 1980, of voting for the winner. Trump won 18 of these 19 counties. For example, Vigo County, Indiana, and Valencia County, New Mexico, each has a perfect record of picking the winning candidate since the 1948 election famously gotten wrong by the Chicago Tribune, which ran a cover declaring "Dewey Defeats Truman." Barack Obama won these two bellwether counties in 2008, yet Trump handily defeated Biden in both and 16 other bellwethers.
In 2008, Obama garnered 69,498,516 votes, the most ever until Biden topped his record with more than 80 million votes in 2020, yet, Trump this year won the highest share of nonwhite voters of any Republican since 1960: Roughly one-quarter of nonwhite voters cast their ballots for Trump, according to an Edison exit poll.
Trump improved his 2016 performance (just shy of 63 million votes) by 20 percent in 2020 (more than 74 million votes). No incumbent president in U.S. history has ever improved his original performance that much and lost. For example, Obama garnered 3.5 million fewer votes in 2012, yet won a second term.

In sum: Six swing states were won by Trump on Election Day, and all six shifted to Biden by virtue of early-morning Nov. 4 spikes in mailed-in ballots that overwhelmingly favored Biden; but somehow Biden didn't win elsewhere in the country; Trump won nearly all (18 of 19) of the historically accurate bellwether counties; Biden, campaigning from his basement, after obvious signs of cognitive decline and the hugely damaging Hunter Biden scandal breaking, running with a vice presidential candidate who had to drop out of the Democratic nomination race while polling at 5 percent, somehow topped Obama, the first black U.S. president, by more than 10 million votes, even as Trump won more of the nonwhite vote than any Republican candidate in the past 60 years.

As Markopolos said of Madoff's Ponzi scheme, the "math was so compelling," but no one would listen. The same is true of the 2020 election.

Mountains of Proof of Fraud

Aside from these compelling badges of fraud, mountains of direct evidence of widespread voter fraud have been uncovered:

Radical change to universal mail-in ballots—a weaponization of the CCP virus pandemic.
Dramatic ease of mail-in restrictions.
A dramatic drop in mailed ballot rejection rates.
Sworn affidavit of "perfect black bubbles" filled in on mailed ballots.
Sworn affidavits of ballots counted multiple times.
Refusal of election authorities to perform simple signature checks on mailed ballots.
Sworn affidavits of mailed ballots having been backdated.
Sworn affidavits of "pristine ballots."
Sworn testimony of a Pennsylvania trucker concerning massive numbers of ballots shipped to Pennsylvania from Bethpage, New York.
Ballots from out-of-state voters.
Ballots from voters listing fraudulent addresses.
Poll watchers denied access in violation of the law.
Video evidence of cases of hidden ballots.

Dominion Software

On top of the badges of fraud, compelling math, and actual proof of voter fraud, powerful evidence has emerged that the Dominion vote-counting software, in use in 28 states, has been compromised:

Sworn testimony that Dominion is linked to Smartmatic, which was allegedly developed at the request of Venezuela's Hugo Chavez to ensure his election victories.
Evidence that in many cases, the Dominion machines were connected to the internet and thus made vulnerable to hacking, including by foreign actors.
Evidence that Dominion machines were not "hardened" (secured against hacking).
Evidence that Dominion components were made in China.

Election Officials Are Partisan Political Hacks

No objective observer would contend that the election officials are anything but partisan political hacks. They have no interest in a fair and honest election and are only concerned with a Biden win, no matter how fraudulently procured.

Sadly, this sort of hyper-partisanship has extended to elected officials, including some Democratic governors, such as Pennsylvania's Tom Wolf, who has shown he's set on certifying Pennsylvania's fraudulent results—which now have Biden winning, despite a nearly 800,000-vote Trump lead on Election Day, and despite mountains of evidence of fraud.

Courts Demonstrate Reluctance to Intervene

Many court cases have been brought in response to the widespread voter fraud, some by the president and others by disenfranchised voters represented by independent lawyers and lawyers who work for public interest groups.

In some cases, the courts have, tragically, operated as partisan appendages of the Democratic executive branches of state governments. For example, the Supreme Court of Pennsylvania, in a 4–3 decision, overrode the GOP-majority-controlled Pennsylvania Legislature's duly enacted law setting 8 p.m. on Election Day as the deadline for mail-in ballots.

That decision was a brazen violation of the U.S. Constitution, as Supreme Court Justice Samuel Alito has suggested, referring to a provision that vested with state legislatures the exclusive authority to determine the manner of selecting electors.

In other cases, courts have demonstrated a reluctance to get involved. While I don't agree with this approach, it's understandable, given the separation of powers inherent to our constitutional republic. Many judges simply don't want to tell the executive branch of a state government how to run their elections even if they see compelling evidence of rampant fraud.

Can Biden Run Out the Clock?

The Electors Clause of the Constitution grants each state legislature the exclusive power to decide the "manner" in which the state's presidential electors are chosen. That means the legislatures have the constitutional power to select Trump-pledged electors if they believe a fraudulent vote was certified or to disavow the Biden-pledged electors certified by the state's governor.

What's less clear is whether the state lawmakers can do either at any time up until the Jan. 20 inauguration, or whether they are foreclosed from doing so after the Electoral College is convened, which this year will be held on Dec. 14. The Electoral College date is set by congressional statute, not by the Constitution, and to the extent that statute, as applied, constrains constitutional powers of the state lawmakers, it may be adjudged unconstitutional by the Supreme Court.

Still, in the absence of timely clarification from the Supreme Court, the state lawmakers may be persuaded that they lack a constitutional power they truly possess, or they just may be frustrated in exercising that power by Democratic governors refusing to call a special session of a state's legislature.

Trump Proposes 'Landmark' Election Overhaul

While being careful never to say that he would resist a peaceful transition of power, the president in a pre-recorded speech—which he dubbed the "most important" he has ever made—declared that our election system was under "coordinated assault and siege."

Later, the president proposed "landmark election reform" and overhaul of election security systems, but that would only occur if and after Republicans won the Senate, and presupposes a Trump victory.

Speaking at his recent rally supporting the GOP candidates in the Georgia Senate runoff elections—businesswoman Sen. Kelly Loeffler (R-Ga.) and former business executive Sen. David Perdue (R-Ga.)—Trump said of their opponents, "These people want to go further than socialism, they want to go into a communistic form of government, and I have no doubt about it."

The president warned, "As Chuck Schumer said rather infamously, 'First, we take Georgia, then we take America.'"

DOJ, FBI Have Shown Reluctance to Get Involved

Although the Department of Justice (DOJ), through special counsel Robert Mueller and the FBI, spent years and interviewed more than 500 witnesses to investigate the Russia–Trump collusion hoax, Attorney General William Barr took a few weeks to go out of his way to state to the press that he hadn't found evidence of voter fraud on a scale that would overturn the election result.

According to the president's lawyer, Rudy Giuliani, the FBI is "missing in action." Of course, it strains credulity that the DOJ could possibly have conducted any sort of real investigation into a national election involving 150 million voters in anywhere near the time frame that Barr took to make his comments.
You can read the full article here.
This man is doing better work and making more sense than our embarrassing Supreme Court Justices who should be flushed down the toilet!
They are making a mockery of our Constitution and country.
They've probably been threatened by the Deep State if I had to guess.
Well too bad!
It's time that SOMEONE rises up with Courage and Wisdom to save our country.
If he has to do it again by himself, it might be President Trump using the Insurrection Act.
Here's even more on the Insurrection Act and what Martial Law might look like below…..
---
A few days ago I ran a poll asking if you think President Trump should declare the Insurrection Act and implement Martial Law to save the election and the country.
I bet you may have heard those terms before.
But do you know what they mean?
I'm about to tell you.
But first, here was the poll:
NATIONAL POLL: Should President Trump Use The Insurrection Act and Declare Martial Law Right Now?
Thousands of you voted and here are the results (wow!):
But more than that, I received HUNDREDS of emails asking "what is the Insurrection Act?"
And what Martial Law really means.
There is a ton of confusion out there about those topics and since I can't reply to every email when there are literally hundreds, I wrote this article.
I was researching and trying to find the best way to explain it to you and then I came across this solid gold.
This is a thread from Q that explains exactly what all of this means and why this is the only way out.
It's so good you're probably going to want to bookmark this article and show your family and friends.
The formatting is a little hard to follow but trust me, just tread through it in order and it will ALL make sense.
Enjoy:
1\ As we've been watching the hearings on election fraud in these contested states, I keep thinking about the phrase "The military is the only way."
There are several related drops, but D36 stands out to me. Everything is so corrupt, there is no other way than the military.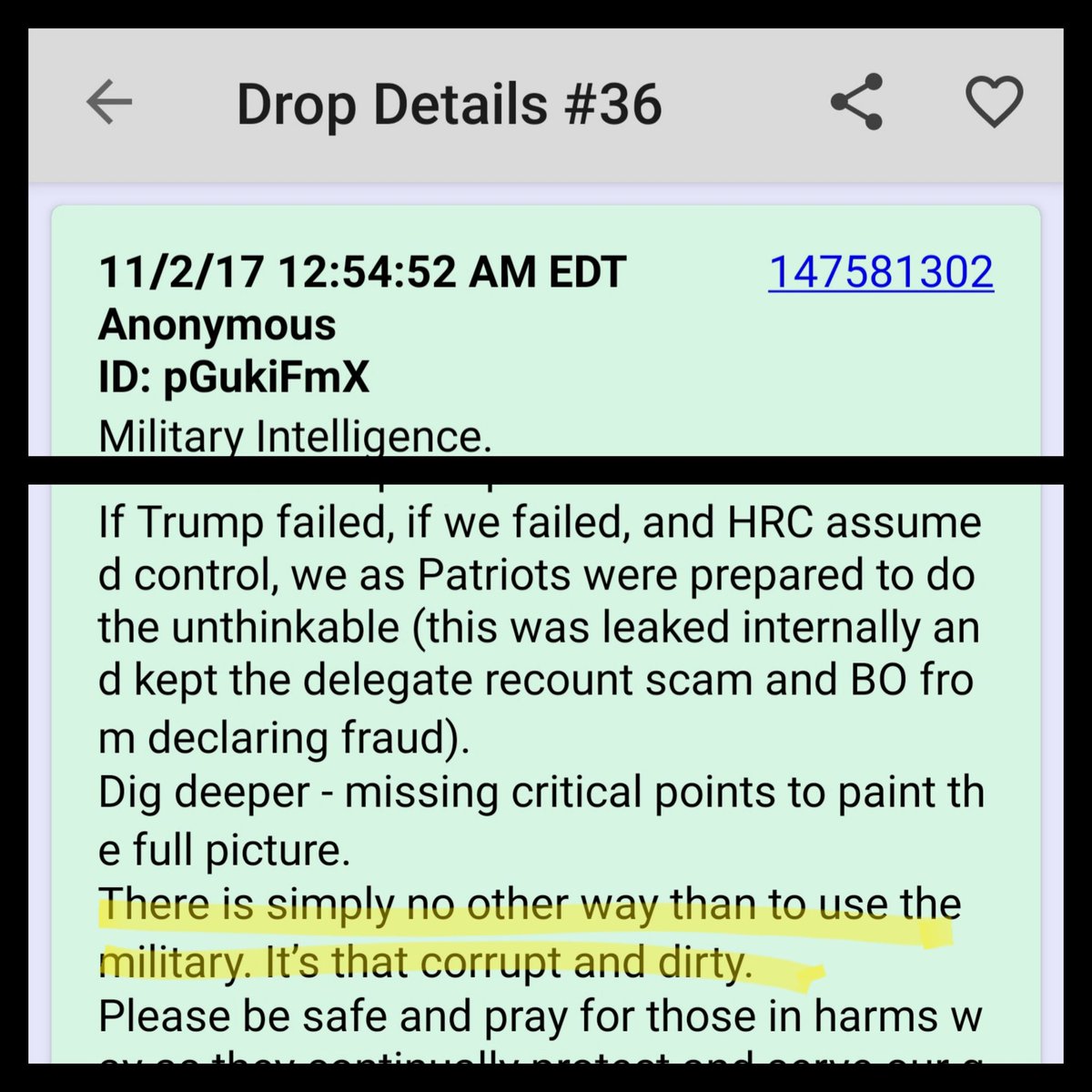 2\ If the military is the only way, tho, why bother with lawsuits and fights with the MSM? Why not just invoke the Insurrection Act and take down these traitors?
Because the people won't accept it. They must first see it for themselves.
3\ Before Nov 3rd, most people still believed the elections were mostly fair and honest. Minor attempts at fraud existed, sure, but nothing like widespread national vote rigging.
That fairytale has since been thoroughly and completely shattered these last several weeks.
4\ This mass blackpilling of people concerning our elections reminds me of another drop we saw a lot of during the riots and violence just a couple short months ago: D4461.
Did you think "you must show them" was only about the riots?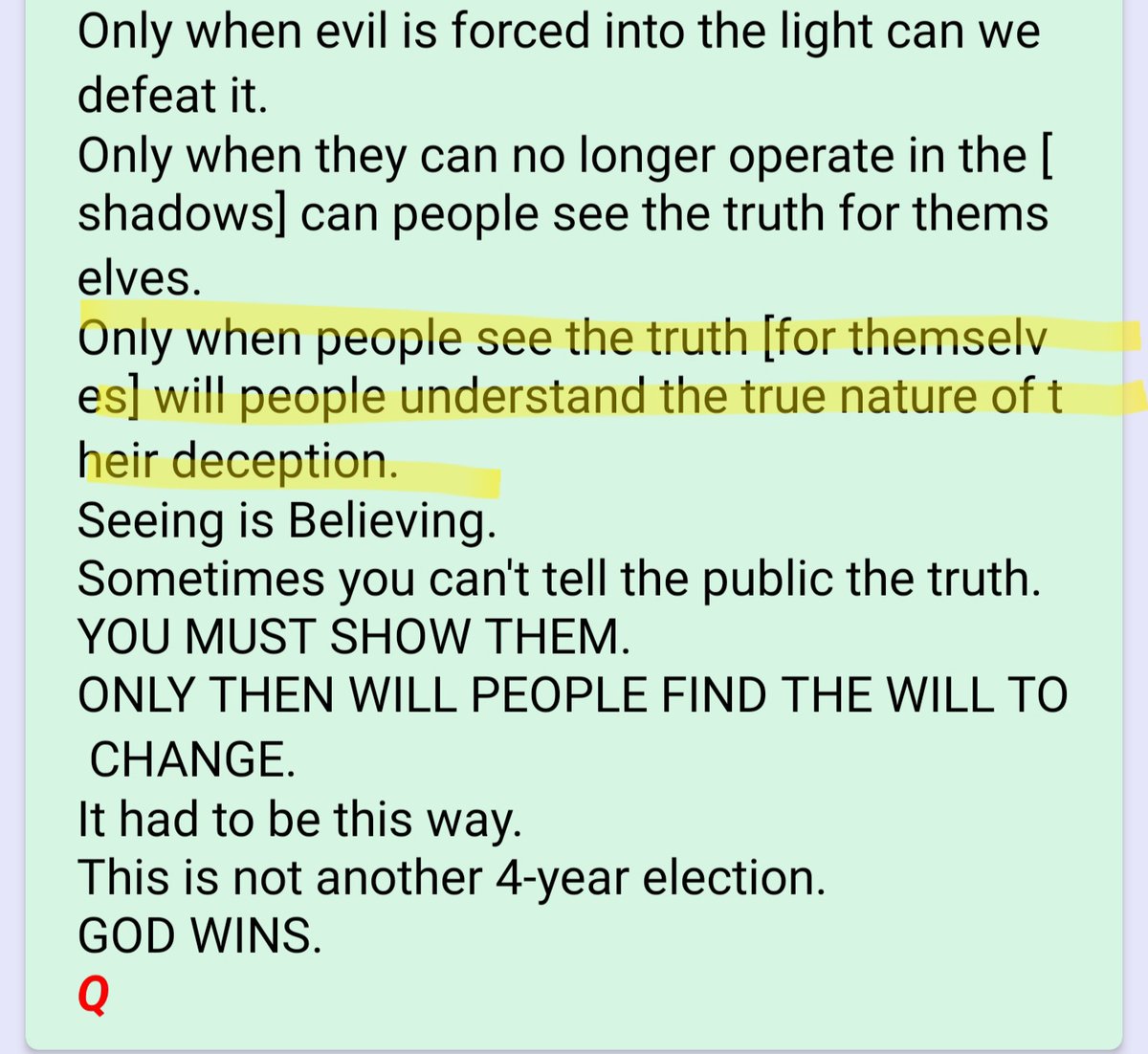 5\ We all had to be shown just how thoroughly corrupt our elections had become and just how deep that corruption had spread.
We all know there is corruption in D.C., but we also had to see the corruption at the state and local levels too. Even Republicans were in on it.
6\ Evidence was collected and lawsuits were filed, only for us to run into yet another level of corruption: the courts.
Anons already know the level of corruption in these courts with activist judges running cover for the [DS]. But most others still needed to see it.
7\ We've seen flagrantly asinine rulings from these judges, and obviously biased refusals to even consider the evidence in some cases.
Here and there a normal judge appears, but they are almost always overruled by corrupted higher courts.
8\ All along this time, we've also been witnessing yet another level of corruption in the mainstream media (MSM). The full on suppression and refusal to cover any of these lawsuits fairly and accurately to keep the info from the people is criminal.
Even Fox News has thrown in.
9\ And joining their more traditional MSM brethren, are the Big Tech tyrants, who happily label anything speaking honestly and factually as 'disputed'.
They're also quite happy in outright suspending or banning accounts that get a little too close to the truth.
10\ In an effort to combat these corrupt and fraudulent acts, we reach out to our corrupted DOJ and FBI for assistance in restraining these bad actors, and are responded to with silence.
It's as if these agencies are also in on the fraud and do not want to get involved.
11\ Every step of the way, we are met with fierce opposition and resistance. Integrity has no bearing and truth does not matter.
We are like Sisyphus, forever pushing the same infinitely heavy boulder up the same insurmountable hill.
12\ We hold hearings with republican reps and senators from state legislatures presenting the evidence we've collected of widespread fraud.
Afterward, they're fully engaged, but there's only so many of them and the remaining legislature doesn't want the fight.
13\ Unfortunately, the state legislatures will most likely fail at their attempts to reclaim the electoral power. But this is known and expected.
Why pursue it then, along with these hearings?
Because WTP and these legislatures need to know the truth being kept from them.
14\ The Trump legal team, along with Sidney Powell and the white hats all know that these legal issues will end up in front of SCOTUS. They are using this time now in the lower courts to build their cases and spread the information (as much of it as they can) far and wide.
15\ The MAGA legal team needs to have the people and the state legislatures on board when the real hammer drops after SCOTUS rules in favor of Trump.
Do you think Soros, et al. and the [DS] will simply accept a SCOTUS ruling that awards Trump his rightfully earned second term?
16\ The [DS] and the Soros bunch, along with the MSM, will cry bloody murder when the SCOTUS ruling drops. They will not accept it.
They will blame ACB and refuse to concede. The riots will start again. The fires, the looting, the violence. The WH will be surrounded.
17\ The [DS] will have their ghoulish black bloc brigades thoroughly convinced the election was stolen by Trump and that they need to remove him by force.
Tensions will rise until the hoards overrun the WH grounds and attempt to remove the POTUS, who will be absent.
18\ It is around this time we will get the message via Twitter: "My fellow Americans, the Storm is upon us." and the Insurrection Act will be finally invoked.
The military and federalized NG will restore order to the streets, and will conduct all investigations into the fraud.
19\ What evidence do you think they'll use to conduct these investigations? Possibly all the evidence being collected now and being displayed for all to see in these hearings? Would they add more of their own evidence?
Treason will be declared and perp walks will begin.
20\ If you don't think POTUS has these authorities under the Insurrection Act, I'd refer you to D11, where the authority is directly implied.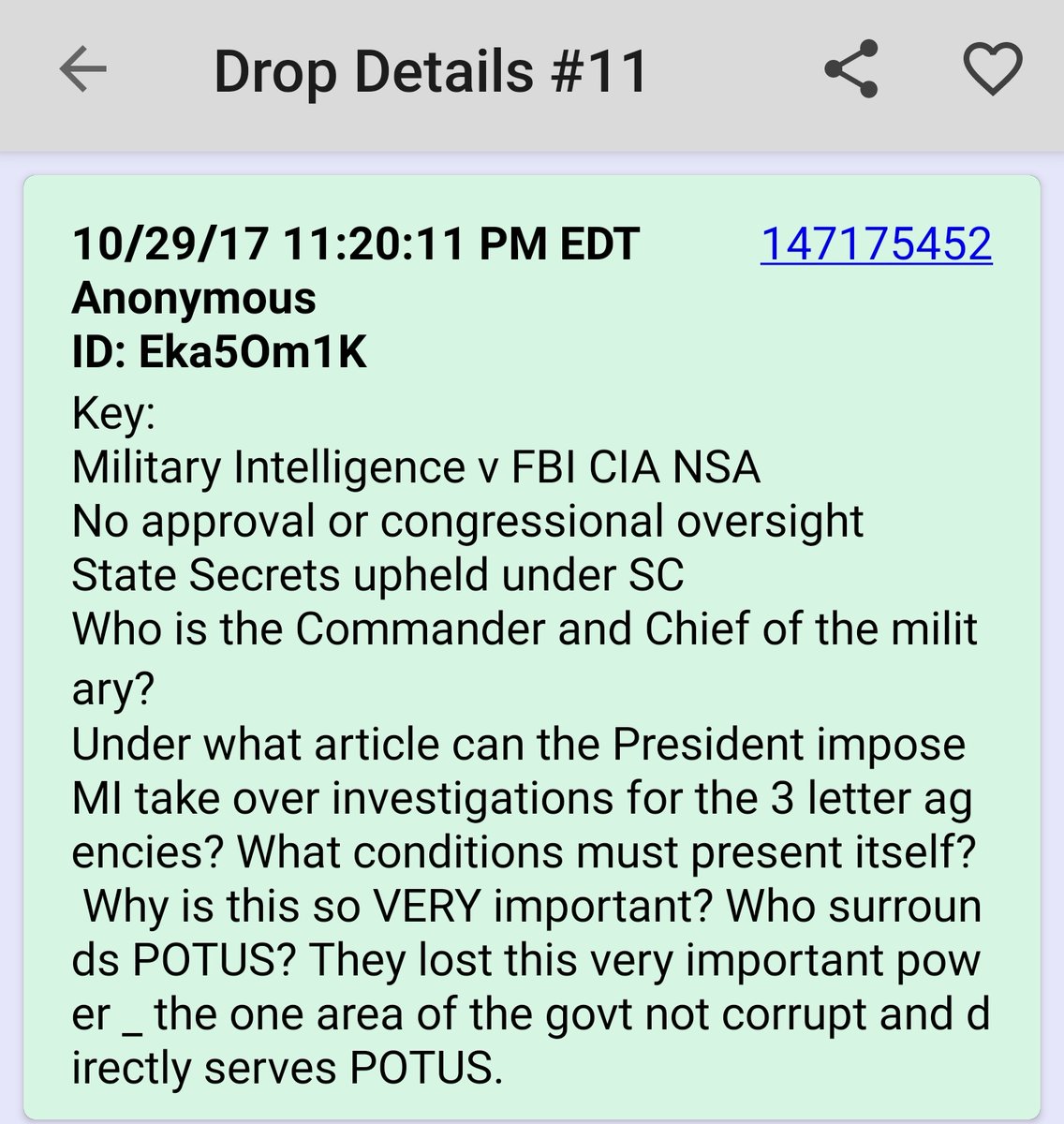 21\ So we're just waiting on the SCOTUS rulings and the invocation of the Insurrection Act. That's what all this is leading up to.
POTUS and white hats had to show the people the truth and that all options to correct the fraud had been expended before invoking the Act, however.
22\ So what does this mean for we Patriots right now? Do we sit back and do nothing? No. We stand and we fight! We continue protesting and shouting and calling our reps to support each other. We share the truth of the evidence far and wide. We push back against the MSM narrative.
23\ We must let our supportive reps know that we stand with them, and we must let other Patriots know they are not alone.
Do not hang your head when the "losses" come for we knew they would. They must to prove the necessity of the actions to be taken later.
24\ Stand tall, Patriot, knowing your voice will be heard.
Stand tall, Patriot, knowing the truth will be shown.
Stand tall, Patriot, knowing the corruption is nearing its end.
This is not another 4-year election.
No war. No civil unrest. Clean and swift.
God wins.
You can read the full thread here.
And if you're more of a visual learner, you can listen to my friend Daniel break it all down here:
NATIONAL POLL: Do You Support Trump Declaring ANTIFA a Terrorist Organization?
Before you go, please vote in my poll now that you know what it means!
Vote here….👇
NATIONAL POLL: Should President Trump Use The Insurrection Act and Declare Martial Law Right Now?