The surprises just keep on coming.
President Trump took to Twitter to announce a groundbreaking discovery in the state of Michigan.
The President tweeted a chart that showed Biden received 143,379 votes at 6:31 AM a day after the election.
This is completely insane, Dems didn't even try to hide the fraud they did it in plain sight!
At least this will make it easier for Trump's campaign lawyers.
https://twitter.com/realDonaldTrump/status/1329602736053252107
https://twitter.com/MasterofMiceMen/status/1329632699691249664
A day AFTER the election, Biden receives a dump of 134,886 votes at 6:31AM! https://t.co/qy12JHIxk3

— Andrew Ivanchenko (@aivantch) November 20, 2020
Here is the chart below it came straight from the New York Times: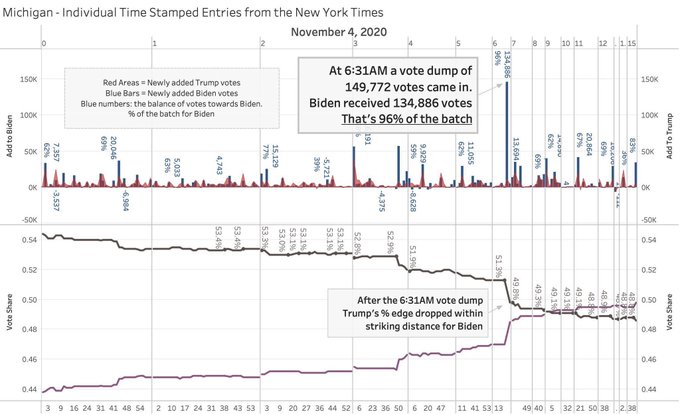 Just look at that spike on the chart.
There's no way any election chart should look that way the day after the election.
The Dems plan all along was to use Covid as a political weapon against Trump the only problem is their fraud is being discovered.
PROOF IS IN THE NUMBERS: Michigan and Georgia, Like in PA and VA, SAME PATTERN — Once Biden Gained Lead with MASSIVE Vote Dumps, The Remainder of Votes All Possessed Same Biden to Trump Vote Ratio – a statistically impossible occurrence https://t.co/Ql1JRpEJEX

— James Hirsen (@thejimjams) November 18, 2020
The Gatewaypundit added these details about votes being dumped early in the morning:
Of the 530 entries in the New York Times of the Michigan votes for President at around 03:37:16Z, (10:36PM EST), with around 25% of the expected vote cast, Trump is ahead by a margin of 55% to 43%. Up to that point, Trump was winning many of the batches 60%-40%, 70%-30%, and a few batches at even 75-25%!

From 25-53% of the expected vote cast, the incremental vote percentage is unusually consistent at 45% Biden, 55% Trump in 101 of the 160 incremental count batches, that's in 63% of the batches. Of the 59 batches that are NOT consistent with the pattern, we find the negative adjustments being made in those batches, and larger batches (more than 10,000 votes) going for Biden.

Then at 12:46 AM EST, with about 54% of the expected vote count in, the "consistent" percentage of batches is updated to 46% Biden and 54% Trump. This is consistent until the total expected vote counts reach 88% of the vote cast. (Note shortly before this time a reported approximate load of 120,000+ votes are reported to be brought into the TCF building in Detroit where votes are being counted.) At 6:31 AM EST, we see a SINGLE batch reported of 141,258 votes for Biden, and only 5,968 for Trump, the batch goes 96% Biden, 4% for Trump! Again, absolutely UNBELIEVABLE. Presumably this is the start of what was delivered into the building around 4AM CST!
This is absolutely insane.
Voting was stopped in Michigan and hundreds of thousands of votes were dumped early in the morning and it's not even hidden anymore.
We must stop the steal at all costs.